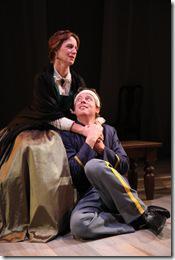 Mourning Becomes Electra
Written by Eugene O'Neill  
Adapted by Gordon Edelstein
Directed by Timothy Douglas
Greenhouse Theater Ctr, 2257 N. Lincoln (map)
thru Oct 30  |  tickets: $40-$55  |  more info
Check for half-price tickets
  
  
   Read entire review
---
O'Neill's complex, tragic themes left to smolder, not ignite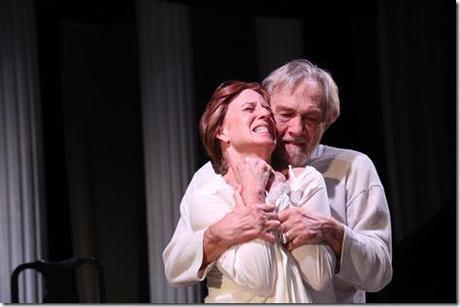 Remy Bumppo Theatre presents
Mourning Becomes Electra
Review by Catey Sullivan 
There's no denying the sparks of excitement that flash from Remy Bumppo's staging of Mourning Becomes Electra. The piece is a watershed in the history of the formidable company. For almost 15 years, the ensemble has labored under the direction of founder James Bohnen, staging productions that are as smart and intellectually provocative as they are emotionally resonant. With Mourning Becomes Electra, recently named Artistic Director Timothy Douglas ushers in a new era in the history of Remy Bumppo's "think theater," launching his tenure with artistry and audacity. Eugene O'Neill's rarely staged take on Sophocles' Orestes cycle is close to three-and-a-half-hours long and is filled with rich, complicated roles that demand actors stretching to their utmost limits.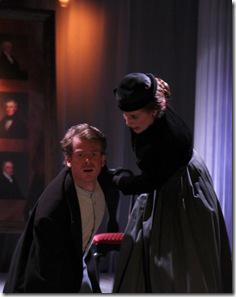 But as compelling as the production is at times, Remy Bumppo's staging is not without significant problems. Artists who dare to trod within the vaunted confines of the New England-set saga undertake a perilous passage.
Mourning Becomes Electra
s a daunting epic of sex, death and passion, sometimes all three at once. Overplay it and you've got a bloated ham sandwich of a soap opera. Underplay it, and you've got a grueling marathon of monotony as generations of lovers and fighters cycle through years of lust, loss and teeth-gnashing angst. In Remy Bumppo's ambitious production, Douglas strays from the narrow path between turgid and toneless, too often erring on the side of the latter.
And where O'Neill's stage directions call for characters that mask their emotions to a crippling degree, Remy Bumppo's cast all too often delivers not so much masked emotions as no emotions. It's a torrentially difficult distinction to be sure, differentiating between someone who is repressing their feelings and that of someone who has no feelings at all. The outward appearance of both can be mightily similar. But the ensemble here often stumbles as it attempts to rise to the demanding challenge, leaving the audience to endure too many swaths of monotone.
The first problem is evident within moments: The piece lacks both the all-important sexual chemistry O'Neill's tangled tragedy requires. Lavinia (Kelsey Brennan, lacking the controlling malevolence the role demands) may be on fire for her great-uncle's dashing illegitimate son Captain Brant (Nick Sandys, struggling with an accent that ranges from Irish Brogue to weirdly southern), but it's a cold front she presents on Remy Bumppo's stage. As Brant's lover (and Lavinia's mother) Christine Mannon, Annabel Armour comes closer to the mark. With David Darlow as Mannon family patriarch Ezra, Armour shares a scene involving poison and death throes that wouldn't be out of place in Dynasty. The pair make it work, bringing a genuine sense of pathos to potentially bathos-riddled moments of agonizing death and steely-eyed murder.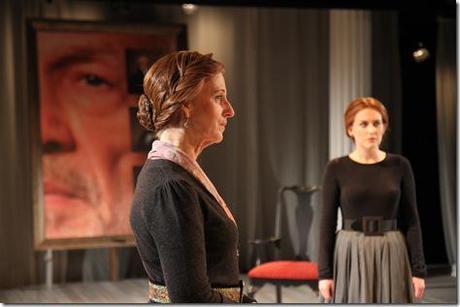 As Christine's slightly shell-shocked brother Orin (Orestes in the Greek), Scott Stangland struggles to find the emotional center that drives the role, and inadvertently instills bits of comedy into moments that should be anything but. In all, he seems too young and too innocuous for the part; a fairly simple blonde ingénue type rather than the walking, talking, tormented Freudian nightmare O'Neill has penned.
Douglas frames the piece with the haunting tones of Shenandoah, sung in a lonely a cappella by Veronda G. Carey as Seth, a long-time servant of the Mannon. Would that Remy Bumppo's staging maintained the complex, tragic tones of that opening song – then we'd have an Electra to contend with.
Rating: ★★½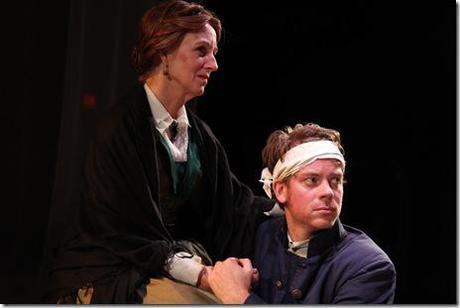 Remy Bumppo's Mourning Becomes Electra continues through October 30th at the Greenhouse Theater Center, 2257 N. Lincoln (map), with performances Wednesdays-Saturdays at 7:30pm, and Sundays at 2:30pm. Tickets are $45-$55, and can be purchased by phone (773-404-7336) or online at their website. More information at remybumppo.org. (Running time: 3 hours and 30 minutes, which includes 2 intermissions)
---
artists
cast
Annabel Armour, David Darlow, Nick Sandys, Kelsey Brennan, Scott Stangland, Stephanie Chavera, Luke Daigle, Veronda G. Carey
behind the scenes
Timothy Douglas (director); Tim Morrison (scenic); Steve Sorenson (lighting); Samantha C. Jones (costumes); Victoria DeIorio (sound); Sally Weiss (props); Amy Bertacini (stage manager)