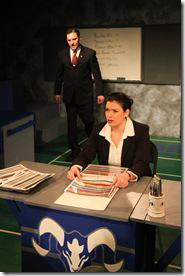 Motion
Written by Ronan Marra 
Directed by Aaron Snook  
Signal Ensemble Thtr, 1802 W. Bernice (map)
thru March 3  |  tickets: $15-$20   |  more info
  
Check for half-price tickets 
  
  
   Read entire review
  
---
Despite interference, game on!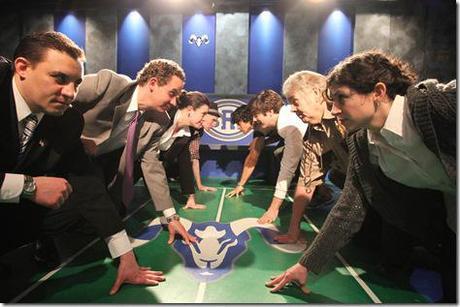 Signal Ensemble Theatre presents
Motion
Review by Katy Walsh 
Next Sunday's Super Bowl officially ends the football season.   The last tailgate party will be pulling out of the lot.  Suddenly, fans will find time on their clock as they get benched.  Where can diehards go for a post-season football fix? 
Signal Ensemble Theatre presents the world premiere of Motion.  Diane is the new GM for the Cleveland Rams.  Drew is the agent for college football star Casey.  Diane and Drew use to be married.  The struggling Rams get first pick in the football draft.  Casey is at the top of the list. When $100,000 gets Casey arrested, Diane and Drew work quickly and separately for the best score.  Motion is "Moneyball" meets "Jerry Maguire" with an interception by "Erin Brockovich."
Are you ready for some football?  Upon arrival, it's game on!  Signal serves up program-like-tickets in a souvenir plastic cup.  There's popcorn too!  Inside the theatre, three walls are lined with a single row.  They encircle the field.  The 8-member ensemble are already in position to play.  In fact, they are already in motion.  The music is bIaring.  The energy level is high! There are three potential views for this show.  I chose the wrong one.  Pick the east or west wall.  Pivotal conversations are staged with an actor's back to the north wall.  Yellow flag on the field!  Despite the interference, I'm still in the game.  
Playwright Ronan Marra pens a crisp, dialogue-based script. Marra's game book is tight scenes playing off each other. The technical jargon adds a layer of wit.  I'm a football novice (free Bears tickets or house party) fan. Even though I don't quite understand the strategies, I get the intention.  It's clever and fun! Director Aaron Snook executes the plan with fluid movement.  The ensemble are visibly sidelined until their scene or a scene transition.  Snook keeps the pace dynamic. It's a well-orchestrated team effort.   The razor-sharp Meredith Alvarez (Bries) negotiates with an impressive flair.  Alvarez continually shuts down aggravation with fast-talking intellect and dazzling patronization.  Her quirky sidekick Bries Vannon charms with work-smarts and dating-dumbs.  Vannon zings and dings with humor.  Louisiana small-town sheriff Vincent Lonergan is hilarious with a mischievous drawl. 
The entire ensemble is on its game.  And they are having fun doing it!  Party in the endzone and on the sidelines and on the field!   Motion kicks it for the extra points.  It's a winner!
Rating: ★★★
Motion continues through March 3rd at Signal Ensemble Theatre, 1802 W. Bernice(map), with performances Thursdays-Saturdays at 8pm, Sundays at 3pm.  Tickets are $15-$20, and are available by phone (773-698-7389) or online here (check for half-price tickets at Goldstar.com). More information at SignalEnsemble.com.  (Running time: 2 hours, which includes one intermission)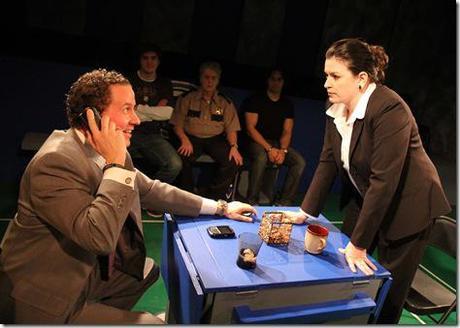 All photos by Johnny Knight 
---
artists