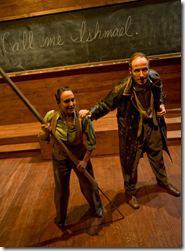 Moby-Dick
Adapted by The Building Stage 
Based on the book by Herman Melville
Conceived/Directed by Blake Montgomery
The Building Stage, 412 N. Carpenter (map)
thru Oct 30   |   tickets: $22   |  more info
Check for half-price tickets
   Read entire review
---
'Moby-Dick' confines audience in whale-sized problem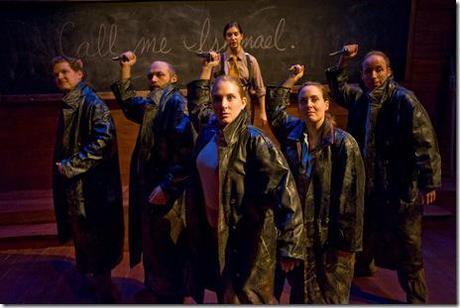 The Building Stage presents
Moby-Dick
Review by Lauren Whalen
The tagline of The Building Stage's Moby-Dick reads: "Drums. Melville. Miniature Ships." Indeed, the company's rendition of the nautical classic delivers on these three simple promises. But not much else.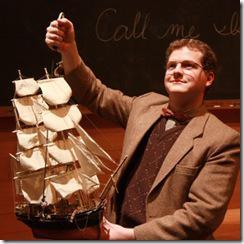 According to director
Blake Montgomery
's program note, this
Moby-Dick
is a revamp of The Building Stage's 2006 production. Both the 2006 and 2011 versions boast actor, designer and composer collaboration "with no separation between play and production." More separation may have benefited the process. I can't speak for the 2006 production, but 2011's
Moby-Dick
had me rooting for the elusive, unseen white whale.
Moby-Dick's script uses much of Herman Melville's original language, declaimed by six actors in professorial garb. Excessive telling and not enough showing results in more of a book on tape or elaborate choral reading than a fleshed-out show. Most problematic is the constant rotation of characters and actors: each player takes turns portraying various crew members and the obsessive Captain Ahab. The intention may have been noble – to offer multiple interpretations of dense literary characters – but the effect is jarring. Exactly no one is believable as Ahab, and in turn it's impossible to see why anyone would follow such a figure on a probable suicide mission. When multiple bodies, voices and processes embody a single character, the audience can have difficulty seeing development or establishing any sort of connection.
And it's hard on the actors. Only Sarah Hecht manages distinction in various personalities, conveying not only distinguishing voices but also separate energies and motivations. Her second-act monologue, involving an intense moral dilemma, carries a great deal of weight and honesty. The rest of the ensemble blends into a tweedy blob, ordering the audience to care about a legless ship captain but not sufficiently presenting the reasons why we should. All six appear to be having a grand old time, but no one else is included in the fun.
The production's set design is not credited to anyone, perhaps because no one wanted to take responsibility. With its wooden platforms and long blackboard, Moby-Dick's scenery is meant to convey both a staid classroom and a rollicking ship on the high seas. Despite the efforts of the actors and of Daniel Osburn's lighting design, the feeling of a moving entity is never believable – though the atmosphere is certainly claustrophobic. Ditto the hulking presence of the mythical whale. There's much talk of how awful and threatening it is, how it ruined Captain Ahab's life, but even after nearly two dragging hours, it's never really there.
Besides Hecht's intelligent interpretations, Moby-Dick possesses two bright spots. First, the miniature ships are works of art, intricately crafted with a sharp eye and a loving hand and inspiring a desire to look closer and marvel at the detail. Second, Kevin O'Donnell's original music adds a sense of fun. Played by a trio of percussionists, including O'Donnell himself, the strong beats and sharp accompaniment bring to mind the oddball antics of Blue Man Group. If only that energy extended to the rest of the production.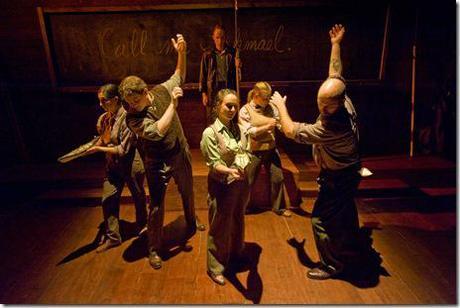 The transition of a literary classic to the live stage doesn't have to be bumpy. The Court Theatre's Spunk (our review), running through October 9th, enhances Zora Neale Hurston's short stories with enthused performers and a fabulous blues score. Likewise, last year's production of Peter Pan (our review) at Lookingglass Theatre Company emphasized the darker aspects of J.M. Barrie's perpetual youth while retaining a whimsical aura. In sharp contrast, Moby-Dick takes an exciting novel and makes it inaccessible to those unfamiliar with the source material, and unbearably dull to boot. Perhaps a third imagining by The Building Stage would get it right. Or perhaps it's time to hang up the harpoon.
Rating: ★★
The Building Stage's Moby-Dick continues through October 30th at their performance space, 412 N. Carpenter (map), with performances Fridays and Saturdays at 8pm, and Sundays at 4pm.  Tickets are $22 for adults and $12 for students and can be purchased by phone (312-491-1369) or online at BrownPaperTickets.com. More information at BuildingStage.com. (Running time: 2 hours, which includes a 10-minute intermission)
All photos by Michael Brosilow and Chelsea Keenan
---
artists
cast
Rachel Griesinger, Sarah Hecht, Chelsea Keenan, Ian Knox, Jon Stutzman, Nathan Wonder