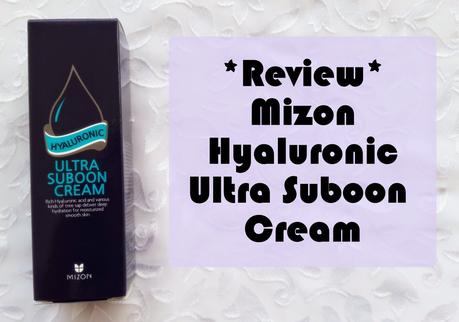 Mizon Hyaluronic Ultra Suboon Cream Review
In General, 
Hyaluronic acid is considered to be 
ideal for 
the correction of moderate to severe wrinkles and folds (for example, naso-labial folds) as it plays a vital role in skin's elasticity by retaining upto 1000 times its weight in 
water in the cells making it an excellent moisturizer. Application of this externally is considered to be equally effective in many case. 
So here i am today reviewing a magical cream that works wonders when used regularly.
Mizon Hyaluronic Ultra Suboon Cream Claims :
Enhances moisture retention and soothes irritated skin 

Moisturizes the skin, making it soft, smooth and elastic

Natural soothing complex

Artificial pigment free, artificial scent free, paraben free
Ingredients to note : 
Birch sap extract, bamboo sap, sunflower seed oil, olive oil, Biosaccharide Gum-1 , cerimide, adenosine, Arnica, Artemisia Absinthium Extract , Achillea Millefolium , Iris Florentina Root Extract
Others :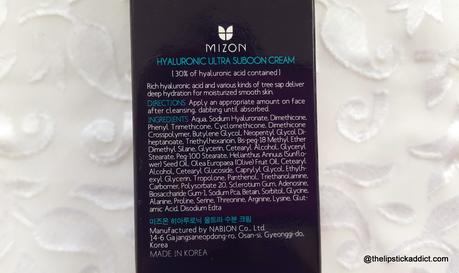 Volume : 45mlPackaging : Simple and fuss free, this cream comes in a easy to use squeeze tube.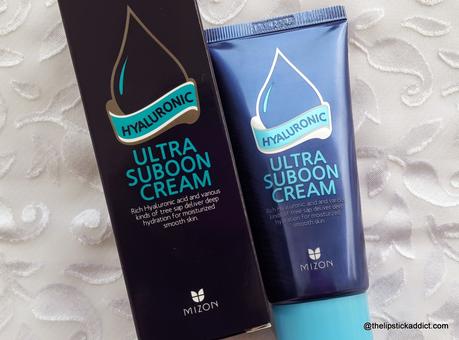 Formula, Texture and Color : White and gel like creamScent : NoneAbsorption : QuickMoisturization : PerfectLikes :
Irritated and sensitive skin feels relieved

Soothing feeling when applied

Perfect for any type of skin (safe on senstive and combination skin too)

Excellent form of moisturizer

Forms a protective layer, retaining moisturizer for a longer duration of time 

Keeps the skin soft and supple all day long

Excellent to use under plain sunscreen as well as foundation
Dislikes : None
Price : 13.01$
Buy the same here - 
http://w2beauty.com/en/mizon/hyaluronic-ultra-suboon-cream
Since I have been using this cream my skin is much softer and calmer and no signs of dryness during the Winter season too. This definitely has been my favorite product lately and knowing all the goodness this hyaluronic gives to the skin, it makes this all the more appealing. 
Here's some info you might like to know :
Benefits of Hyaluronic Acid on Skin 
:  
Almost half of the body's HA is located in the collagen of skin and it is logical that HA plays a vital role here.  Hyaluronic acid helps to retain over a 1000 times its weight in water within the cells of skin, making it an excellent moisturizer.  In fact, no other biological substance can retain as much water as HA resulting in increased smoothness, softening and decreased wrinkles.  Equally important is its ability to remove waste matter from cells including those where there is little blood circulation.
Today, hyaluronic acid is considered equally important, if not more important, than Collagen. The most common application for hyaluronic acid is in anti-ageing therapy, particularly with cosmetic procedures such as the elimination of skin imperfections and wrinkles, but these are not without problems and since HA is destroyed by the body, they need to be repeated regularly and are often expensive.
(source : ww.victoriahealth.com)

Hyaluronic is now available in different products and forms like serum, cream, foam cleanser, mist, emulsion, face pack, mask sheet, toner and essence.Here's list of products with Hyaluronic to pick from -http://w2beauty.com/hyaluronic-products

This product is supposed to be used in

 proper amounts to the face dabbing lightly at the last of skincare.

Ideal to use this cream after hyaluronic acid 100But I use this product right after my toner and finish of with a Collagen Cream and surprisingly I

 find my skin to be responding pretty well too

. I need a good boost of Collagen too to ward off the signs of dryness and aging.

Will be doing 

a detailed review on the Collagen cream soon....

So what you tried any Hyaluronic acid product earlier? What are your thoughts of this magical ingredient?

Till next post ....

Much Love