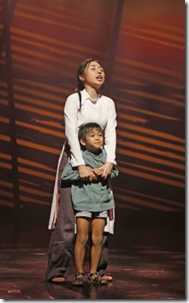 Miss Saigon
By Claude-Michel Schönberg (music),
  Alain Boubil and Richard Maltby, Jr. (lyrics)
Directed by Jim Corti
at Paramount Theatre, Aurora, IL (map)
thru Nov 24  |  tickets: $37-$50   |  more info
  
Check for half-price tickets 
  
  
   Read review
  
---
A near perfect production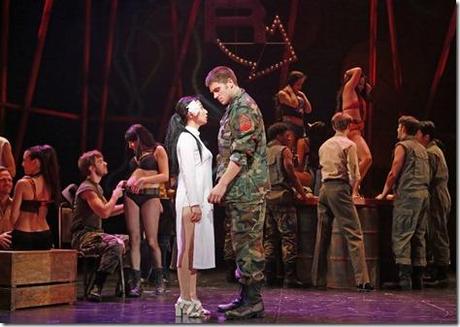 Paramount Theatre presents
Miss Saigon
Review by Catey Sullivan 
In its opening moments, you get the first indication that Paramount Theatre's staging of Miss Saigon is going to stand out, and powerfully so, amid the half dozen or more productions of the sonically gorgeous, emotionally rich musical seen in the Chicago area over past 15 years.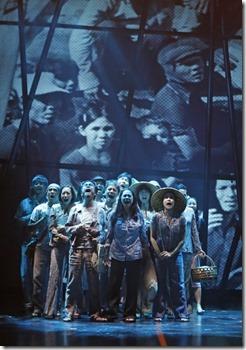 The scene is a raucous Saigon bar, a grimy, sweaty, garishly lit hellhole packed with GIs trying to drink and screw their way into oblivion, and barely dressed prostitutes using the only assets they have to engineer an escape. In every previous production of the show we've seen – and there have been at least four – the bar girls are as polished as Disney Princesses, women who look as if they just stepped out of a Victoria's Secret catalogue or the pages of the Sports Illustrated swimsuit edition. Not here.
In director Jim Corti's gut-punching, enthralling staging, the girls all but reek of desperation. They're wrapped like sausages in straps of luridly colored cloth that reduce them to jiggling body parts, a seedy, despondent display of strutting meat packaged in stripper heels and fringed thongs that market T & A like chicken cutlets and rump roasts in a cut-rate deli-counter. In this meat market, the expiration date is fast approaching, and the stench of urgency is tragic. There's both a jarring disconnect and a near-perfect synergy between the flashy, tawdry display of girls-for-sale and the rich, extraordinarily beautiful music emanating from the stage. When Gigi (Sophie Kim) soars through "The Movie in My Mind," it fills the 2,000 (or so) seat theater with beauty and sorrow.
Corti's direction, augmented by the gritty, graphic projections by Mike Tutaj, is a triumph of musical storytelling. Of course it helps that Claude Michel-Schonberg's score and Alain Boubil and Richard Maltby Jr.'s lyrics are glorious. But it's a rare regional production that employs a full 21-piece orchestra rather than relying on a six-piece band and a synthesizer. Under the baton of Shawn Stengel, Miss Saigon sounds sublime.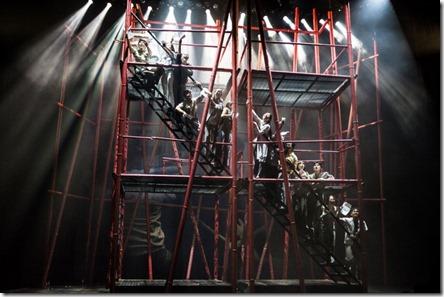 The story isn't especially original. Centering on Kim (Shawna Haeji Shin) , a 17-year-old Vietnamese girl and Chris (Brandon Moorehead), the GI who falls in love with her, Miss Saigon is essentially Madame Butterfly transported to Viet Nam. But just because the plot is well-worn doesn't mean it lacks in power. And there's a crucial character here that doesn't show up in Puccini's opera, a fellow known only as the Engineer (Joseph Anthony Foronda), a wily, conniving, amoral, incandescently charismatic hustler hell bent on transporting his stellar skills as a pimp from the downtrodden gutters of Saigon to the glittery, money-paved streets of the U. S. of A.
For my money, the Engineer has the best songs in the show: The first act's cynical, sensible anthem to survival, "If You Want to Die in Bed," and the second act's consumer-culture skewering showstopper, "The American Dream." Both numbers are absolute tour de forces, requiring a virtuoso's vocal capabilities and the kind of mesmerizing, snakeoil salesmanship one associates with the Wizard of Oz or a multi-billionaire televangelist. Foronda has both, to the extent that I hereby declare that his name should become the noun used to describe the defining gold standard of thespiatic and vocal skills absolutely required in order to do this role justice. As in: If you don't possess the necessary Foronda you should not attempt to portray the Engineer.
The character is a delicious bundle of contradictions, an abusive flesh-peddler with allegiances to no one but himself; a gleaming portrait of all-American ambition and by-the-bootstraps endurance; a slimeball with the sartorial taste of a bargain basement sugar daddy; and an endearingly rascally example of the power of positive thinking. In Foronda's spot-on, simultaneously sensual and repulsive performance, you love the Engineer and revile him. Either way, you never take your eyes off him.
All of which risks minimizing the stirring, soaring performances by Moorehead and Shin, who are matched in power by Elliot Greer, consistently intriguing, compulsively watchable as Chris' best friend John, and by Emilie Lynn, who brings a marvelous soprano and steely backbone to Chris' wife Ellen. Moorehead and Shin are both in possession of major pipes and enough emotive authenticity to make Chris' and Kim's love-after-one-night-stand seem not only believable but inevitable. Moorehead nails the frustration and confusion raging within Chris ("Christ I'm an American. How could I fail to do good?"), as well as the all-immersive rush of first, true love that he finds with Kim.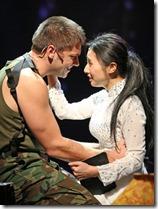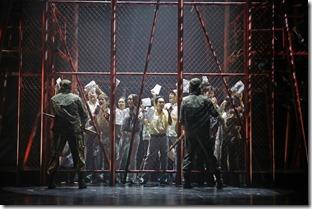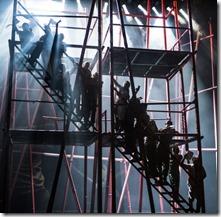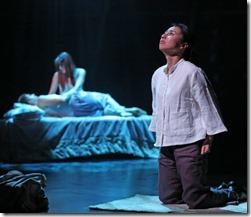 Shin makes Kim far more than a generically innocent ingenue, giving the character a determination and an angry pragmatism ("Do you want one more tale of a Viet Nam girl?") that creates a woman of depth as well as devotion. Her stand-off with Thuy, the man she was "pledged to" at 13 (the menacingly handsome, vocally superior W. Blaine Brown) is heart-racing duel of wills.
Equally powerful is the synchronicity between Tutaj's projections – primarily black and white stills from the Viet Nam conflict – and Miss Saigon's lyrics provides a powerful collision between words and images. At the precise moment Chris sings that Viet Nam is great, "just as long as you don't believe anything," shots of smiling GIs and fluttering flags dissolve into body bags and mass graves. It's one of countless, thoughtfully executed mergers of sound and sight that adds layers of harrowing context to Miss Saigon.
Corti has added distinctive directorial choices throughout: The horror of point-blank executions fill one scene change; the infamous helicopter scene is modeled on a photograph that encompasses the stage; the Engineer channels Al Jolson while waxing rhapsodic about the virtues of Uncle Sam.
With Jeff Hancock's choreography, Jesse Klug's lighting and Linda Buchanan's bamboo-and-neon inspired set design, Miss Saigon comes together as a near perfect package. And while that might sound gushing and hyperbolic, it is also absolutely true.
Rating: ★★★★
Miss Saigon continues through November 24th at Paramount Theatre, 23 E. Galena Blvd., Aurora(map), with performances Wednesdays 1:30 and 7:30pm, Thursdays 7:30pm, Fridays 8pm, Saturdays 3pm and 8pm, Sundays 1pm and 5:30pm.  Tickets are $37-$50, and are available by phone (630-896-6666) or online through their website (check for half-price tickets at Goldstar.com). More information at ParamountAurora.com.  (Running time: 2 hours 25 minutes, includes an intermission)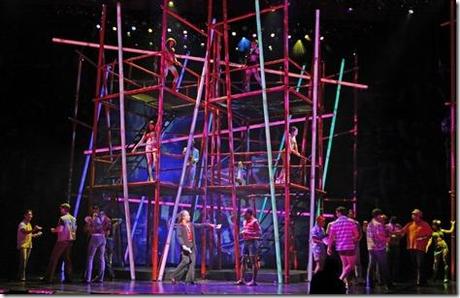 Photos by Liz Lauren
---
artists
cast
W. Blaine Brown (Thuy), Anthony Joseph Foronda (Engineer), Elliot Greer (John), Sophie Kim (Gigi), Emilie Lynn (Ellen), Brandon Moorhead (Chris), Shawna Haeji Shin (Kim), Zachary Uzarraga (Tam), Aurora Adachi-Winter, Adrian Aguilar, Michael Bailey, Christopher Behmke, Bear Bellinger, Audrey Billings, Aaron Conklin, Jasmine Ejan, Nelson Green, Jake Klinkhammer, Dan Lin, Joyee Lin, Allison Lind, Richard Manera, Chip Payos, Geena Quintos, Creg Sclavi, Peter Sipla, Vi Tran, Matthew Uzarraga, Janelle Villas, J. Tyler Whitmer (ensemble)
behind the scenes
Jim Corti (director), Shawn Stengel (music director, conductor), William D. Brohn (orchestrations), Linda Buchanan (set design), Mike Tutaj (projection design), Jeffery Hancock (choreography), Linda Roethke (costume design), Jesse Klug (lighting design), Adam Rosenthal (sound design), Sarah E. Ross (props design), Dianne Morrissette (wig design), Rose Marie Packer (stage manager), Beth Ellen Spencer (asst. stage manager), Liz Lauren (photos).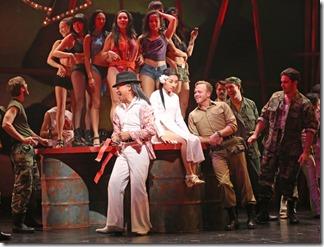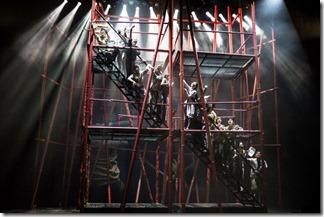 13-1060