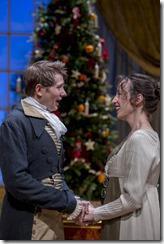 Northlight world premiere a near-perfect holiday production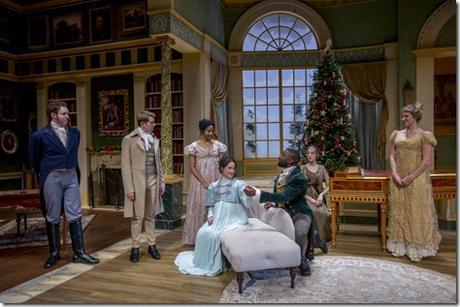 Review by Catey Sullivan
Late in the second act of Northlight's world premiere production of Miss Bennet: Christmas at Pemberley , Mary Bennet puts a brilliantly fine point on the dilemma of women the world over. The unmarried Miss Bennet (Emily Berman) is speaking to a man who has both wealth and power, but who continually insists that he is trapped and without choices in a world of misery. Mary just isn't having it.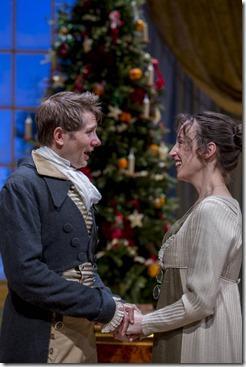 "(Y)ou do have a choice. But if you are too afraid of to use it, then you do not deserve it," Mary says, "You will understand the shock at unused agency from those of us who have none. Good day, sir. I mean, good-bye." Thus is Arthur de Bourgh yanked out of his lily-livered inability to take a stand.
In Jane Austen's Regency-era England, choice was a luxury not many women had. If you were female, unmarried and without means, you likely had about as much agency as a cow being shuttled down the chute toward her ignominious end. And while Austen's upper-middle class ladies weren't destitute enough to be funneled into the workhouses, the author's rendering of their plight remains a powerful reminder of the perils of institutionalized sexism and its noxious sibling: patriarchy.
With Miss Bennet: Christmas at Pemberley , playwrights Margot Melcon and Lauren Gunderson craft a sparkling, witty, feel-good rom-com that is also a sharp, trenchant commentary on the perils of institutionalized misogyny. Director Jessica Thebusstrikes a perfect balance in Christmas at Pemberley : She instills it with a fizzy, charming ebullience throughout, but also shows with laser-like clarity the desperation and despair that engulf women without agency.
Christmas at Pemberley centers on Mary Bennet (Berman), the bookish middle daughter who was still single at the close of "Pride and Prejudice." Her life is small, her longed-for adventures solely between the pages of the maps and travelogues she devours. Surrounded on both sides by prettier, more charming, married sisters, Mary finds herself struggling to "remember who I am" as opens. She has nothing of her own but the Beethoven sonatas she passionately plays on the piano forte. She has no way of exploring the wider world outside the confines of her own imagination.
Within the Pemberley household headed by Mary's sister Elizabeth (Samantha Beach) and her dashing husband Fitzwilliam Darcy (Alex Goodrich), even happily married women are not fully human in the eyes of both law and custom. They are over a century from having the right to vote. They are unable to inherit money or property. Bennet sisters Elizabeth and Jane have been able to make society's rules work for them - both are ecstatically in love, married to husbands who are caring, smart, witty, wealthy and doting. For Mary and youngest sister Lydia (Jennifer Latimore), things haven't turned out so well: Mary is suffocating by inches. Lydia has married a neglectful cad who has left her to perish of loneliness.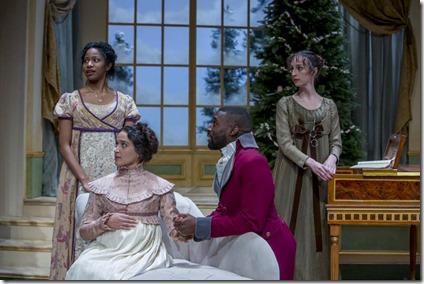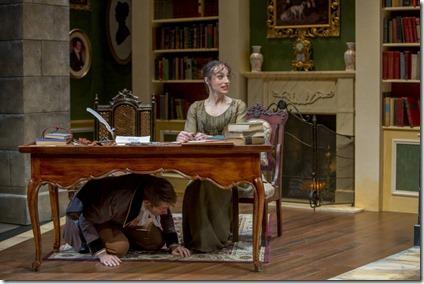 Thebus' cast doesn't miss a step as they navigate a tight-rope between sparkling romantic comedy and withering attack on the misogynistic mores. Melcon and Gunderson's whipsmart, humorous dialogue will lull you into thinking you're immersed in a lovely bit of escapism as the Bennet sisters flit about hanging paper stars from Christmas trees and singing carols at the piano forte. And then it will zing you with an arrow of truth about the entrenched patriarchy that's keeping these smiling women from doing - well, much of anything really - without the approval of a man.
Filtered through Arthur and Mary's relationship, Melcon and Gunderson create a story that's richly entertaining. Berman is eminently worthy of tackling an Austen heroine. When she lays into Beethovan's Piano Sonata Opus 2, No. 1, it's with a presto gusto, it evokes the composer's great lyrical gifts and the frenzied spirit one needs to do them justice. When Mary laments that she lacks definition compared to her prettier, more charming, married sisters, you can hear both her life-long depression and her barely-contained anger. And when she wonders whether it's possible to live a big life "in your mind alone," the moment is heartbreaking.
As de Bourgh, Erik Hellman creates a character who is utterly delightful. You'll be rooting for de Bourgh from his bumbling entrance onward. Hellman makes de Bourgh's passions as intensely genuine as his all-but non-existent social skills. Deeply introverted and terribly nervous when not talking about books, de Bourgh carries a small tablet where he jots down things he wishes to say - without notes, he's reduced to flustered stammering. Hellman makes the easily flummoxed fellow so endearing it's impossible not to join Mary in falling in love with him. de Bourgh's final gift to Mary is genius, and could melt a heart of stone.
The path toward true love, however, does not run smoothly for de Bourgh and Mary Bennet. Matters are complicated - both hilariously and poignantly - by de Bourgh's fiancé, Anne (Bri Sudia). When Anne sways into Pemberley in an aggressively fashion-forward hat, she evokes an image of a ship's prow plowing indomitably forward through a hurricane. Once the betrothed of Darcy, Anne has little patience for the Bennets. They've already cost her one fiancé, and she's not about to let a second one succumb to the family.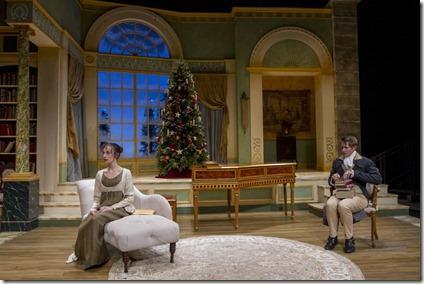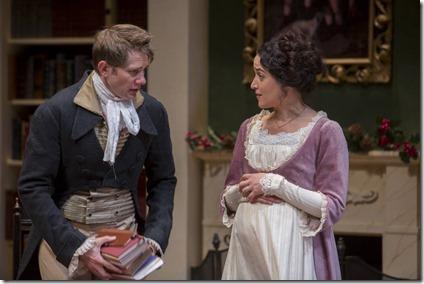 With her sneering tone and constant derision toward the Bennets, Anne could easily descend into a one-note villainess. Indeed, she seems in danger of doing just that in her early scenes. But Melcon and Gunderson are far too intelligent to insert a two-dimensional women into their plot. There's more to the domineering Anne than simply being a foil to Mary Bennet's intelligent sensitivity.
Sudia is alternately wrenching and comic as she breathes life into this complicated anti-heroine. Anne is a bundle of contradictions, simultaneously overbearing and deeply vulnerable. Together, Anne and Mary are almost mirror images, each woman refracting a different, equally layered, equally valid reaction to a world where women have few rights and single women are ever at the mercy of men.
Christmas at Pemberley plays out in the titular estate, rendered by Rick and Jacqueline Penrod as a gorgeously elegant Regency-era drawing room. As for that piano forte, it will inspire lust in anyone who has ever dabbled in Beethoven's sonatas or visited a Steinway showroom. Moreover, Kevin O'Donnell's sound design will make you swear on a sacred sprig of mistletoe that Mary Bennet is actually playing the breathtakingly beautiful instrument.
Melissa Torchia's glorious costume design captures the radiance of the holiday season with period-perfect detail. Watch for the emerald green frock Mary dons for Christmas. In a just world, it's a garment that should be widely available for purchase.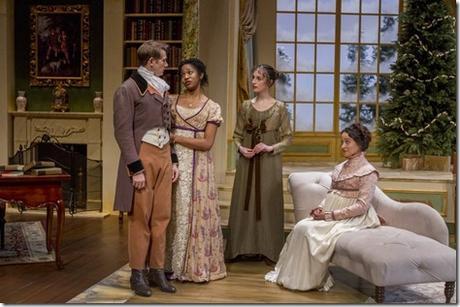 Christmas at Pemberley is a nearly perfect holiday production. It sparkles like tinsel even as it plumbs the ruinous injustices of systemic patriarchy. And without indulging in spoilers, we'll not that it has an ending that feels so truthful and joyous that you'll surely exit with hope.
Miss Bennet: Christmas at Pemberley continues through December 18th at the North Shore Center for the Performing Arts, 9501 Skokie Blvd. (map), with performances Tuesdays at 1:30pm, Wednesdays 1pm & 7:30pm, Thursdays 7:30pm, Fridays 8pm, Saturdays 2:30pm & 8pm, Sundays 2:30pm & 7:30pm. Tickets are $30-$81 (students: $15), and are available by phone (847-673-6300) or online through their website (check for half-price tickets at Goldstar.com ). More info at Northlight.org. (Running time: 2 hours, includes an intermission)
Photos by Charles Osgood Photography
behind the scenes
Jessica Thebus (director), Rick and Jacqueline Penrod (set design), Melissa Torchia (costume design), Sarah Hughey (lighting design), Kevin O'Donnell (original music, sound design), Kimberly Ann McCann (production stage manager), Lynn Baber (casting), BJ Jones (artistic director), Timothy Evans (executive director), Lee Conrads, Caitlin Lowans, Jeffrey Mosser (asst. directors), Amanda Herrmann (properties master), Katy Garcia (production assistant), Lauren Shouse (dramaturg), Adam Goldstein (dialect coach), Lauren Quinlan, Maggie Cramer (asst. dramaturgs), Charles Osgood (photos)
Tags: 16-1145, Adam Goldstein, Aila Peck, Alex Goodrich, Amanda Herrmann, Andrew Carlyle, BJ Jones, Bri Sudia, Caitlin Lowans, Catey Sullivan, Charles Osgood, Charles Osgood Photography, Chicago Theater, Colin Morgan, Emily Berman, Erik Hellman, holiday show, Jane Austen, Jeffrey Mosser, Jennifer Latimore, Jessica Thebus, Katy Garcia, Kevin O'Donnell, Kimberly Ann McCann, Kristina Loy, Lauren Gunderson, Lauren Quinlan, Lauren Shouse, Lee Conrads, Lizzie Schwarzrock, Lynn Baber, Maggie Cramer, Margot Melcon, Melissa Torchia, North Shore Center for the Performing Arts, Northlight Theatre, post, Rick and Jacqueline Penrod, Roberto Jonson, Samantha Beach, Sarah Hughey, Summer Hofford, Timothy Evans, Tosin Morohunfola