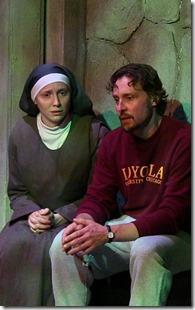 Miracles in the Fall
Written by Chuck O'Connor 
Directed by Richard Shavzin 
at Greenhouse Theater, 2257 N. Lincoln (map)
thru Oct 5  |  tickets: $10-$25   |  more info
  
Check for half-price tickets 
  
  
   Read review
  
---
Baseball, booze, Catholicism mix in Irish-flavored Midwestern drama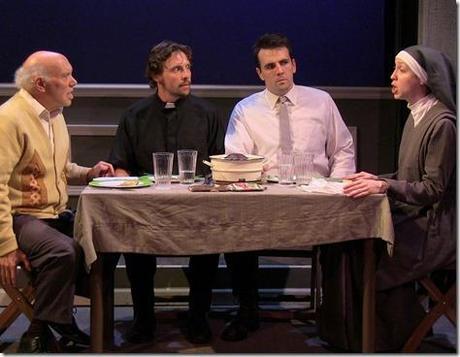 Polarity Ensemble Theatre presents
Miracles in the Fall
Review by John Olson
The Detroit Tigers baseball team made it to the World Series in 1968 for the first time since 1945. When they fell behind their opponents the St. Louis Cardinals 3 games to 1 in the Series, it was easy to be pessimistic about their chances of taking it all. Even so, they came from behind to win the last three games and took the series. That's one of several miracles in this play that also deals with the effects of alcoholism and the Catholic Church on an Irish-American Detroit family in the fall of 1968. This world premiere, the winner of Polarity Ensemble Theatre's 2013 Dionysos Cup Festival of New Plays, is apparently a memory play. A program note from the author, Chuck O'Connor, says only that it's a story "very personal" to him, but the naming of one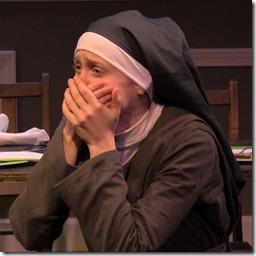 character as "Charlie Connelly" suggests it may be semi-autobiographical. He may need to dig a little deeper into his memories, or be willing to put more of them on the page and the stage in future drafts of this play. As it stands now, it's too sketchy to command sufficient empathy for the characters.
Miracles in the Fall is concerned with the Connelly family. Daughter Clare (Laura Berner Taylor) is a young nun who's been given permission to live at home with her widowed father Jimmy (Fred A. Wellisch), an active alcoholic Clare is trying to keep sober. Her brother Charlie arrives home unexpectedly from a tour of duty with the Armed Forces in southeast Asia, and – for reasons never made perfectly clear – he's not initially welcome. Clare and Jimmy let him back into their lives, though, and the upcoming memorial service for the late Mrs. Connelly, who died a year earlier, leads them all to examine how their family fell apart. Trying to help in this process is Father Peter Lentine (Rian Jairell), a young priest at the church where Clare works. His leanings are progressive and, though in sync with the then-new Vatican II teachings of the Church, they're baffling to Clare, who was raised in a convent from age 13. She's trying to find solace and guidance from the Church, but isn't getting it.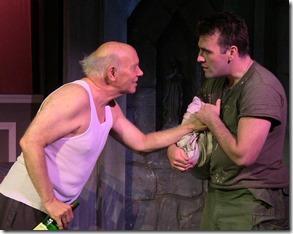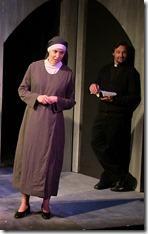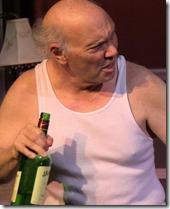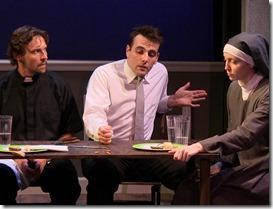 All four are troubled and seeking redemption or relief in some manner. Jimmy looks for his relief from the bottle. He's a lazy, Archie Bunker sort of bigot, but without the humor. He's full of blustery statements like "this is my house," even though he is in no position to care for himself in it. His attempts to go on the wagon are short-lived as he retreats to the bottles he has hidden around the house. He bears a resentment toward his late wife that is unexplained until late in the play, and there's not much to like about him, so far as we can see. Clare is mostly frustrated with her efforts to care for him and disappointed to learn that Father Lentine doesn't believe her anger is a sin. Charlie carries guilt around as well: he apologizes to Clare and Jimmy for whatever it is he did. The family has secrets, but we don't hear what they are until the second act, and the reasons for all the considerable conflict on stage are unclear until then, so it's hard to form any feelings toward the characters in the first hour of the play. The angst and noise that's generated in the first act is performed with fearless commitment and energy by the cast under Richard Shavzin's direction, but the emotions aren't earned because we don't see from where they're coming. When the secrets are revealed in the second act, there are too many of them in just 40 minutes and it all feels contrived. We need to know more about the characters besides their sins and the transgressions against them by others – we need to get a sense of what's been lost in their lives as a result of the familial and religious abuses against them.
O'Connor has a good ear for dialogue, though, and Aaron Stephenson's sound design incorporating audio of Tigers' broadcasts and jingles provides a sense of period authenticity. There's something appealing about a play that brings the traditions of Irish family drama to a Midwestern setting and an era many in the audience will remember. O'Connor may well be advised to dig deeper into the details of this setting and make more effort at communicating the small truths of these peoples' lives even as he says what he wants to say about their tragedies.
Rating: ★★½
Miracles in the Fall continues through October 5th at Greenhouse Theater, 2257 N. Lincoln (map), with performances Thursdays-Saturdays at 8pm, Sundays 3pm.  Tickets are $10-$25, and are available by phone (773-404-7336) or online through Vendini.com (check for half-price tickets at Goldstar.com). More information at PEtheatre.com.  (Running time: 1 hour 40 minutes, includes an intermission)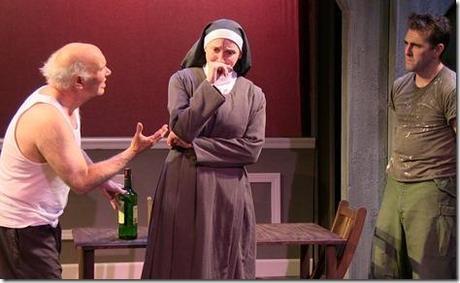 Photos by Richard Engling
---
artists
cast
Laura Berner Taylor (Clare), Rian Jairell (Father Peter Lentine), Mickey O'Sullivan (Charlie Connelly), Fred A. Wellisch (Jimmy Connelly)
behind the scenes
Richard Shavzin (director), Jamie Crothers (stage manager), Charles C. Palia, Jr. (scenic design), Jessica Smith (costume design), Maggie Speer (props design), Benjamin L. White (lighting design), Aaron Stephenson (sound design), Rachel Ramirez (managing director), Nicole Smith (production manager), Richard Engling (artistic director, photos)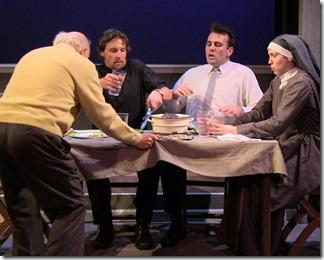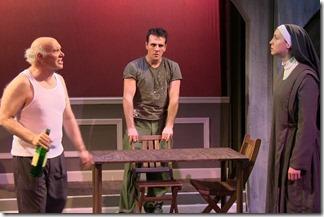 14-0910