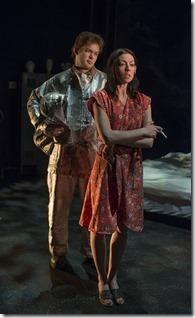 Mill Fire
Written by Sally Nemeth  
Directed by Sandy Shinner
at Theater Wit, 1229 W. Belmont (map)
thru June 7  |  tickets: $18-$30   |  more info
  
Check for half-price tickets 
  
  
   Read review
  
---
Scorching drama of love and loss elevated by powerful cast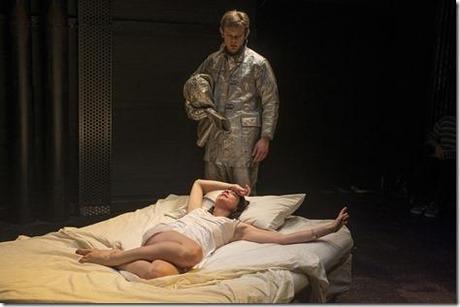 Shattered Globe Theatre presents
Mill Fire
Review by Clint May 
Not everyone follows the Kübler-Ross model of grief. For Sally Nemeth's fiery widow at the heart of Mill Fire, denial is not an option. The sting of her dead beloved has seared away the potential for denial, leaving only an exposed nerve of anger. The thing she can't accept is any possible nepenthe for her pain. Shattered Globe Theatre ignites the story with a vengeance matched only by an incendiary set of performances that make this production a poetic turn on what might have been mere melodrama.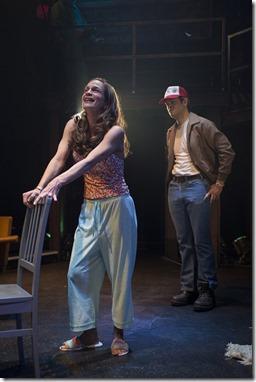 For the denizens of Birmingham in the late 70s, a way of life is at a crossroads. The steel industry that provides most of the jobs is facing stiff overseas competition. Union officials and barons alike have turned a blind eye to safety violations to keep jobs and avoid costly rehabs. Marlene (
Kate LoConti
) and Champ (
Drew Schad
) are newlyweds barely able to leave the world of their bed. Her brother Bo (
Ken Bradley
) is a Purple Heart and foreman at the mill, unhappily married to the ironically named Sunny (
Rebecca Jordan
). On one inauspicious rainy night, the portents don't stop the industrial carnage that gives the production its name.
Set one year from the date of the four deaths, the timeline shifts between past and present. Three other widows (Angie Shriner, Daria Harper, Deanna Reed-Foster) form a Greek chorus of mourners and narrators, as well as a source of pressure for Marlene. Her desire to make everyone uncomfortable by not conforming to the standard notion of grief is a cause for their consternation. Her unwillingness to accept a settlement selfishly holds up the payment for everyone, who must remind her that other people exist outside of her anguish. The torch she bears can't be put down long enough to make anyone else feel better about what happened, even for the sake of a sympathetic priest (Kevin Viol).
Shifting along with the timeline is the tone. Free-verse poetry and elegiac symbolism—mostly referencing the portents of weather or the banality of life after a tragedy—is interspersed with a prosaic, homely naturalism. Nemeth isn't out to write an Erin Brockovich v. American Steel. This remains a human-centric story of loss and its fallout, though there are lingering questions of human and corporate culpability. Did Bo's dependence on tranquilizers for a bad back lead to some fatal oversight? Could Champ's death have been avoided if the union hadn't held back automation to preserve jobs? No easy answers are forthcoming.
At the center of the maelstrom, LoConti is mesmerizing as she transforms her intense young love to scorn. She takes a potentially cliché 'Angry Southern Woman' role and makes it a heartfelt study in conviction. The same can be said for Jordan's take on a liquor-swilling neglected housewife, who has her own journey to rediscover a husband lost in another way. Director Sandy Shinner has fine-tuned the supporting roles right down to the chorus of widows (Harper is one of the most versatile actresses I've seen of late). Thanks to a superb technical team—a special nod to Christopher Kriz on sound design and designer Jeff Bauer's innovative use of space—the evocation of place is as evocative as the performers.
Mill Fire—which had it's debut at the Goodman in 1989—chooses to end with a hesitant but well-shaped grace note. It's a small but important message of hope in an often cruel world that takes so much that there is a phoenix in us, ready to rise. The only way to do that is to let go.
Rating: ★★★★
Mill Fire continues through June 7th at Theater Wit, 1229 W. Belmont (map), with performances Thursdays-Saturdays at 8pm, Sundays 3pm.  Tickets are $18-$30, and are available by phone (773-975-8150) or online through TheaterWit.org (check for half-price tickets at Goldstar.com). More information at ShatteredGlobe.org.  (Running time: 1 hour 45 minute, includes an intermission)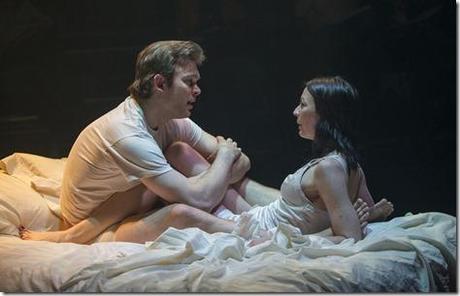 Photos by Michael Brosilow 
---
artists
cast
Rebecca Jordan (Sunny), Kate LoConti (Marlene), Drew Schad (Champ), Angie Shriner (Widow), Kevin Viol (Minister, OSHA investigator), Ken Bradley (Bo), Daria Harper (Widow), Darren Jones (Jemison), Deanna Reed-Foster (Widow).
behind the scenes
Sandy Shinner (director), Jeff Bauer (scenic design), Sarah Jo White (costume design), Charlie Cooper (lighting design), Christopher Kriz (sound design), Vivian Knouse (props design), Susan Gosdick (dialect coach), Kat Warner (production manager), Amanda Rozmiarek (technical director), Jeffrey Clark Stokes (stage manager), Rosie Chevalier (producer), Michael Brosilow (photos)
14-0453