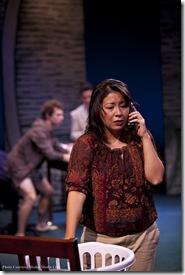 microcrisis 
Written by Mike Lew  
Directed by Edward Morgan  
Next Act Theatre, 255 S. Water, Milwaukee (map)
thru Oct 21   |  tickets: $25-$35   |  more info
  
Check for half-price tickets 
  
  
   Read entire review
  
---
'microcrisis' reminds, rebukes "Con men behind the curtain"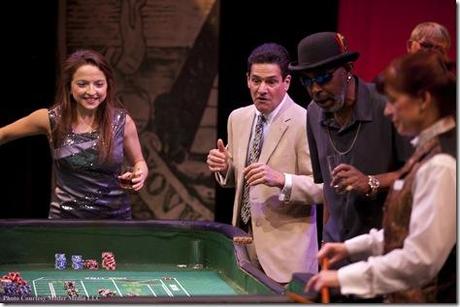 Next Act Theatre presents
microcrisis
Review by Harry Cherkinian
"It's all about leverage," says the smooth, fast talking "bank guy" in Mike Lew's clever, witty microsisis, currently onstage at Milwaukee's Next Act Theatre. And "leverage," in this case, is all about acquiring power—and money. LOTS of money. Even if there's nothing to back it up but the high pressure sales "tactics" of that smooth fast-talking "bank guy."  (Think: snake oil salesman for the 21st century).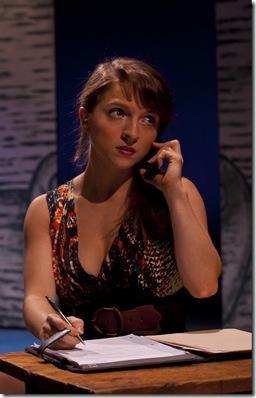 microcrisis is a sharp, er make that, forked tongue satire of the global economic meltdown, using microcredit as a kind of "three card monte" approach. The house of cards falls quickly (just like real life back in 2008, remember when?) and it's the everyday common folk that bear the brunt of the cyber-shell game.
So, what's "microcredit?"  According to the Webible, Wikipedia, it's "the extension of very small loans (microloans) to impoverished borrowers who typically lack collateral, steady employment and a verifiable credit history."   While it's designed to help small businesses get off the ground, that "bank guy" Bennett has other ideas in terms of building a vast fortune overnight, or in this case a little longer (months in the making). The small guy with the small loan ends up entrapped with more debt than originally intended. And that's just what the "bank guy" wants. He also needs his "patsies," in this case: a young woman named Lydia trying to do good in Ghana with these microloans and Randy, the Harvard kid who doesn't leave his dorm room and builds a fortune on the net.
Both get swept up as bad lieutenants to boss man Bennett's Machiavellian scheme to plunder Randy's Ivy League lending program and Lydia's well-intentioned efforts to lend money to impoverished people in Ghana. Like the proverbial Pinocchios being led to (the cursed) Pleasure Island, Randy and Lydia are soon caught up in the web Bennett has spun and trapped them, along with his old boss, Frankfurt, founder of his own successful bank and BFFs with "Ben" (as in Federal Reserve Chief Bernanke).
In the highly capable hands of Next Act Theatre's cast and crew, and veteran Milwaukee area director Edward Morgan, microsisis is as much modern-day history lesson as it is pointed parody about the subprime mortgage lending debacle, no laughing matter to the millions of people who suffered—and continue to suffer—financial losses.  Yet Next Act Theatre educates us as well as entertains throughout this 90-minute (intermission-less) production.
The seven member cast excels throughout, starting with David Cecsarini as the amoral Bennett (Cecsarini is also NAT's Artistic Director).  Cecsarini completely understands Bennett, giving the sly fox of a character enough room to hang himself without going overboard in the characterization. He is as believable as the contemporary con man as he is charismatic. It's easy to understand why the "youngsters" fall for his fame. And they too do a fine job here; Alexandra Bonesho (recent Marquette University theater grad who's continued to grow in her roles) as the once innocent, twice hardened Lydia and in a great characterization of the young moguls of the cyber world, Michael Cotey as Randy (Cotey is Artistic Director of Youngblood Theater Company in Milwaukee).
The rest of the ensemble is just as good: Chicago-based actress Erica Cruz Hernandez is a natural as the schoolteacher housewife taken in by the schemers and Mary Kababik is hilarious as the frumpy Moody's analyst who knows Bennett's game but falls for his line. Lee Palmer balances multiple roles and Milwaukee veteran actor, writer and director John Kishline rounds out the cast as the good ol' boy Frankfurt.
Director Morgan serves the script well, keeping the frenetic pace moving amid the iconic dollar bill schematic used on backdrops amid Jason Fassl's high tech lighting and Aaron Sherkow's video animation, perfect for the dizzying speed at which the scams move.
"The more you put on the table, the more you can earn," the conniving Bennett tells his unsuspecting victims. Problem is, there's nothing on the table at all. It's just a wave of the magician's hand. And we already know how the trick works, or how it fails—with catastrophic results. And that's "leverage, take or leave it, in the 21st century world of microcrisis.
Rating: ★★★★
microcrisis continues through October 21st at Next Act Theatre, 255 S. Water, Milwaukee (map), with performances Wednesdays at 1:30pm and 7:30pm, Thursdays/Fridays at 7:30pm, Saturdays 4:30pm and 8pm, Sundays at 2pm.  Tickets are $25-$35, and are available by phone (414-278-0765) or online through BrownPaperTickets.com (check for half-price tickets at Goldstar.com). More information at NextAct.org.  (Running time: 95 minutes, no intermission)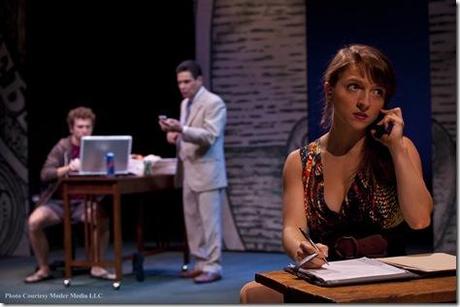 Photos courtesy of Moder Media
---
artists
cast
Alexandra Bonesho (Lydia); David Cecsarini (Bennett); Michael Cotey (Randy); Erica Cruz Hernandez (Mrs. Chavez, Collette); Mary Kababik (Clare, Beta Test, Renée); John Kishline (Frankfurt, Christophe); Lee Palmer (Acquah, Mr. Chavez, Drunken Gambler)
behind the scenes
Edward Morgan (director); Kimberly O'Callaghan (costumes); Jason Fassl (lighting); Nikki Kulas (props); Rick Rasmussen (set); David Cecsarini (sound); Aaron Sherkow (video); Lee Palmer (choreography); Jessica Connelly (production stage manager); Moder Media LLC (photos)
12-10m1