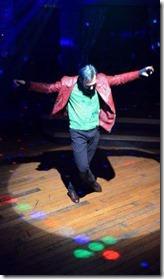 Shakespeare goes sci-fi in enjoyable, unique theatrical experience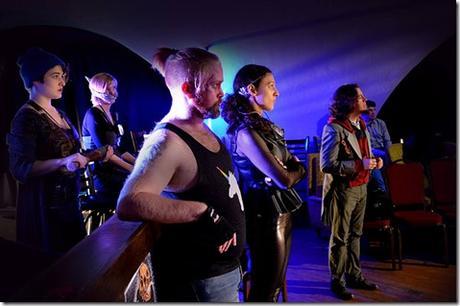 Otherworld Theatre has been producing science fiction and fantasy plays in Chicago for the past four years. Their latest offering sets Shakespeare's Much Ado About Nothing in a dystopian future.
The pre-show involves some rather self-indulgent spin-the-bottle action that no doubt proves more enjoyable for the cast than the audience. Once you get past that and a couple over-stimulating introductory scenes in which the music and lights overwhelm the dialogue and action, the fun begins.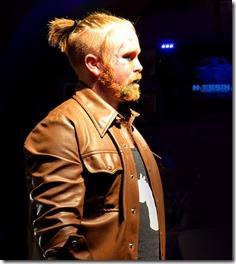 The futuristic conceit works well enough. The Moralist faction (Don John, Conrade, Borachio) who have devices on their shoulders that inhibit their emotion are at odds with The Revolutionaries (Don Pedro, Claudio, Benedick, Cordelia, Henrick), who wear their emotions on their proverbial sleeves. The Mother Protector (
Mary-Kate Arnold
) periodically encourages citizens to take their medicine, which no doubt translates to improved sales for the
Mary's Attic
bar. Some of the futuristic translation doesn't quite make sense. The audience is asked to vote for either the Moralist or Revolutionary side, but the voting basis is unclear, as is what the voting determines.
The proceedings become so much fun that you easily forgive any puzzling moments. Drew Mierzejewski and Aly Grauergenerate great chemistry in the love-hate relationship between Benedick and Beatrice. Perhaps not surprisingly, as the two actors are married. Elyse Dawson delivers an outstanding performance as Don John, clearly relishing the dual portrayal of Don Pedro's vengeful sibling as both emotionless and passionate, depending upon whether her emotion removal device is active. Dylan Schaefer and Julia Rigbyprovide suitable buffoonery as the constables without making them complete caricatures. With so many characters onstage at any given time, the cast excels at reacting to each other and providing give-and-take.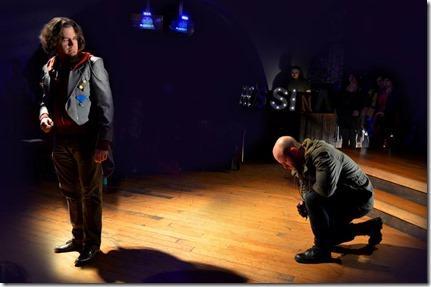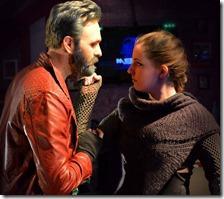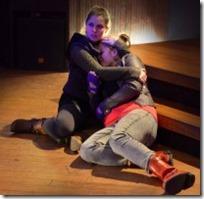 The entire production stuns visually, with Erin Gallagher's costume design standing out as engaging the eye, setting the scene, and establishing character. A couple of fun Moulin Rouge-style musical montages break out (apparently Janis Joplin and David Cassidy remain popular in a post-apocalyptic 31st century). There's even a bit of audience interaction thrown in for good measure.
Messina 3004 is ambitious, colorful, energetic, athletic, sexy, and manages to achieve all of this in a brisk 90 minutes. I'm not familiar enough with Shakespeare's original text to know precisely how much gets cut and altered, but Arnold's adaptation stays true to the spirit of the original while putting a very distinctive stamp upon it. You don't need to love Shakespearean comedies nor science fiction to enjoy Messina 3004 ; just bring your love of unique theatrical experiences.
Messina 3004 continues through February 28th at Mary's Attic, 5400 N. Clark (map), with performances Thursdays-Saturdays at 7:30pm, Sundays 4pm. Tickets are $20, and are available by phone (800-838-3006) or online through BrownPaperTickets.com (check for half-price tickets at Goldstar.com ). More information at OtherworldTheatre.org. (Running time: 90 minutes, no intermission)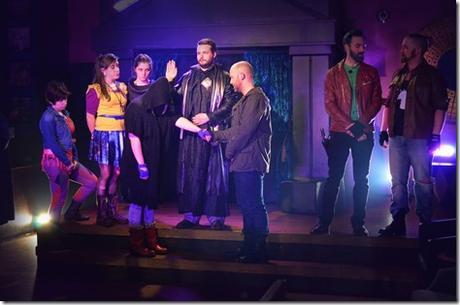 behind the scenes
Mary-Kate Arnold (director, adaptor, hair and makeup design), Tiffany Keane (sound design, producer), Moira Begale (asst. director), Dalton Long (stage manager), David Goodman-Edberg (lighting design), Erin Gallagher (costume design), Dalton Long (props design), Alex Geirsch (asst. lighting design)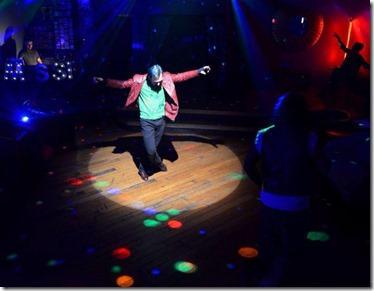 Tags: 16-0208, Alex Geirsch, Aly Grauer, Bennett Bottero, Bill Gordon, Chicago Theater, Dalton Long, David Goodman-Edberg, Drew Mierzejewski, Dylan Schaefer, Elliott Sowards, Elyse Dawson, Erin Gallagher, Grace Gimpel, Jared McDaris, Julia Rigby, Juliana Brecher, Keith Glab, Mary-Kate Arnold, Mary's Attic, Mindy Fay Parks, Moira Begale, Other World Theatre, post, Rachel Geistfeld, Sarah Tilford, Tiffany Keane, William Shakespeare, Zack McCann
Category: 2016 Reviews, Adaptation, Keith Glab, Mary's Attic, New Work, Otherworld Theatre, William Shakespeare, World Premier