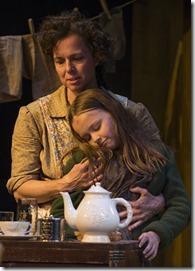 Men Should Weep
Written by Ena Lamont Stewart
Directed by Robin Witt
at Raven Theatre, 6157 N. Clark (map)
thru Aug 10  |  tickets: $35   |  more info
  
Check for half-price tickets 
  
  
   Read review
  
---
Stunning staging, flawless cast make this a summer must-see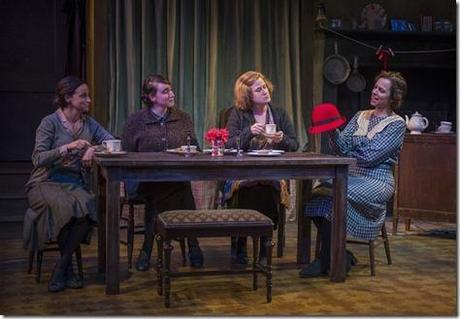 Griffin Theatre presents
Men Should Weep
Review by Lawrence Bommer
Men Should Weep—as blatant a title as its devastating finale deserves—is a 67-year-old Scottish family tragedy that hasn't been seen in this country since 1983. Its return is more than overdue, given its own non-negotiable worth and Griffin Theatre's piledriving revival– a stunning staging by Robin Witt and 15 totally committed Chicago players/workers.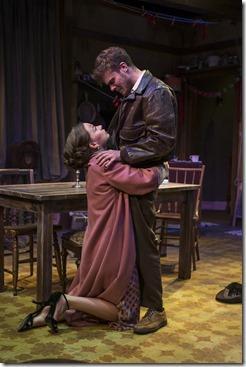 Sick of drawing room divertissements where pinkie fingers get lifted over tea cups,
Ena Lamont Stewart
, a Braille librarian and hospital receptionist, resolved in 1947 to write a no-nonsense, gritty and detailed depiction of real-life poverty as endured by her fellow Glasgow citizens during the worst of the Great Depression. Did she succeed! (Not a question…)  Griffin Theatre took a chance on an almost forgotten drama–and they won the (Scottish) sweepstakes!
In the tradition of Angela's Ashes, The Lower Depths, Awake and Sing!, Juno and the Paycock, and A Raisin in the Sun, this 160-minute thinking melodrama focuses on one troubled tenement and the Morrison clan who barely survive it. At the center of a catalog of calamities is Stewart's beleaguered, all-enduring, much-battered heroine Maggie Morrison (magnificent Lori Myers), surrounded by suffering neighbors and a fractious family.
Throughout three acts this matriarch, a female Job afflicted and embattled like Mrs. Cratchit, contends with the threats of lice infestation, collapsing buildings, a bare cupboard, claustrophobic digs, battered fruit as the sole course (or beans without pork), no hot water, battered neighbors above her, an unemployed husband on the dole, drafty walls, a self-pitying, addlepated "old nuisance" mother-in-law (Maggie Cain)–and Maggie's five kids: The "wee 'uns" fight their own battles with hunger, broken boots, a total lack of privacy, TB and scarily sleeping in dark closets. Jealous with good cause, bad-boy son Alec (Curtis Jackson) is mired in a loveless marriage with horny, dangerous Isa (Amanda Powell) who harangues him for not being a man (i.e., not supporting her like a certain other wife at Windsor Castle). Restless and reckless, daughter Jenny (Ellie Reed) wants out, despite the fact that her lousy job at a vegetable market is one of few sources of income for this rapidly imploding Morrison household. A good time is had by none in a play that's more plight than plot.
Sharing sympathy and abuse with Maggie, her East End neighbors (Ashley Neal, Roxanne Saylor and Christina Gorman) hold on hard to better memories and lost dreams. By bad luck or poor choices, they're saddled with wastrel men too proud to help with domestic duties as they pretend to look for jobs that aren't there anyway. That's most searing with ex-alkie John Morrison (memorable Scot West), Maggie's help(less)mate. Sodden with denial, guilt-stalked John is quick to condemn the women for daring to cope when he can't, especially Jenny, whose hope for a better life seems to pigheaded John like just another betrayal. For him "heartburn" has a whole new meaning. But real men have hearts.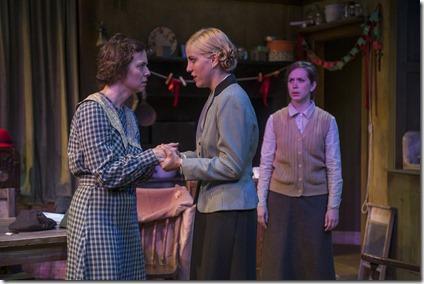 Completing the gallery are Maggie's sisters: Lizzie (hard-boiled Jodi Kingsley) battens on her mother's pension, while spinster Lily (radiant Katherine Banks) has become Maggie's trusted confidante and sometimes sole support. (Their scenes together are golden.) It's no accident in Men Should Weep that not having a man easily makes Liily the best-adjusted, most sensible survivor in this squalid dead end.
It all comes to a crisis on a very unmerry Christmas Eve when the prodigal siblings return and, yes, there finally seems to be a way out from Maggie's "no end to trouble." But it won't happen until the title happens: One man must weep. Strangely and wonderfully, the ending satisfies beyond belief, as if a plummeting plane pulls out of a tailspin and lands safely just when you expected fire and carnage.
Stewart's unrelenting inventory of the punishment of poverty could well be a downer and a depressant—except for the vibrant action and dialogue, and that almost redemptive final scene. Then there's Griffin's glory on Raven Theatre's mainstage: Every moment on this seemingly despairing roller-coaster ride is perfectly shaped by flawless Robin Witt and an inestimably accurate cast (alas, even to the sometimes thorny Scottish accents). The casting is so right it's scary, as if the whole thing is happening on the spot, fully improvised. Not one scene seems forced or phony. So much of this could be happening today, when poverty is returning to Depression depths.
Courtney O'Neill's battered one-room apartment where every object tells a tale is perfectly matched by Kate Murphy's period-perfect and poverty-imperfect costumes. The 31-year wait for a second American production was entirely worth it, considering the sterling results. Men absolutely should see Men Should Weep. Everyone else too.
Rating: ★★★★
Men Should Weep continues through August 10th at Raven Theatre, 6157 N. Clark (map), with performances Thursdays-Saturdays at 7:30pm, Sundays 3pm.  Tickets are $35, and are available by phone (866-811-4111) or online through OvationTix.com (check for half-price tickets at Goldstar.com). More information at GriffinTheatre.com.  (Running time: 2 hours 40 minutes, includes two intermissions)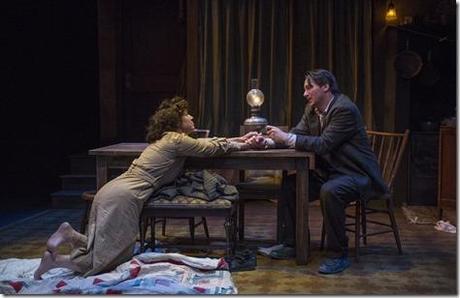 Photos by Michael Brosilow 
---
artists
cast
Katherine Banks (Lily), Maggie Cain (Granny), Christina Gorman (Mrs. Bone), Ada Grey (Edie), Curtis Jackson (Alec), Jodi Kingsley (Lizzie), Tim Martin (Removal Man 1), Lori Myers (Maggie), Ashley Neal (Mrs. Harris), Amanda Powell (Isa), Ellie Reed (Jenny), Michael Saguto (Ernie), Roxanne Saylor (Mrs. Wilson), T. Isaac Sherman (Removal Man 2), Scot West (John).
behind the scenes
Robin Witt (director), Courtney O'Neill (set design), Kate Murphy (costume design), Brandon Wardell (lighting design), Victoria (toy) Deiorio (sound design), Janelle Boudreau (props design), Joey deBettencourt (fight choreography), Adam Goldstein (dialect coach), Majel Cuza (production manager), Mary O'Connor (assistant director), Ellie Reed (casting director), Michael Brosilow (photos)
14-0716