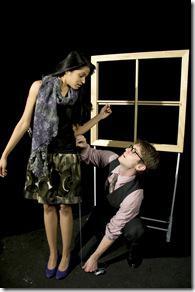 Melancholy Play 
Written by Sarah Ruhl 
Directed by Amber Robinson
at Viaduct Theatre, 3111 N. Western (map)
thru May 13  |  tickets: $15   |  more info
  
Check for half-price tickets 
  
  
   Read entire review
  
---
Absurdist theater with piano accompaniment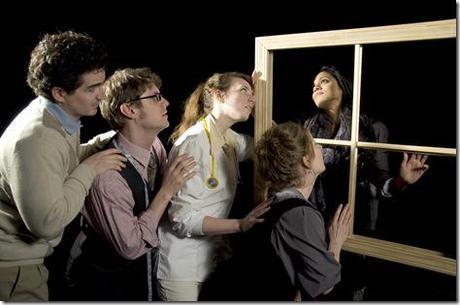 Grey Ghost Theatre presents
Melancholy Play: A Contemporary Farce
Review by J.H. Palmer
There are a number of repeating themes in Grey Ghost Theatre's Melancholy Play: window frames; live cello music; almonds; words in different languages that mean "melancholy," but not quite; and lines being spoken by two actors at the same time. Certain phrases get repeated, like: "My mother abandoned me in a sweet shop in an unspecified European country."
The play centers around Tilly (Mouzam Makkar), who manages to draw the attentions of everyone she encounters: her therapist, Lorenzo (Peter Durkin); her hairdresser, Frances (Maggie McCally); a nurse named Joan (Mallory Nees), and her tailor, Frank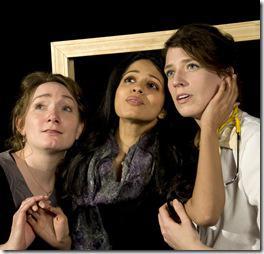 (
Andy Junk
).
As the title suggests, there is much discussion of sadness and melancholy feelings. Tilly is in therapy to address her melancholia, which is inexplicably being paid for by the bank she works in. As the play progresses, Tilly gets happier, seemingly at the expense of everyone around her. The dialog sounds like snippets of teenage poetry mashed up into a 90 minute play, including: "I think it's interesting when a shy person says 'I'm a shy person,' because it's not a very shy thing to say," "Tonight I'm older than all the books, I'm older than all the bricks in the courtyard," and "I was hemming her pants and I fell in love."
Sadness manifests itself in physical appearance in the form of almonds: Frances becomes so melancholy that she becomes an almond, and there are references to almonds throughout the piece. Melancholy is something of an absurdist play, but that doesn't help to explain the convoluted relationships onstage. The connections between the characters are flimsy at best, and one has a hard time believing any of it. (At one point Lorenzo and Frank discover that they are in love with the same woman, and engage in the least convincing stage fight I've seen in a long time.)
In several scenes, two actors recite the same lines in tandem; I'm not sure what the intended effect of this is, but I found it distracting. Playwright Sarah Ruhl has described Melancholy as "a contemporary farce," and she is a MacArthur "Genius" Grant recipient, which makes me second guess my lymphatic response to Melancholy. Her writing credits include A Clean House and The Vibrator Play, which were Pulitzer finalists.
The cello music of Julian (Jeremy David Ward) is the saving grace of this piece. His presence provides a melodic respite from the disconnected story that unfolds onstage.
Rating: ★½
Melancholy Play continues through May 13th at Viaduct Theatre, 3111 N. Western (map), with performances Thursdays-Sundays at 7:30pm.  Tickets are $15, and are available by phone (773-296-6024) or online at ticketweb.com (check for half-price tickets at Goldstar.com). More information at GreyGhostTheatre.org.  (Running time: 95 minutes, no intermission)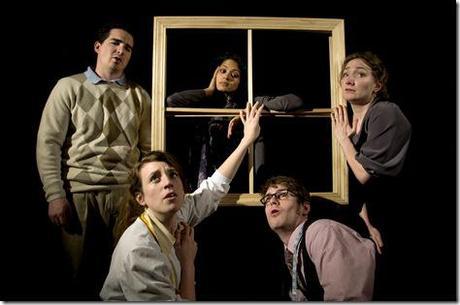 All photos by Alan Callaghan
---