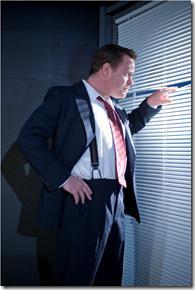 Megacosm
Written by Brett Neveu 
Directed by Dado 
A Red Orchid Theatre, 1531 N. Wells (map)
thru Feb 26  |  tickets: $25-$30   |  more info
  
Check for half-price tickets 
  
  
   Read entire review
  
---
What is Megacosm?  You need to see it to believe it!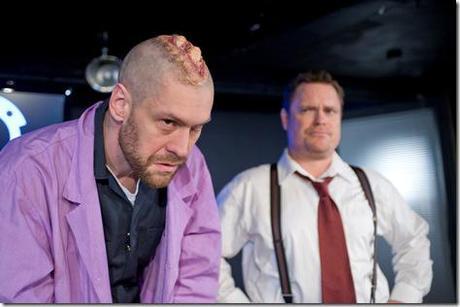 A Red Orchid Theatre presents
Megacosm
Review by Katy Walsh 
When I got the collateral press material on Megacosm, there wasn't a lot of description.  When I chatted with Playwright Brett Neveu a couple days before the premiere, there wasn't a lot of description.  When I saw Megacosm, there was a surprise with 'stunning implications!'
A Red Orchid Theatre presents the world premiere of Megacosm.  Chris has a new invention.  Britt is the man in charge of product development.  Francis is Chris'  neighbor and Britt's colleague.  She arranges for Chris and Britt to meet. Outside the company walls, an uprising threatens operations.  Inside the work place, espionage suspicions endanger lives.  Into this tumultuous environment, Chris opens a box to reveal his startling and disturbing creation… Megacosm.  What is a Megacosm?  A Sci-Fi, corporate corruption, comedy!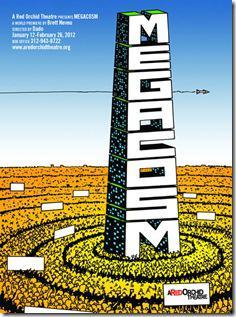 Playwright
Brett Neveu
has penned a fast-paced thriller riddled with hilarious absurdities.  Neveu creates new life in a mad-scientist-meets-big-business-during-a-takeover.  I laughed loudly because it's funny and also because it's scary.  The zealous characters are disturbingly believable in this not-so-far-fetched farce.  Director
Dado
stages the meeting like a test tube in a volatile lab.  The contained discussion takes place surrounded by external chaos. 
Danny McCarthy
is fast-talking, smarmy perfection.  It's easy to miss all McCarthy's comic lines because of the speed of delivery.  At one point, he utters 'see my salivating that might be.' The double-talk is 'sh#t my pants' fantastic. 
Lawrence Grimm
(Chris) is the befuddled inventor.  Grimm tries to maintain integrity and normalcy as he is bombarded with craziness. 
David Steiger
(Sam) and
Eden Strong
(Carol) make for some unforgettable and hysterical lunacy. The talented ensemble does 'what it takes.'  Nothing is 'accident-ish.'  
Adding to the big reveal of Megacosm is the team of designers.  John Dalton (scenic) creates a conference room with futuristic gadgetry.  One wall is lined with television screens and the other with functional drawers.  It's sterile AND surreal. Joe Court (sound) creates this inside sound that's like a washing machine.  It totally builds an ambiance of scientific production in progress.  Outside the room, muddled sounds of revolution surround the room in escalating urgency.  Both in the powerpoint presentation and discovery big reveal, Seth Henrikson and Oddmachine (media) design captivating illustrations.  In particular, the film footage is delightfully mesmerizing.  I couldn't stop staring at it!  It was wondrous!  
The story, the direction, the acting, the designs are all elements that combine for a fantastic formation. What is Megacosm?  It's indescribable.  You need to see it, to believe it!
Rating: ★★★★
Megacosm continues through February 26th at A Red Orchid Theatre, 1531 N. Wells (map), with performances Thursdays-Saturdays at 8pm, Sundays at 3pm.  Tickets are $25-$35, and are available by phone (312-943-8722) or online at OvationTix.com (check for half-price tickets at Goldstar.com). More information at aredorchidtheatre.org.  (Running time: 85 minutes with no intermission)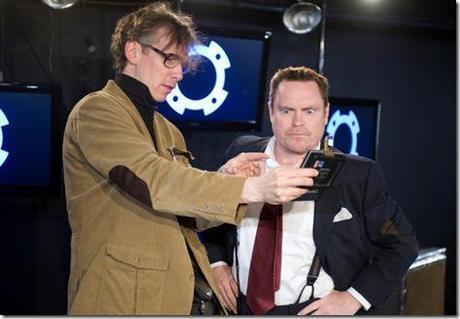 All photos by Michael Brosilow 
---
artists
cast
Larry Grimm* (Chris); Danny McCarthy* (Britt); David Steiger (Sam); Eden Strong (Carol)