Hello everyone!
Today, I'm reviewing the Maybelline SuperStay Better Skin Concealer.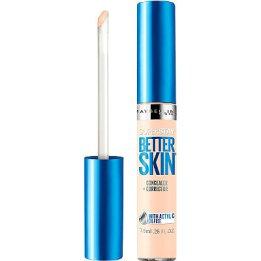 "The concealer instantly provides all-day flawless correction. Visibly reduces the appearance of dark circles, spots, and imperfections in just 3 weeks."
So basically, this concealer claims to make your skin look better with regular use. I have been using this product for the past month but I haven't noticed anything different with my dark circles. To be honest, I don't really care that much about that claim since I'm more interested in how it conceals. I actually like this better than the Fit Me concealer because, I think, the shades are more on the neutral side compared to the Fit Me, which is more yellow in tone.
The Better Skin concealer gives great coverage and lasts all day. Compared to the Fit Me concealer, in my opinion, this product works better as an eye primer too. I have oily eyelids and this is what I use everyday for work. It definitely brightens my eye area and prolongs my eye makeup without creasing.
Have you tried this concealer yet? What are your thoughts? Let me know!
---