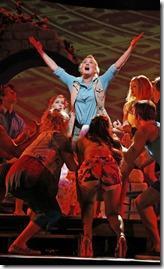 Delightfully kitschy and gloriously over the top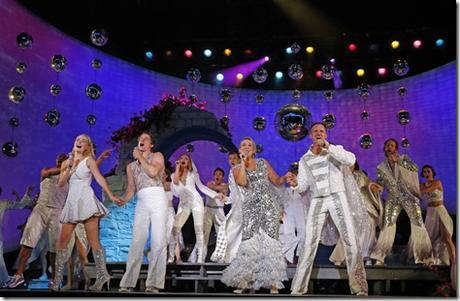 Review by Catey Sullivan
Quick question: How many disco balls can you fit on a stage and still have room for a 30+ member ensemble partying like it's 1979? The answer is more than 60. Or at least that's the number of sparkling orbs twirling through the finale in Paramount Theatre's gloriously over-the-top staging of Mamma Mia! . More. Than. 60. Let's just let that sink in for a moment, shall we?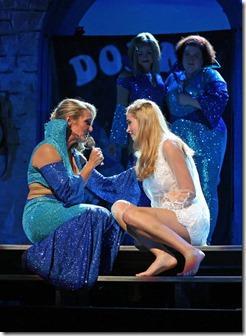 Granted, it's tough to make an accurate count amid the onstage throngs decked out in skin-tight jumpsuits the color of glitter bombs and electric-sliding to the infectious revelry of "Waterloo." But by the hand of Saint Spandex the Bedazzler, the big finish for the Abba-centric juke box musical is the most delightfully garish musical number you're apt to see this season.
Directed by , is a hoot. Caveat: If you're looking for profundity and subtlety, isn't your jam. And the production does have some weak spots when it comes to pitchy vocals and slightly screechy acoustics.. But if you're looking for sheer escapism, you want to hustle on over to Aurora.
Some dramaturgy for you youngsters who missed out the 20th century's most hedonistic decade: - the Swedish quartet of Agnetha Fältskog, Björn Ulvaeus, Benny Andersson, and Anni-Frid Lyngstad - helped power the 1970s. Poptastic gems as "Super Trouper," "Money, Money, Money", Fernando", "Take a Chance on Me," "SOS" and this musical's title tune are the raisin d'etre for .
The plot (book by Catherine Johnson) is pretty much just an excuse to showcase the music. Still, that plot is a celebratory as it is thin. Moreover, it centers on a six characters well into middle age - something that basically happens, oh, between never and never in the largely ingenue-powered world of musical theater. Yes, we have Mamma Rose and Auntie Mame and Dolly Levi. But they stand alone and are arguably neutered in their respective shows. , by contrast, gives us half a dozen over-40s, and celebrates their sexuality with unabashed abandon. Where Dolly et al never even get a decent kiss in their shows, the leading ladies of are all hooking up by the end of act two.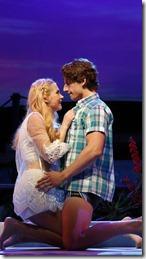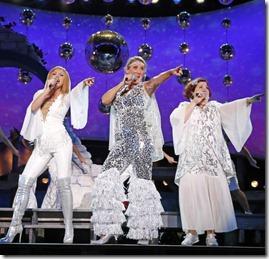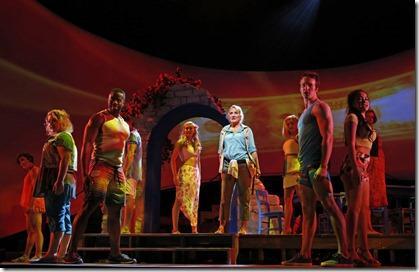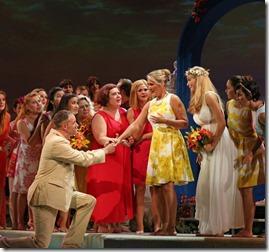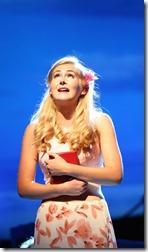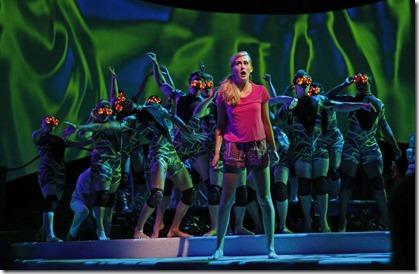 Twenty-year-old Sophie Sheridan ( Kiersten Frumkin) might set the plot in motion with her pending wedding and her desire to figure out who her father is. But it's Sophie's mother Donna (Amy Montgomery) who keeps the momentum surging ever forward.
As for that plot, it centers on Sophie's attempt to figure out who her father is. After reading her mother's diary, Sophie learns that Donna slept with three men during the fateful summer of 1979. Inviting all three to her Greek island wedding, Sophie figures she'll know at first glance who her dad is. Naturally, she doesn't and shenanigans ensue. By the time it's time for Sophie to walk down the aisle, all manner of matters pertaining to love, sex, paternity and family have crashed to the surface with the ferocity of the massive video-waves that director Corti uses to frame the stage.
While Sophie wrestles with her paternity, Donna and her best friends/one-time band mates Tanya (Jennifer Knox) and Rosie (Sara Sevigny) join forces to resurrect "Donna and the Dynamo," the girl group that cemented their sisterhood back in the day and provided the soundtrack for the long, hot, Greek island summer of 1979. It's this trio that anchors . From the dulcet harmonies of "Chiquitita" to the power chords of "Dancing Queen," Knox, Sevigny and Montgomery deliver. And although their characters aren't exactly penned with anything resembling nuance, they make the most of what they've got.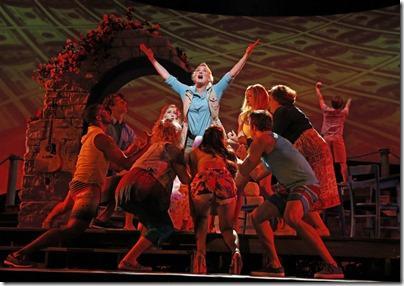 As a divorcee with legs as long as her bank account, Knox is a supervixen who makes Samantha Jones look downright demure. She also proves to be a dancer of fire and grace in "Does Your Mother Know?", a joyfully man-eating ode to (much) younger boy-toys, expertly choreographed by William Carlos Angulo.
As Rosie, Sevigny's delivery of "If You Change Your Mind" stops the show less than nine words into the a capella opening stanza - before the orchestra even kicks in. Sevigny's voice is as impressive as her sense of comic timing (also evident in Argulo's hilariously flirtatious choreography). When Rosie and one of Sophie's potential dads start making out, you'll want to toast both her moxie and her beauty.
In the end, however, the show belongs to Montgomery, the scrappy single mom who raised a daughter while running a Greek taverna she built from scratch. Montgomery's belt is rich with joy, and when she taps into the inevitable sadness and regret that colors the lives of everyone who survives to their 40s, you can hear the wisdom and the sorrow shine through. Her range is impressive: Montgomery can sell a number in overalls and a carpenter's belt as well as in a pair of silver mermaid pants.
The weak link in the vocals lies in Frumkin's Sophie, who had trouble finding a few crucial pitches opening night and who blasts more than she belts whenever the volume goes above medium forte. As for the men in the ensemble, they generally sound terrific and deliver the goods when it comes to dancing in scuba suits.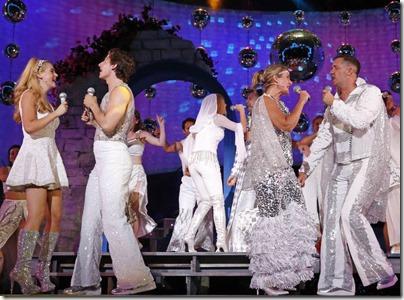 Corti has a lot of fun with projection designer Christopher Ash's videos, especially at the expense of Sophie's possible dads. When the giant disembodied heads of travel writer Bill Austin (Steve O'Connell, nicely parodying a Sebastian Jung-type who pens books about bros boating in Botswana), Harry Bright (Michael Gillis, capturing the sheer exuberance required for Harry's Big Reveal at the wedding) and Sam Carmichael (Jeff Diebold), a lantern-jawed hunk with the sort of tender side that makes for a good Harlequin romance.) loom above the stage in several numbers, it's a celebration of the show's unashamed cheesiness.
Kevin Depinet's set nicely conveys the sun-drenched, slightly run-down taverna that Donna has struggled to run for years. And Matt Guthier's costumes - think Jimmy Buffet meets Liberace meets Marie Antoinette - will make you long for the golden days of Studio 54, even if you didn't actually live through them.
You could argue that is overproduced: The video projections are huge and constant, the default volume is uber-loud, the lighting design (by Alex Buholzer) is kaleidoscopic-colorful, and sweet lord, the sheer existence of all those disco balls. But unapologetically kitschy is precisely what calls for. On the fence about shelling out for a ticket? Go ahead. Take a chance.
continues through October 30th at Paramount Theatre, 23 E. Galena, Aurora (map), with performances Wednesdays 1:30pm & 7pm, Thursdays 7pm, Fridays 8pm, Thursdays 3pm & 8pm, Sundays 1pm & 5:30pm. Tickets are $44-$59, and are available by phone (630-896-6666) or online through their website (check for half-price tickets at Goldstar.com ). More information at ParamountAurora.com. (Running time: 2 hours 20 minutes, includes an intermission)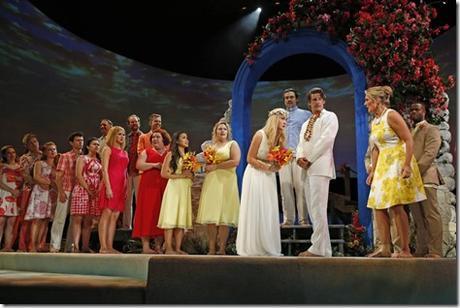 Photos by Liz Lauren
Kiersten Frumkin (Sophie), Sara Reinecke (Ali), Janelle Villas (Lisa), Amy Montgomery (Donna), Jennifer Knox (Tanya), Sara Sevigny (Rosie), Ryan McBride (Sky), Aaron Patrick Craven (Pepper), Ron King (Eddie), Michael Gillis (Harry Bright), Steve O'Connell (Bill), Jeff Diebold (Sam), Robert Wilde (Father Alexandrios, ensemble, u/s Harry), Haley Jane Schafer (swing, ensemble), Michael Ferraro (swing, ensemble), Aubrey Adams, Adam Fane, Kayla Kennedy, Christopher MacGregor, Courtney Mack, Jake Morrissy, (ensemble), Allyson Graves (ensemble, u/s Sophie), Malory Maedke (ensemble, u/s Ali), Danni Smith (ensemble, u/s Donna, Rosie), Heather J. Beck (ensemble, u/s Tanya), Nick Cosgrove (ensemble, u/s Sky), Travis Porchia (ensemble, u/s Pepper, Eddie), Davin DeSantis (ensemble, u/s Sam).
Tom Vendafreddo (conductor, keyboard 1), Tim Lenihan (keyboard 2), Michael Kaish (keyboard 3), Kory Danielson (associate conductor, keyboard 4), Steve Roberts (guitar 1), Dave Saenger (guitar 2), Jason Ellis (bass), Rich Trelease (drums), Jeff Handley (percussion)
behind the scenes
(director), Stig Anderson, Martin Koch (additional material and arrangements), William Carlos Angulo (choreographer), Tom Vendafreddo (music director, conductor), Kevin Depinet (set design), Matt Guthier (costume design, costume shop manager), Alex Buholzer (lighting, sound and media supervisor), Greg Hofmann (lighting design), Christopher Ash (projection design), Adam Rosenthal (sound design), Katie Cordts (wigs, hair and makeup), Amanda Relaford (props manager), Ethan Deppe (electronic music design), Carrie Lee Patterson (dialect coach), Amber Johnson (stage manager), Cody Westgaard (assistant stage manager), Trent Stork (associate director), Aubrey Adams (assistant choreographer), Rose Quealy (production director), Kaylee Oost (company manger), Jason Pikscher (Broadway technical director), Kelly Steimel (Broadway assistant technical director), Kory Danielson (asst. music director, associate conductor), Sean McNeely (orchestra contractor), Aubrey Adams (dance captain), Liz Lauren (photos)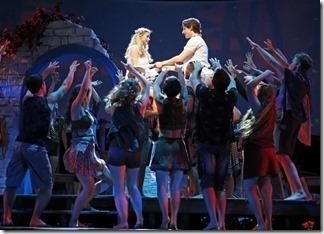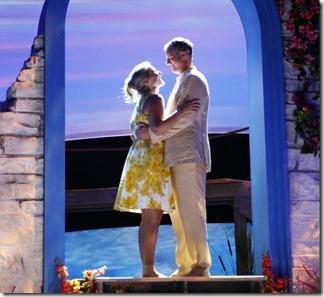 Tags: 16-0919, Aaron Patrick Craven, Abba, Adam Fane, Adam Rosenthal, Alex Buholzer, Allyson Graves, Amanda Relaford, Amber Johnson, Amy Montgomery, Aubrey Adams, Benny Andersson, Bjorn Ulvaeus, Carrie Lee Patterson, Catey Sullivan, Chicago musical theater, Chicago Theater, Christopher Ash, Christopher MacGregor, Cody Westgaard, Courtney Mack, Danni Smith, Dave Saenger, Davin DeSantis, Ethan Deppe, Greg Hofmann, Haley Jane Schafer, Heather J. Beck, Jake Morrissy, Janelle Villas, Jason Ellis, Jason Pikscher, Jeff Diebold, Jeff Handley, Jennifer Knox, Jim Corti, Katie Cordts, Kayla Kennedy, Kaylee Oost, Kelly Steimel, Kevin Depinet, Kiersten Frumkin, Kory Danielson, Liz Lauren, Malory Maedke, Martin Koch, Matt Guthier, Michael Ferraro, Michael Gillis, Michael Kaish, Nick Cosgrove, Paramount Theatre, post, Rich Trelease, Robert Wilde, Ron King, Rose Quealy, Ryan McBride, Sara Reinecke, Sara Sevigny, Sean McNeely, Steve O'Connell, Steve Roberts, Stig Anderson, Tim Lenihan, Tom Vendafreddo, Travis Porchia, Trent Stork, William Carlos Angulo