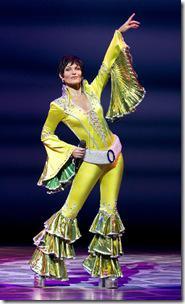 Mamma Mia!
Music/Lyrics by Benny Andersson, Bjorn Ulvaeus
Book by Catherine Johnson
Directed by Phyllida Lloyd
at Oriental Theatre, 24 W. Randolph (map)
thru Jan 29  |  tickets: $18-$85   |  more info
  
Check for half-price tickets 
  
  
   Read entire review
  
---
Stop hijacking Chicago audiences with this high-priced non-Equity drivel!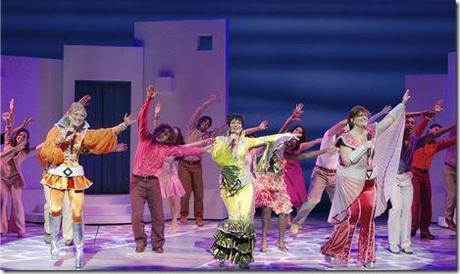 Broadway in Chicago presents
Mama Mia
Review by Keith Ecker 
I recall a few years ago wandering the streets of Midtown Manhattan and coming across a marquee announcing the upcoming production Legally Blonde The Musical. In that one moment, I realized that the genre of the musical, an already unapologetic commercial subset of theatre, had truly jumped the shark. Little did I know that this was merely a harbinger of the worst that was to follow.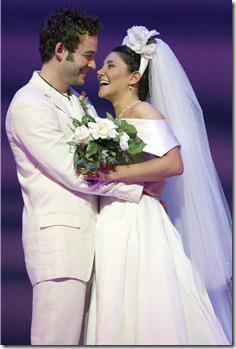 Soon, we were inundated with musicals inspired by a hodgepodge of pop culture, from
Sister Act
to
Spiderman Turn Off the Dark
. Musicians got in on the game, too, licensing their entire back catalog for use in some contrived two-bit piece of drivel (I'm looking at you Billy Joel.) Finally, expectations for quality were completely obliterated with the popularity of franchises like
Glee
and
High School Musical
, which are only slightly redeemed by the respective presences of Jane Lynch and Zac Efron. So naturally, if musical theater has become nothing but bubble-gum fluff wrapped in flakey layers of crap, might we put part of the blame on this 1999 ABBA jukebox musical? And if people will inject just about anything into their eyeballs these days, why not tour a laughably low-budget production while bilking the audience through full Broadway tour prices?
Now I love ABBA. I sometimes workout at the gym to Erasure's ABBA cover album because that is just how incredibly gay I am. And perhaps that's why it infuriates me so to see such a thinly veiled attempt to cash in on the Swedish pop group's infectious tunes with this touring production of Mama Mia. ABBA is by no means sacred ground. Trample on it if you must. But don't pretend like you're offering some kind of top-tier production by staging it at the Oriental Theatre. Don't think you can take advantage of an audience unfamiliar with the stage by passing this steaming pile off as entertainment. ABBA is truly tacky, and that's great. Tacky can be fun. But this is more than just tacky; it's the bare-bones result of a hack production team who couldn't afford more skilled talent.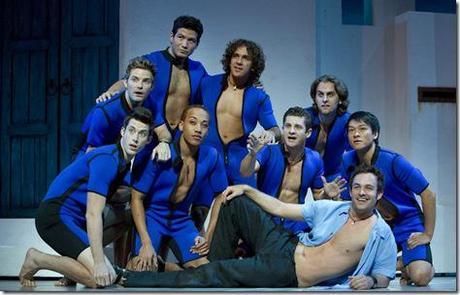 The singing overall is tragic. There are no standout numbers. The majority of songs are weak solo pieces and duets that are just barely carried along with the assistance of the muzac-influenced accompaniment. There are two set pieces that are used over and over and over again. The choreography is straight out of a kid's jazz dance recital. Need I go on?
So were there any flecks of diamond in this sea of rough? Well, yes. I enjoyed Alison Ewing as Tanya and Mary Callanan as Rosie, the two besties of protagonist Sophie Sheridan (played by Chloe Tucker). They were the strongest singers of the bunch, and they provided some good comic relief in the midst of so many painful performances. Besides that, I got nothing.
If you are dying to see the brilliant interior of the Oriental Theatre, then I guess you may want to see this show. Otherwise, just go rent the obnoxious movie. Spending your money on this will only encourage other producers to hijack us with more fly-by-night, non-Equity drivel such as this.
Rating: ★
Mamma Mia! continues through January 29th at the Ford Center for the Performing Arts (Oriental Theatre), 24 W. Randolph (map). Tickets are $18-$85, and are available by phone (312-977-1700) or online at TicketMaster.com (check for half-price tickets at Goldstar.com). More information at BroadwayinChicago.com.  (Running time: 2 hours 35 minutes, which includes one intermission)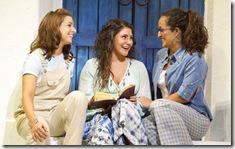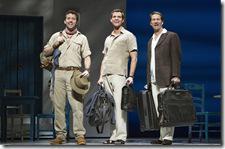 All photos by Joan Marcus 
---
artists
cast