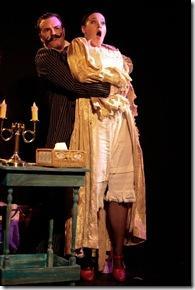 Male Order Brides 
Written by Billy St. John
Directed by James T. Scott
at Blue Theatre, 1609 W. Gregory (map)
thru Oct 14  |  tickets: FREE   |  more info
  
Check for half-price tickets 
  
  
   Read entire review
  
---
Dastardly fun for the whole family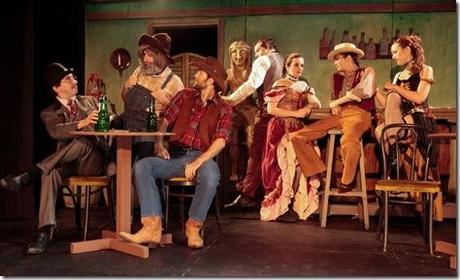 Quest Theatre Ensemble presents
Male Order Brides
Review by K.D. Hopkins
In the first few minutes of Males Order Brides, I found myself wishing that I was in front of the television in my pajamas on Saturday morning. This production is a gleeful blend of old silent films with dashing heroes and lovelorn heroines with a fine comic touch from the villain and villainess. Quest Theatre Ensemble hearkens back to the days when theater was interactive. The characters talk to the audience and the audience gives instant feedback accompanied by exclamations of boo for the villain and handfuls of popcorn being launched into the villainess' bodice.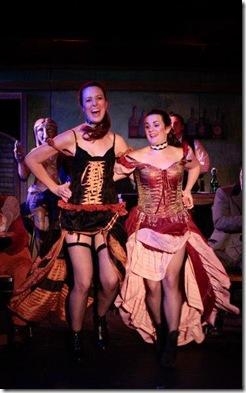 Before the show begins, the Master of Ceremonies (
Andrew Park
) appears with a ventriloquist puppet named Skippy. They take the audience through the proper responses and a practice of popcorn tossing. It's a funny bit of shtick, giving a vaudeville feel to the show.
Males Order Brides is a classic formula melodrama set in 1870 in the Colorado Territory. Women are scarce, so when dashing Big Harry Deal (Jason Bowen) comes to town with the promise of wives, the local bachelors jump at the chance. All four bachelors are ripe for Deal's scam, one that involves the seductive Starr Billings (Kieran Welsh-Phillips). The plan is one woman playing four brides and tossing the saps down the mine shaft after the life insurance is signed. Bowen and Welsh-Phillips are a lot of fun to watch, and it seems to be true that villains are more fun to play. Bowen sports a curly moustache and a wicked repartee with both kids and adults. (At one point he dumped a bag of popcorn over one audience members head.)  Both actors displayed their talented comedic timing when Welsh-Phillips gamely eats the popcorn that lands in her bosom and Bowen ogles her chest. It's bawdy but never lewd.
Our hero Forrest Green (Jason Nykiel) is good friends with Grubby's daughter Calico Shurtz (Jacqueline Salamack) and is unaware of her love for him. She was raised by her pappy and is like one of the boys until her beauty is revealed by the saloon gals Tiara Rhinestone (Laura Deger) and Trinket LaGlitz (Lisa Witmer). Forrest is signed up for a fiancée along with saloon owner Lucky Betts (Grant M. Johnson), uptight banker C.D. Nichols (Bruce Phillips), and the hysterically funny miner Grubby Shurtz (Keith Cavanaugh). Grubby tells the woeful tale of how his late wife Minnie went down the mine shaft never to be seen again. Cavanaugh is a ringer for the style of voice over genius Mel Blanc. He is wigged like a wolf man and has the body carriage of Yosemite Sam, with a crazy moustache to boot.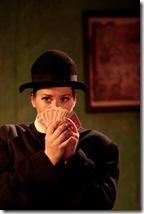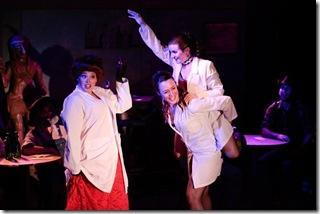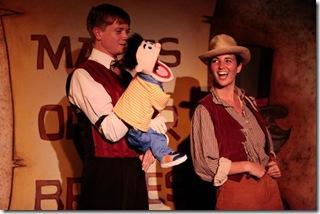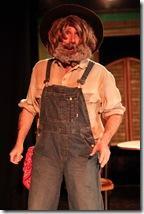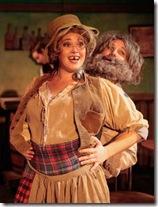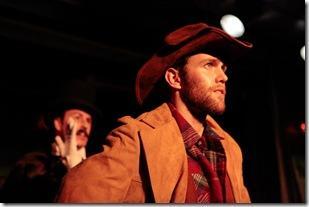 The antics are fun for the whole family. The scam goes whacky wrong, and the fun is in watching Bowen and Kieran-Philips change costumes and cover their character's collective butts. The piece de resistance is when the classic villain ties the heroine to the mine shaft and leaves her for dead. Of course he confesses the whole plot as he laughs maniacally before heading off to seal the deals. It's all good fun accompanied by jaunty live piano tunes courtesy of Kevin Reeks.
Quest Theatre is a community treasure, making theater accessible and free. At first I thought that the 8:00pm curtain time was late for some of the kids in the audience. Then it dawned on me that these kids are receiving a gift of the thrill of live theater that is just grownup enough to make them think and funny enough for everyone to laugh.
Don't forget to to get some popcorn, because it is fun to throw it. Even with tacit permission, it feels naughty!
Rating: ★★★
Male Order Brides continues through October 14th at Blue Theatre, 1609 W. Gregory (map), with performances Fridays and Saturdays at 8pm, Sundays 2pm.  Tickets are FREE (donations welcome) and reservations are highly recommended via e-mail ([email protected]), by phone (312-458-0895), or through Quest's website here. More information at QuestEnsemble.org.  (Running time: 2 hours, includes an intermission)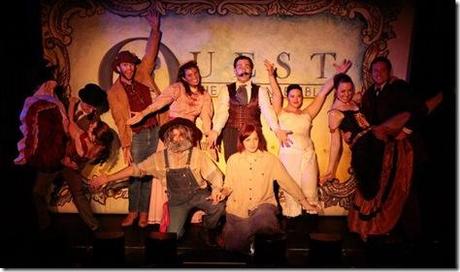 ---
artists
cast
Andrew Park (Master of Ceremonies), Keith Cavanaugh (Grubby Shurtz), Jacqueline Salamack (Calico Shurtz), Jason Nykiel (Forrest Green), Grant M. Johnson (Lucky Betts), Bruce Phillips (C.D. Nichols), Laura Deger (Tiara Rhinestone), Lisa Witmer (Trinket LaGlitz), Jason Bowen (Big Harry Deal), Kieran Welsh-Phillips (Starr Billing), Kevin Reeks (piano player)
behind the scenes
James T. Scott (director); Nick Rupard (set); Michael Nardulli (lighting); Jana Anderson (costumes); Emma England (stage manager).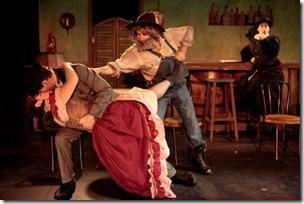 12-0952