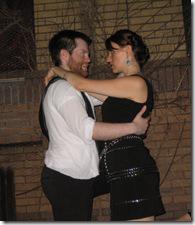 Macbeth
Written by William Shakespeare 
Directed by Brian Conley
at Red Tape Theatre, 621 W. Belmont (map)
thru July 31  |  tickets: $20  |  more info
Check for half-price tickets 
  
   Read entire review
---
Cohesion, vision needed for this perennial crowd-pleaser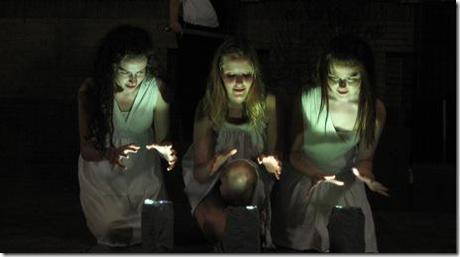 Goat Song Theatre presents
Macbeth
Review by Dan Jakes
More so than with any other playwright, there is an exciting number of creative options a theater company can explore when staging a Shakespearean play. With the Bard, there are no short-story-length stage directions to abide by, no bogeyman estate for directors to fear, and no budget-killing licensing fees to pony up. Lump those liberating absences on top of the dramas' multi-faceted interwoven themes, and you'll see that all the components are in place for unlimited conceptual and practical choices.
So long as you choose to make one. Goat Song Theatre doesn't.
Marred by basic execution hurdles and a lack of apparent vision, Director Brian Conley's Macbeth aims for perfunctory and falls short at mundane.
That's not an adjective normally ascribed to the Scottish king's story of murder and mysticism. Macbeth, for good reason, is a perennial crowd-pleaser, with its quick paced action and high stakes. Even Red Tape's performance space located within St. Peter's Episcopal Church–an eerie gymnasium with fenced off windows and peeling paint–beckons to be used for thrilling theater. One after the other, though, opportunities go missed in favor of half-heartedly delivered conventions. The play's magic elements are given especially short shrift. Witches Katherine Lamb, Katherine Biskupic, and Brigid Ronan are given little opportunity to prove themselves as supernatural or menacing. Together, walking in circles and occasionally brooding over a lamp, they conjure all the horror of a Brownie peering over a flashlight. Nothing dictates that the Scottish Play has to be spectacle-driven, but without anything to elevate extraordinary moments, it's impossible to identify significant character shifts. Likewise, the title anti-hero's guilty hallucinations (or visions, though no choice is clear on that either) are signified only through some pointing and raised eyebrows.
Barely-there design elements force actors to tell the story with only their performance. The result of that limitation can make inspiring theater, but only if everyone is acting in the same play. Stylistically, Goat Song's ensemble is all over the map. As Lady Macbeth, Kristen Danko opts for the traditional larger-than-life opera house villainess, while others appear to be waiting for their close-up–a few would require mics to be heard. Nathan Thompson (Macbeth) and Charles Askenaizer (Banquo, hinting at some presence of a leading man) play it somewhere down the middle. Casts require cohesion and a director's hand to form a convincing ensemble. Elements that did manage to make it to production undercut the play's tone, from the literal and silly branches hiding Malcom's army to the bloodied mannequin head artlessly carried in to signify the protagonist's demise. Someone behind this production cared for Macbeth's story. If only they shared his ambition.
Rating: ★½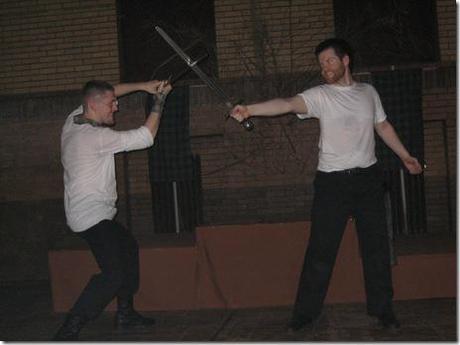 Goat Song Theatre's Macbeth continues through July 31st at the Red Tape Theatre space, 621 W. Belmont (map). Tickets are $20 at the door (cash only). More information here.
---
artists
cast
Charles Askenaizer (Banquo), Katherine Biscuit (2nd Witch, 2nd Murderer), Glenn Bush (Ross), Kristen Danko (Lady Macbeth), Katherine Lamb (1st Witch, Gentlewoman), Brett Meslar (Malcolm), Nick Perry (Lennox), Howard Raik (Duncan, Doctor), Brigid Ronan (3rd Witch, Lady Macduff), Jack Sharkey (Macduff), Nathan Thompson (Macbeth), Seth Wanta (Sergeant, Porter, Murderer, Seyton)