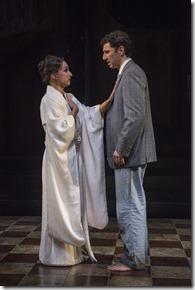 M. Butterfly 
Written by David Henry Hwang  
Directed by Charles Newell
at Court Theatre, 5535 S. Ellis (map)
thru Jun 8  |  tickets: $45-$65   |  more info
  
Check for half-price tickets 
  
  
   Read review
  
---
Compelling gender-bending play suffers from inconsistent staging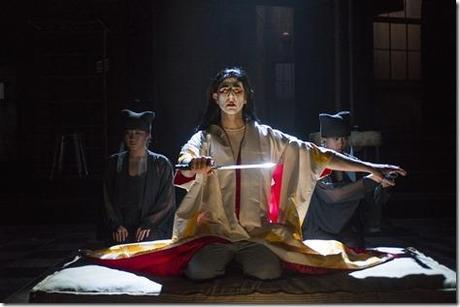 Court Theatre presents
M. Butterfly
Review by Lauren Whalen 
Opera is rife with high drama, full-blown tragedy and artistic deception. In this way, it's a perfect backdrop for M. Butterfly. David Henry Hwang's breakout 1988 Tony winner was inspired by actual events and skillfully uses Puccini's opera Madama Butterfly to spin a decades-long illusion created by the Chinese government with a schlubby French diplomat as its pawn. Like the best opera, M. Butterfly is in many ways unbelievable, but its absurdity grounded in reality proves a major draw. At times, however, Hwang's sharp script is undermined by Court Artistic Director Charles Newell's odd staging choices, but this is mostly redeemed by strong performances and choreography.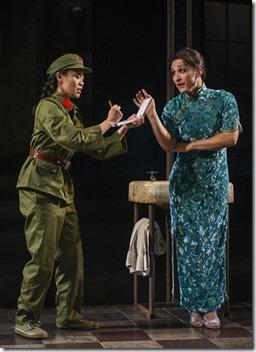 In the mid-1980's, former civil servant Rene Gallimard (
Sean Fortunato
) sits in a Paris prison cell after being convicted of treason. With a wide-eyed, almost naïve optimism, he recalls happier times: his very favorite opera
Madama Butterfly
, and his real-life "Butterfly", Chinese opera diva Song Ling (
Nathaniel Braga
). While living and working in
China
in 1966, the married Gallimard saw Song Ling perform and immediately fell hard, beginning an affair that spanned 20 years and two continents. But when Song Ling is not what she seems, Gallimard's world quickly spirals out of control and he's left alone and bereft, questioning his carefully constructed reality.
I'm a sucker for identity-scam stories: John Guare's Six Degrees of Separation (also set in the 1980's and ripped from the headlines) is one of my all-time favorite plays, "Catch Me If You Can" is in my top 10 films, and more than once I've found myself drawn to marathons of MTV's "Catfish" (a reality-TV show based on the documentary of the same name, about the lies people tell in online relationships). I'm constantly intrigued by the concept that people believe exactly what they want, especially when it comes to love – the very concept that Song Ling points out later in the story. I adore Hwang's script and its delicate balance of past and present, fantasy and reality, consistency and shock. The blatantly sexist and racist overtones of Madama Butterfly are a perfect parallel to Gallimard's fetishization of his "modest Chinese girl," and the ways he is easily manipulated with the perceived realization of said fantasy. The playwright pulls no punches with Gallimard: not only is he an unreliable narrator, he's often an unlikable one. Still, the audience can't help but feel some sympathy for a man who was duped for so long – perhaps because we, too, have a tendency to give in to feelings rather than face facts.
If only this production's staging lived up to the high potential of its source material. Though the dialog and action convey many locations, from a Beijing opera house to diplomat parties to Song Ling and Gallimard's love nest, Todd Rosenthal's gritty set design only shows Gallimard's prison cell. This leads to some interesting staging by director Newell, as a dirty mattress becomes a sumptuous bed and a cold hotel room, among other things. However, the set's multiple levels often lead to problematic blocking – I sometimes had trouble seeing choreography and differentiating locations. Having never seen M. Butterfly, I can't say whether the prison set is de rigeur, but the disconnect between set design and staging often gave me pause. Also, the Frenchman Gallimard speaks with an American accent, while all other characters have some sort of dialect. I'm not sure if this was to convey Gallimard as an Everyman narrator (though the character is certainly not an Everyman), but this also provides an unwanted dissonance.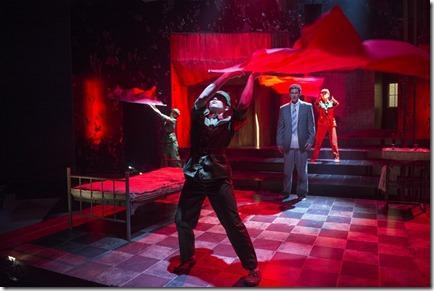 Along with its script, this M. Butterfly's most redeeming quality is its choreography. Created by Jamie Guan, choreographer for the Tony-winning original production, the exquisite mix of martial arts, Peking opera style and Western ballet provide its own narrative thread that nicely complements Hwang's dialog. Beautifully executed by Braga and a Greek chorus of dancers (Sarah Lo, Aurora Adachi-Winter and Erin Clyne), Guan's movements are both delicate and strong, appearing elegant and effortless in a way only achieved through endless hours of detailed work. (In that way, the choreography is also symbolic of Song Ling's 20-year illusion.)
Newell has assembled a solid ensemble: Terry Hamilton is appropriately blustery as Gallimard's boss Toulon, and Laura Coover oozes promiscuity as a Danish student whose sexual confidence poses an irresistible threat. Mark Montgomery is delightfully sleazy in a series of roles that parallel Madama Butterfly's Consul Sharpless. As a devoted government official, Emjoy Gavino employs the intensity and grace that make her one of Chicago's most in-demand actresses, and Karen Woditsch has several powerful moments as Gallimard's German wife-of-convenience, Helga. Though Braga doesn't possess all the features of a fragile woman, he compensates with a confident physicality – every gesture resonates and tells its own story. And Fortunato is perfectly cast as the meek-turned-overconfident-turned-delusional Gallimard, compelling the audience with every syllable, even when the character's behavior toward others is beyond forgivable.
Love and sex arguably make fools of us all – though thankfully most individuals will never end up in prison because of this foolishness. M. Butterfly is interesting, disturbing and pervasive, a cautionary tale of the lies we tell ourselves. Though inconsistently staged, Court Theatre's premiere of this long-acclaimed play is worth a watch. If nothing else, it's a lesson humans must learn over and over: no matter how much you wish it so, nothing is ever exactly as it appears.
Rating: ★★★
M. Butterfly continues through June 8th at Court Theatre, 5535 S. Ellis (map), with performances Wednesdays and Thursdays at 7:30pm, Fridays at 8pm, Saturdays 3pm and 8pm, Sundays 2:30pm and 7:30pm.  Tickets are $45-$65, and are available by phone (773-753-4472) or online through their website (check for half-price tickets at Goldstar.com). More information at CourtTheatre.org.  (Running time: 2 hours 25 minutes, includes an intermission)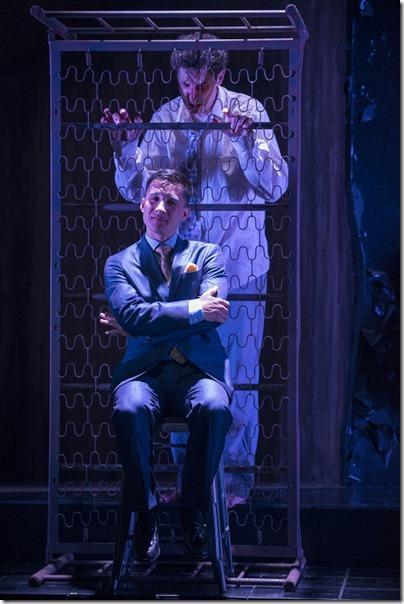 Photos by Michael Brosilow 
---
artists
cast
Nathaniel Braga (Song Liling), Laura Coover (Renee), Sean Fortunato (Rene Gallimard), Aurora Adachi-Winter (Kurogo Dancer), Erin Clyne (Kurogo Dancer), Emjoy Gavino (Comrade Chin), Terry Hamilton (Toulon), Mark Montgomery (Marc), Sarah Lo (Kurogo Dancer), Karen Woditsch (Helga), Jeanne T. Arrigo, Jeff Cummings, Scott Shimizu (understudies)
behind the scenes
Charles Newell (director), Jamie H.J. Guan (choreographer), Todd Rosenthal (scenic design), Lydia Tanji (costume design), Keith Parham (lighting designer), Andre Pluess (sound design), Amanda Weener (stage manager), Eva Breneman (dialect coach), Cree Rankin (casting), Lauren V. Hickman (assistant stage manager), Christina Carlson (wig and make-up design), Scarlett Kim (assistant director), Michael Brosilow (photos)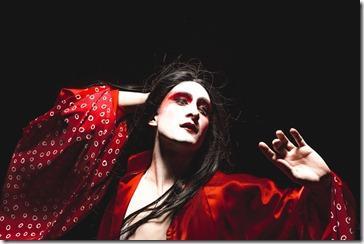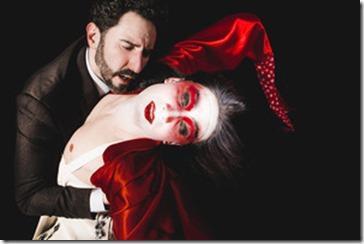 14-0548