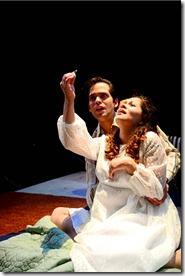 Lydia
Written by Octavio Solis 
Directed by Cecilie Keenan
National Pastime Theater, 941 W. Lawrence (map)
thru Nov 9  |  tickets: $15-$25   |  more info
  
Check for half-price tickets 
  
  
   Read review
  
---
Aching, brutal and tender exploration of divisions of all kinds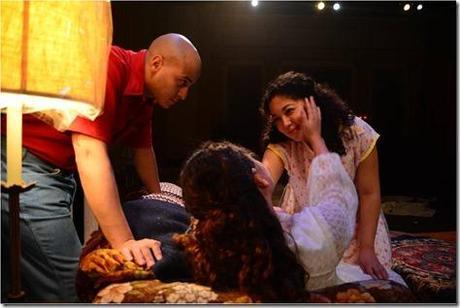 National Pastime Theater presents
Lydia
Review by Clint May 
"Great…" I thought in the early scenes of National Pastime's Lydia, "another show with a 'magical maid' at its center. Didn't I just review one of these?" Gratefully, my early trepidations at another Mary Poppins-esque magical realism trope being paraded as "fresh" were quickly put to rest by Octavio Solis' often unsettling disregard for conventions. Yes, Lydia has some metaphysical overtones, but it's firmly grounded in a gritty reality. What magic there is exists where all magic must—at the boundaries. Appropriately set in the border town of El Paso, Texas in the early '70s, a young girl trapped inside her mind breaches the prison of her body with the help of a sensitive caregiver. Together they disrupt the comfortable dysfunction of a family torn apart by bitterness and the souring of their attempt to live just inside the American Dream.
Though 17, Ceci Flores (Sindy Castro) is caught in the day before her quincenera, the day of a mysterious car accident that left her permanently brain damaged. In an emotional opening soliloquy, she lays out her personal Tarot deck. Sensitive brother Misha (Nelson Rodriguez), who writes poetry and tenderly cares for her in the midst of a family that has largely written her off. Mother Rosa (Rose Guccione), who has turned to faith as a way to care for her daughter in lieu of medication while simultaneously offloading responsibility to a new maid. Surly yet vulnerable brother Rene (Jesse David Perez) spends nights bashing homosexuals. Ceci's father, Claudio (Franco Stevens), has withdrawn completely from the family, rarely speaking English when he speaks at all, and preferring instead to hide in front of the TV with headphones on listening to records.
As her introductions end, she reverts to her actual self—a seemingly living vegetable only capable of moans and grunts and limited movement. She sees the truth of her family better than her mother, who constantly reminds everyone that it is she who 'sees all.' Taking up a new job to help out the family, she has hired an undocumented (she is unconcerned with the legality) maid and physical therapist. Lydia's (Sarai Rodriguez) arrival is instantly disruptive as her bracing honesty and ability to see into Ceci's heart begins to pull down the carefully yet hastily constructed walls the Flores family has fortified around the truth. An orphan, Lydia reveals a scar over her heart that matches the one on Ceci's forehead, one that left her an orphan in a Mexican town to which she mysteriously cannot return. What happened to Ceci on the day of her accident is equally a mystery, but it is one that is slowly unraveled by Lydia's ability to morph into what is needed by each family member. She can see that Ceci's budding sexuality is still torturing her, particularly as she still has a crush on her childhood friend and cousin Alvaro (Matthew J. Harris).
Mysteries and long-repressed emotions are brought to the surface painfully yet eloquently by Ceci's frequent poetic interludes. Tensions rise and fall, tones shift and dynamics change in rapid succession. Many of the events are discomfiting to say the least. Stark realism butts heads with symbolism in a jarring (yet not unpleasant) fashion. Some parts feel rushed under Cecilie Keenan's direction, and there's much to say in a short amount of time. Still, I couldn't help but wish more of the moments had breathing room to land properly with so much to absorb. Some line readings feel flat or hurried, as if rushing headlong into the more interesting emotional climaxes which punctuate the production. Staged in the round, some of the mixed Spanish and English dialog is unfortunately lost in the vastness of the National Pastime space. Still, Castro makes an enchantingly flawed princess trapped in a tower of her own flesh. As her would be princes, the men in her life are a spectrum of various levels of inhibited angst and not-always-quiet desperation. Rodriguez and Perez in particular demonstrate a vast range capable of eliciting compassion despite their frequently selfish—and in at least one case—despicable motivations. Solis' unwavering trek into the humanity of his characters and their desires remarkably finds a way to balance empathy with revulsion.
Part of a projected three-part arc (the second to be titled "Yolanda," which will follow Alvaro 30 years after the events portrayed here), Lydia is a departure from Solis' earlier works. It maintains his elevated language but mingles with realism born of his personal experiences. Solis, originally from El Paso, is fascinated by the concept of the vast differences on either side of a dividing line and the dissonance that arises when you try to straddle them. He even manages to mine dry humor in the midst of all this tension. These pitiable people will break your heart, and leave you desperately curious to know what happens to them and if there will be any resolutions revealed in the next two works. Even without, this is a grand work of 21st century theater.
Rating: ★★★½
Lydia continues through November 9th at the National Pastime Theater, Preston Bradley Center, 941 W. Lawrence (map), with performances Thursdays-Saturdays at 8pm, Sundays 6pm.  Tickets are $15-$25, and are available by phone (773-327-7077) or online at BrownPaperTickets.com (check for half-price tickets at Goldstar.com). More information at NationalPastimeTheater.com.  (Running time: 2 hours, includes an intermission)
Photos by Meghan Kransberger
---
artists
cast
Jessie David Perez (Rene Flores), Franco Stevens (Claudio Flores), Matthew J. Harris (Alvaro Flores), Sindy Castro (Ceci Flores), Rose Guccione, (Rosa Flores), Nelson Rodriguez (Misha Flores), Sarai Rodriguez (Lydia)
behind the scenes
Cecilie Keenan (director), Nora Montañez (asst. director), Rachel Holland (stage manager), Scott Pillsbury (lighting design), Emily  Beaudin (costume design), Cassie Schillo (properties design), JJ Porterfield (sound design), Joey Wade (set design), R&D Choreography (violence choreography), Larry Horne (technical director), David Denman (scenic artist), Elayne LeTraunik (production manager, media relations), Lane Swasko (makeup design), Nolen Otts (graphics), Meghan Kransberger (photos)
13-1008