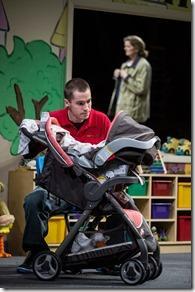 Luna Gale
Written by Rebecca Gilman  
Directed by Robert Falls 
at Goodman Theatre, 170 N. Dearborn (map)
thru Feb 23  |  tickets: $25-$81   |  more info
  
Check for half-price tickets 
  
  
   Read review
  
---
World premiere challenges spectrum of morality, forgiveness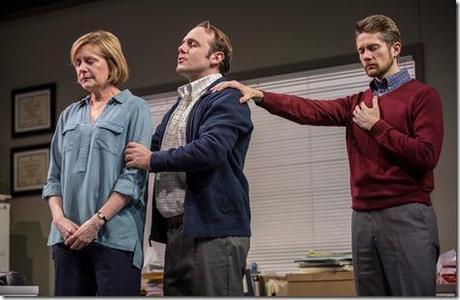 Goodman Theatre presents
Luna Gale
Review by Oliver Sava
The infant child of two parents using crystal meth, the titular character of Rebecca Gilman's new drama is a prize everyone is fighting to have, no matter the cost. When Luna Gale is brought to the hospital with a sickness that should've been addressed much earlier, social worker Caroline (Mary Beth Fisher) takes the girl's future into her own hands, pushing against resistance from her manager at work and the child's evangelist Christian grandmother to find the best possible outcome for Luna and her parents. It's the kind of play that Goodman loves to produce, addressing a major social problem by attacking the conservatives that prevent progress, giving liberal theater audiences the opportunity to laugh at the opposition before making them gasp at the moral compromises made in order to come closer to victory.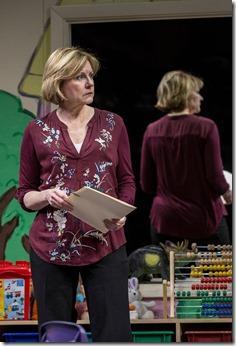 Gilman's scripts have a tendency to suffer from selectively idiotic characters, people who must have some sort of competence to arrive at the position they currently hold in life, but who act foolishly in order to make the story work. Caroline has been working for Iowa's child protective services for 25 years; she's seen hundreds of kids go through the system, but when she encounters a religious fundamentalist in Luna's grandmother Cindy (
Jordan Baker
), she dramatically changes her tactics to make a risky move that isn't necessarily in the child's best interests.
Fisher and Baker give two of the strongest performances in Goodman's world premiere, with both actresses creating characters that are exceptionally lived in. Fisher brings a weary endurance to Caroline, suggesting the years of bureaucratic red tape she's had to deal with in her 25 years of experience, and it's easier to accept lapses in the character's judgment because there's a very real sense that she's worked herself so hard and felt so little satisfaction that she'll do anything for a win. Baker does fantastic work depicting a woman feverishly dedicated to her beliefs, choosing to place all her faith in a higher power and an idealized afterlife rather than deal with her troubles in the material present. There's a specificity in their performances that isn't as strong in the younger characters, like Cindy's daughter Karlie (Reyna de Courcy) and newly emancipated state ward Lourdes (Melissa Dupry), a woefully underdeveloped character who is simply there to give Caroline another failure to live with.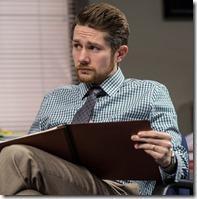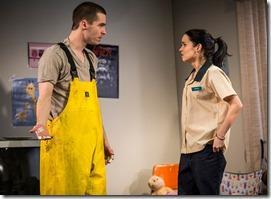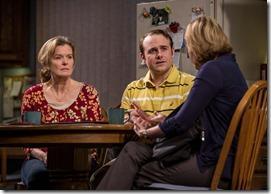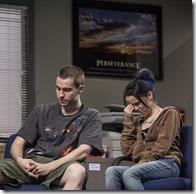 Caroline is forced to go rogue because of her manager Cliff (Erik Hellman), a character who shows little regard for the youngsters that come under his organization's care and goes out of his way to ensure that he and his employees don't make personal connections with these wards of the state. When Cliff's personal bias in this specific case is brought up, it introduces a load of questions about how he was able to rise to his role when he's clearly interested in using his position to advance an individual agenda. Cliff initially shows a comprehensive knowledge of protocol, but that selective idiocy takes over when Cindy's Pastor Jay (Richard Thieriot) comes to Caroline's office to discuss Luna Gale and pray with the non-believing woman. It's a scene that leads to a final line that gets an audible gasp from the audience, but Gilman takes some questionable turns on the path to that punch-in-the-gut line.
Ultimately, Luna Gale is a solid drama with some memorable performances—Colin Sphar's nuanced portrayal of Luna's father Peter provides much of the show's heart—but some strange decisions on Gilman's part prevent the show from achieving maximum impact. The broken relationship between Cindy and Karlie is a major driving force of the plot, but the women never share a scene together, with Peter serving as his girlfriend's stand-in for the big moment of confrontation at the end of the play. It's possible that the mother and daughter are never together on purpose so that the audience members can create their own conclusions about the women's relationship, but keeping them apart feels like there's a puzzle piece missing that keeps the full picture from forming.
Rating: ★★★
Luna Gale continues through February 23rd at Goodman Theatre, 170 N. Dearborn (map), with performances Wednesdays at 7:30pm, Thursdays 2pm and 7:30pm, Fridays 8pm, Saturdays 2pm and 8pm, Sundays 2pm.  Tickets are $25-$81, and are available by phone (312-443-3800) or online through their website (check for half-price tickets at Goldstar.com). More information at GoodmanTheatre.org/Luna.  (Running time: 2 hours 15 minutes, includes an intermission)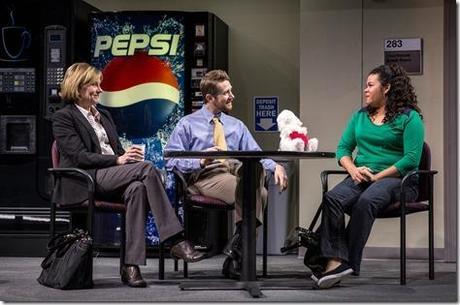 Photos by Liz Lauren
---
artists
cast
Jordan Baker (Cindy), Reyna de Courcy (Karlie), Melissa DuPrey (Lourdes), Mary Beth Fisher (Caroline), Erik Hellman (Cliff), Colin Sphar (Peter), Richard Thieriot (Pastor Jay)
behind the scenes
Robert Falls (director), Todd Rosenthal (set design), Kaye Voyce (costume design), Robert Wierzel (lighting design), Richard Woodbury (sound design), Neena Arndt (dramaturg), Joseph Drummond (production stage manager), Liz Lauren (photos)
14-0149