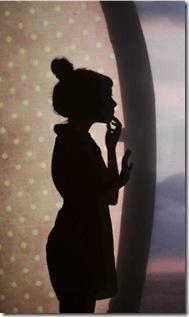 Lula del Ray 
Based on original text by Brenden Hill  
Directed by Drew Dir, Sarah Fornace 
   and Julia Miller 
at The Den Theatre, 1333 N. Milwaukee (map)
thru Dec 16  |  tickets: $10-$20   |  more info
  
Check for half-price tickets 
  
  
   Read entire review
  
---
More than words: this mostly silent, silhouetted show is a must see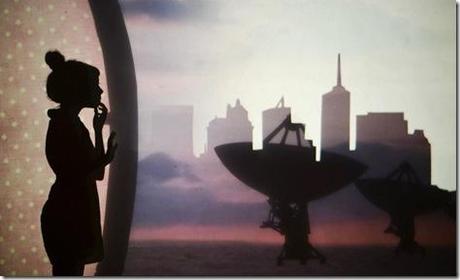 Manual Cinema presents
Lula del Ray
Review by Anuja Vaidya
Lula del Ray is a sad and soulful coming-of-age story of young Lula growing up in mid-century America. She lives a lonely life with her mother in the middle of a desert and dreams of worlds far away from her. Her mother, busy with work, doesn't seem to understand her restlessness. She becomes fixated with the country music of 'The Baden Brothers'. Lula decides that she needs to see them perform live in the city and runs away from home. The city, as she soon discovers, is full of disillusionments, and she realizes that she is in way over her head.
The plotline might seem a bit trite, sort of a sad version of kid-in-the-big-city movies but the way Lula's story is told is incredibly charming and fresh. This is because The Ballad of Lula Del Ray is told in shadow and song. Puppets and actors are concealed behind a screen, and overhead lights illuminate their silhouettes. Projectors are used to complete the 2-dimensional set and live music is used. None of the characters speak during the play, in fact, the only pieces of dialog are the news reports seen by the characters. The music is so enchanting that the fact that there is no dialog is scarcely noticeable.
Not for a moment do you feel a lack of emotion, even though you cannot see any expressions or hear any voices. It is all body language. The folded arms signify admonishment, the hurried walk denotes excitement and a slight sloping of the shoulders shows us disappointment. Not having expressions to decode while watching this show is oddly liberating. You end up noticing and feeling so much more. The sets and scenes are beautifully etched out. Small details make Lula's world come alive, such as the posters in her room, the Baden Brothers record that she is obsessed with, and even the people on the bus that she takes to the city.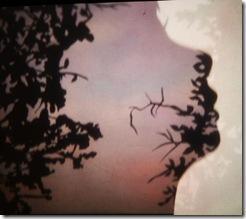 Sarah Fornace plays the silhouetted Lula and does a wonderful job, giving us a nuanced performance using only her body movements. You the get a sense of how stifled she feels at home with her mother, how determined she is to go see the Baden Brothers perform and finally how lost and scared she is when she is trying to find her way around the city.
Half the fun of watching such a unique production is trying to figure out how they manage to pull it off. Satisfyingly, then, the cast and crew invite the audience to come backstage after the show to have any questions answered and see how the puppetry works. I decided not to go, however. Not because I didn't want to know, but because I liked the slightly mysterious quality of the show.
With the exception of a somewhat confusing and abstract ending, this show certainly charmed me. Being an extremely unconventional mode of theater, this production could have ended up being lackluster with an extremely simple plot, but a talented cast and crew using inventive storytelling techniques elevates this show to being a unique experience that you should not miss.
Rating: ★★★½
Lula del Ray continues through December 16th at The Den Theatre, 1333 N. Milwaukee (map), with performances Thursdays-Saturdays at 8pm, Sundays at 3pm. Tickets are $10-$20, and are available online through their website (check for half-price tickets at Goldstar.com). More information at ManualCinema.com.  (Running time: 1 hour 15 minutes, no intermission)
---
artists
cast
Lizi Breit, Sarah Fornace (Lula del Ray); Evan Garrett, Julia Miller (Lula's mother)
behind the scenes
Drew Dir, Sarah Fornace, Julia Miller (co-directors); Kyle Vegter, Ben Kauffman (original sound design); Kyle Vegter, Ben Kauffman with Maren Celest, Michael Hilger, Jacob Winchester (original score); Kyle Vegter, Maren Celest, Michael Hilger, Jacob Winchester (musicians); Katherine Greenleaf (tech director); Simone Martin-Newberry (poster design); Despina Papadeas (house coordinator); Sam Deutsch, Aaron Goldbeck, Dana Lamendola, Christy Lemaster, Simone Martin-Newberry, Despina Papadeas, Elizabeth Tieri, Magdalena Wistuba (house managers); Katherine Greanleaf (photos)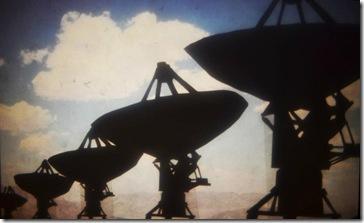 12-1179