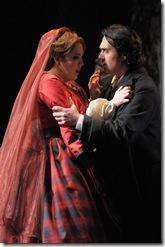 Lucia di Lammermoor  
Composed by Gaetano Donizetti
Libretto by Salvatore Cammarano
Conducted by Massimo Zanetti
Stage directed by Catherine Malfitano 
at Civic Opera House, 20 N. Wacker (map)
thru Nov 5  |  tickets: $44-$229   |  more info
Check for half-price tickets  
  
   Read entire review  
---
Long live passion at the Lyric Opera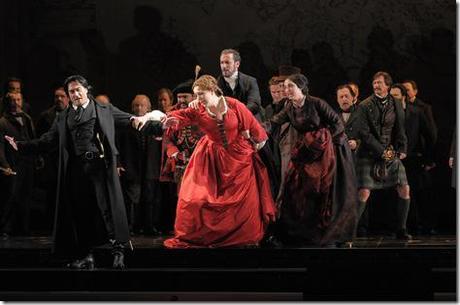 Lyric Opera of Chicago presents
Lucia di Lammermoor
Review by Katy Walsh
The road to love has plenty of potholes.  Misunderstandings, disagreements, and infidelities are obstacles on the journey.  In the movies, true love veers around these barriers.  The couple eventually arrives at their happily-ever-after. In opera, a love betrayal isn't up for discussion.  It is hit head-on, backed over and dragged into states of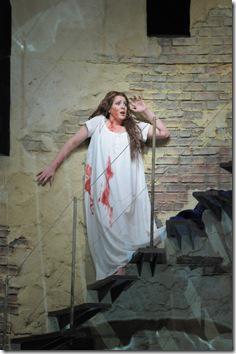 madness, mayhem and murder.  
The Lyric Opera of Chicago presents a new production of Lucia di Lammermoor, a three act opera sung in Italian.  Lucia loves Edgardo. Edgardo loves Lucia. Before he met her, Edgardo swore vengeance on Lucia's family.  Because he loves her, Edgardo plans to build civility between their divided families.  But first, he has a secret diplomatic mission.  Before he departs, they marry secretly.  Edgardo promises to write.  Enrico, Lucia's brother, intercepts the letters.  He convinces Lucia that Edgardo has been unfaithful.  He coerces her to marry Arturo to save the family from ruin. Right after Lucia signs the marriage contract, Edgardo arrives.  Uh-oh!  Vengeance is back… big time!  Lucia di Lammermoor is undeniably positioned to love.  
Lucia di Lammermoor is the perfect title because Susanna Phillips (Lucia) owns this show! Lying on the ground, falling down the stairs, mimicking bird-like sounds, Phillips is pure singing perfection. As she sings of her love in "Quando repito in estasi," the audience falls hard for her. Under the stage direction of Catherine Malfitano, Phillips delightfully transforms from sweet innocent to spurned lover to full-on bonkers. Every level of passion is brilliantly actualized under the baton of Conductor Massimo Zanetti. The madness aria, "Il dolce suono… Ardon gli incense," is unforgettable! Not only is the singing sublime, Phillips scurries back and forth on a precarious staircase. The visual heightens the dramatic craziness! I'm holding my breath and hoping Phillips doesn't really *lose it* in the scene. The object of her affection is the charming Giuseppe Filianoti as Edgardo. Phillips and Filianoti enchant with the duet "Verranno a te sull'aure." Filianoti creates his own ripple of swooning throughout the theater. Later, Filianoti is powerfully commanding in rage and despair. I love this coupling!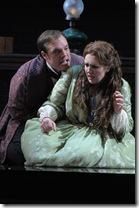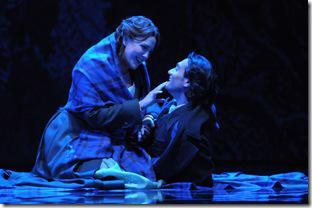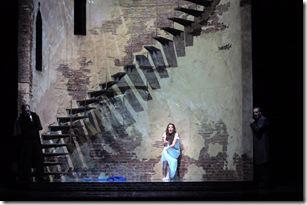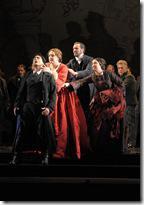 Lucia di Lammermoor is a new production. It's a visual spectacle! Set Designer Wilson Chin adds to the emotional devastation with impactful choices. The second act opens with the backside fortress of a castle tower. Lighting Designer Duane Schuler illuminates it initially with a lightning storm. Later, as Christian Van Horn (Raimondo) masterfully breaks bad news, the castle eerily glows red. Then it spins around to showcase, a crazed Phillips on the spiraling staircase. Wow! Long live passion at the Lyric Opera!
On the road to this phenomenal production, there are obstacles. Wacker Street construction surrounds it like a moat protecting a fortress. Lucia di Lammermoor is a damsel worthy of enduring the demolition war zone. Just give yourself plenty of time, The Lyric Opera curtain rises on time. The show must go on!
Rating: ★★★★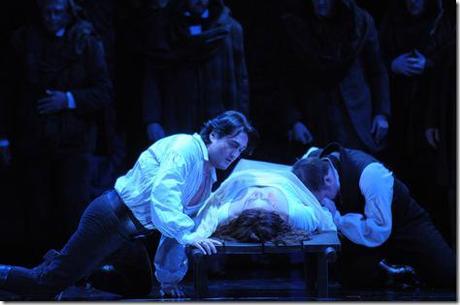 Lucia di Lammermoor continues through November 5th at the Civic Opera House, 20 N. Wacker (map), with performances October 19th, 22nd, 28th at 7:30pm; November 1st, 5th at 7:30pm; and October 13th, 16th at 2pm.  Tickets are $44-$229, and are available by phone (312-332-2244 x5600) or online via Lyric's website. More information at LyricOpera.org.  (Running time: three hours, which includes one intermission)
All photos by Dan Rest 
---
artists
cast & production team

Susanna Phillips 
as Lusia

Giuseppe Filianoti
as Edgardo

Brian Mulligan
as Enrico (October)

Quinn Kelsey
as Enrico (November)

Christian Van Horn
as Raimondo

Massimo Zanetti
Conductor

Catherine Malfitano
Director

Wilson Chin
Set Designer
Not pictured: Francis Rizzo (English subtitles); Terese Wadden (costumes); Duane Schuler (lighting); Dan Rest (photos)