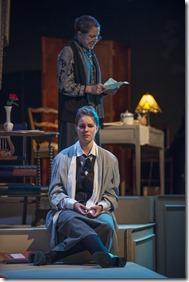 Loving Repeating
By Stephen Flaherty (music), Gertrude Stein (lyrics)
   and Frank Galati (adaptation) 
Directed by Allison Hendrix  
at Theater Wit, 1229 W. Belmont (map)
thru Aug 30  |  tickets: $38   |  more info
  
Check for half-price tickets  
  
  
   Read review
  
---
Poignant, romantic and incandescent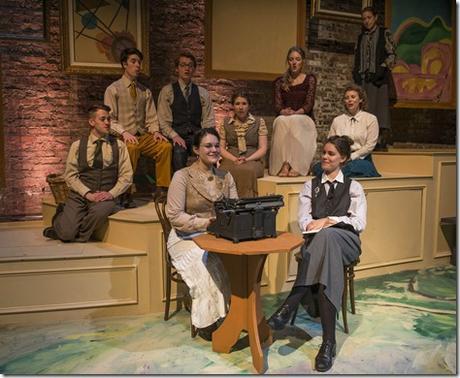 Kokandy Productions presents
Loving Repeating
Review by Lauren Whalen 
Kokandy Productions has been doing things right for a long time. So much so that I often want to ask other small theater companies, "Why can't you be more like your sister?" They've hit the sweet spot of casting (and retaining) phenomenal talent, using excellent production staff, and producing quality work that intrigues and satisfies. Fresh off its raucous and well-loved hit The Full Monty, Kokandy scales it back with the smaller but equally mighty Loving Repeating. Directed by ensemble member Allison Hendrix, the short but sweet musical love letter to Gertrude Stein is an absolute jewel.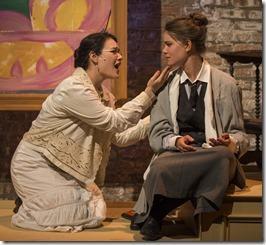 Stein (
Caron Buinis
) was known for her unique writing style: straddling the line between prose and poetry, she played with language in her keen observations of human behavior. In
Loving Repeating
, Stein's brilliant words are adapted by
Frank Galati
and set to music by
Stephen Flaherty
. There's no cohesive story; but a series of lovely vignettes enacted through song, dance and interactive art pieces by a stellar ensemble. Presiding over the action is a cantankerous old Stein, her younger self (
Amanda Giles
) and her lover Alice B. Toklas (
Emily Goldberg
). From runaway cows to female intellectuals, everything viewed through Stein's eyes takes on a sweet sadness and experimental profundity.
Loving Repeating succeeds, where many modern musicals fail, in that it challenges the audience to draw their own conclusions and find their own meanings in Stein's words. In her director's note, Hendrix quotes Stein – "if you enjoy it, you understand it" – and encourages patrons to embrace the production at its wonderfully abstract core. Galati, Flaherty and Hendrix all display a deep reverence and unabashed joy in translating Stein's writing to live theater, a love they gleefully passed on to me during the course of 70 minutes.
Ashley Ann Woods' dazzling set design is at once grown-up and playful, with several sweet surprises underlying the action. Lighting by Cat Wilson is instrumental in the various moods of the piece, gently guiding the audience without manipulating. Hendrix keeps the story moving without rushing emotional beats, and music director Kory Danielson not only leads a vocally gifted ensemble but also skillfully directs a stellar small orchestra. Andrea Louise Soule's choreography incorporates a great sense of fun, with sweeping romanticism when appropriate. Stage manager Jessica Forella deserves props for extra-smooth transitions.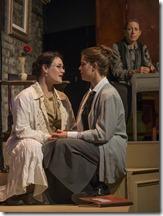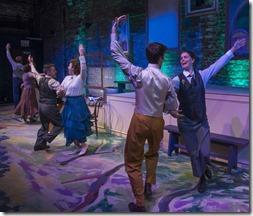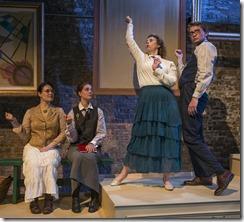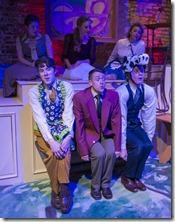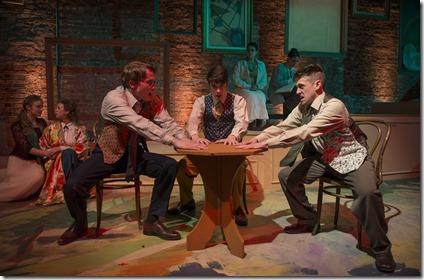 Any cast would flourish with such a gifted production team at the helm, but Loving Repeating's ensemble is especially stellar. Standouts include George Toles (whose sweet tenor was so memorable in The Full Monty), Maisie Rose in her Chicago debut, and Stephanie Stockstill, who brings a pretty intelligence to the role of Miss Skeen. Buinis' Stein is just the right mix of crotchety and vulnerable, making for a compelling narrator. Giles shines as young Gertrude, projecting a coltish awkwardness that eventually refines itself. And as Toklas, Goldberg emanates light from within, graceful and gorgeous from beginning to end.
I long for Loving Repeating to do well in the Chicago theater community. It's not a populist piece meant to please the masses, but a precious gift from a groundbreaking author brought to light by stunning adaptation, direction and onstage talent. This production is a true labor of love, and should be received as such by anyone who values poetry, poignancy and a moving, breathing painting.
Rating: ★★★★
Loving Repeating continues through August 30th at Theater Wit, 1229 W. Belmont (map), with performances Thursdays and Fridays 8pm, Saturdays 3pm and 8pm, Sundays 3pm.  Tickets are $38, and are available by phone (773-975-8150) or online through TheaterWit.org (check for half-price tickets at Goldstar.com). More information at KokandyProductions.com.  (Running time: 70 minutes without intermission)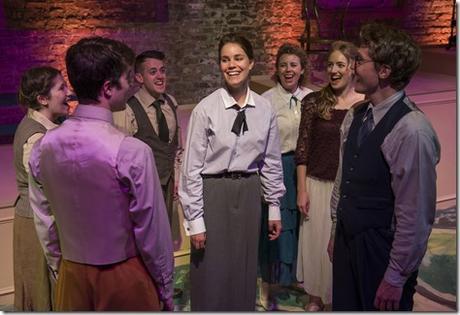 Photos by Michael Brosilow 
---
artists
cast
Caron Buinis (Gertrude Stein), Amanda Giles (Young Gertrude), Emily Goldberg (Alice B. Toklas), Sarah Hayes, Andrew Lund, Jake Morrissy, Maisie Rose, Stephanie Stockstill, George Toles (ensemble), Chelsea Morgan, Neil Stratman (swings)
musicians
Kory Danielson (musical director, keyboard), Mike Matlock (reeds), Kyle McCulloug (guitar, banjo, mandolin), Desiree Miller (cello)
behind the scenes
Allison Hendrix (director), Kory Danielson (music director), Andrea Louise Soule (choreographer), Ashley Ann Woods (scenic design), Kate Setzer-Kamphausen (costume design), Cat Wilson (lighting design), Jenna Moran (sound design), Johnny Buranosky (props design), Gordon Granger (technical director), Patrick O'Brien (sound engineer), K. Hannah Friedman (assistant director), Jessica Forella (stage manager), Evan Frank (assistant stage manager), Michael Brosilow (photos)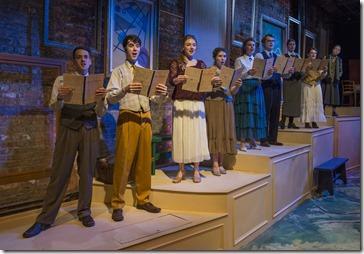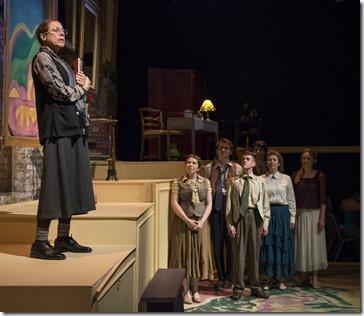 15-0731