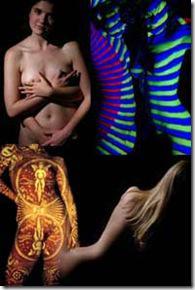 Living Canvas: Eureka! 
Created by The Living Canvas
Directed by Pete Guither
National Pastime Thtr, 941 W. Lawrence (map)
thru Aug 11   |  tickets: $20   |  more info
  
Check for half-price tickets 
  
  
   Read entire review
  
---
A legion of nudity too big for a bathtub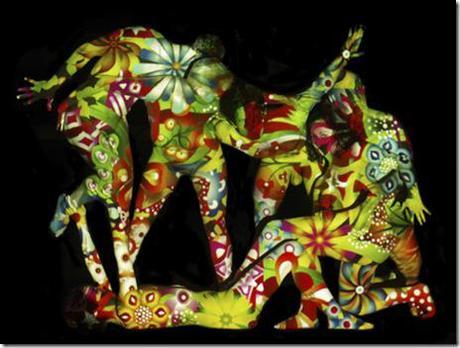 National Pastime Theater presents
Living Canvas: Eureka!
Review by Keith Glab
"The stardust in your veins is beautiful"
For the fourth straight year, The Living Canvas is an integral part of National Pastime Theater's Naked July Festival. The company's new Uptown space, unveiled for NPT's 20th anniversary season, provides ample room for the 15 naked bodies involved in The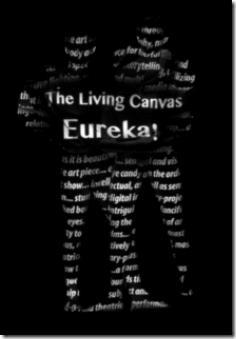 Living Canvas: Eureka!
These bodies are bathed in various patterns of projected light. Images ranging from simple colored stripes to mechanical gears to bathroom tile to double-helixes to more abstract shapes appear on pale, nude forms in an otherwise dark space. There is a range to the body types onstage as well: large to thin, old to young. One of the cast members is visibly pregnant.
A series of 13 "segments" is presented. Most of these are quite abstract: hula hoops that explode with music when touched, a tinkerer winding up a legion of robots, a man with headphones dancing around to disco music. Occasionally some text is thrown in to give a hint of a theme, as in Philosopher and the Moth, Stardust, or Mirrors. There really isn't much of a through line for the segments other than hitting home the notion that the human body is beautiful and nothing to be ashamed of.
Along those lines, The Living Canvas' tradition of inviting members of the audience to strip down and join the performers onstage is continued. This opportunity had typically been presented after a Q&A session with the cast, but Eureka! inserts Audience Participation smack into the middle of the show. A handful of people boldly took the plunge opening night, though at least one of these participants was a plant.
As ironic as it sounds, there isn't enough risk-taking involved in this show that features nothing but naked folks. For the first hour of the performance, the actors mostly keep a safe distance from each other and use slow, controlled movements. It isn't until Christopher J. Bryant and Miona Harris take the stage in the penultimate segment Contact that any of the performers begin to really explore each other's bodies.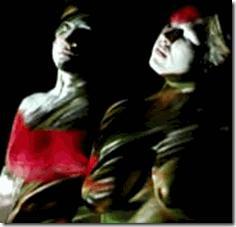 Then in
Finale
, we see elements of danger that should have been present throughout the performance. From walking full wheel poses to acrobatics through scaffolding to a stack of bodies on top of each other, the audience is bombarded with interesting shapes, configurations, and relationships as the show finally begins to realize its potential. Robbed of the ability to do much with voice or facial expression, these actors need to push the envelope with the one performance instrument fully available to them: their bodies.
Even in that spectacular final segment, there is no narrative or emotional attachment to any of the performers. Aside from the motif of being comfortable with and proud of your own body, there isn't even much thematic work done. Nevertheless, The Living Canvas: Eureka! certainly qualifies as a unique theatrical experience that many will enjoy for that uniqueness, bravery, and aesthetics. Audience members searching for more will walk away somewhat disappointed.
Rating: ★★½
The Living Canvas: Eureka! continues through August 11th at 941 W. Lawrence, 4th Floor (map), with performances Fridays and Saturdays at 10pm.  Tickets are $20, and are available by phone (773-327-7077 x502) or online through BrownPaperTickets.com(check for half-price tickets at Goldstar.com). More information at NakedJuly.com.  (Running time: 75 minutes without intermission)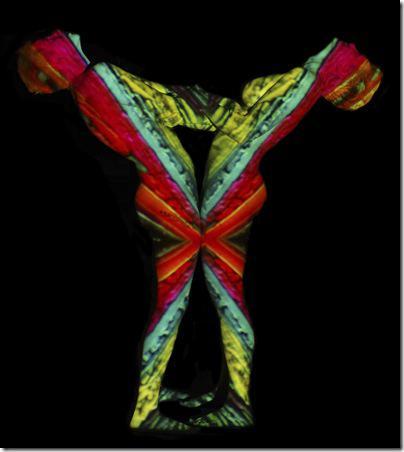 Photos by Pete Guither
---