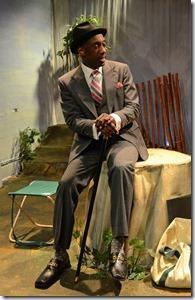 Lives of the Pigeons 
Written by Sherod Santos
Directed by Adam Webster
at Side Project Theatre, 1439 W. Jarvis (map)
thru June 30  |  tickets: $15-$20   |  more info
  
Check for half-price tickets 
  
  
   Read entire review
  
---
Sinister lurks within the ordinary in thought-provoking new script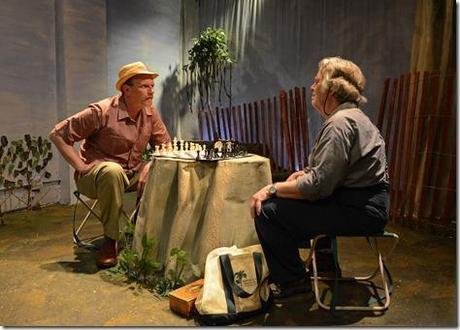 The Side Project Theatre Company presents
Lives of the Pigeons
Review by Joy Campbell
In this world premier by renowned poet Sherod Santos, the silly becomes surreal; the mundane becomes macabre. Gus (Vincent Lonergan), an older, unemployed pipe fitter, returns from a beer run to the isolated spot in the park where he and his crony Max (Don Bender) were playing their regular game of chess. Max isn't there; instead, a finely dressed mysterious man with a cane (Matthew Lloyd) awaits him. Despite his cultivated demeanor, polished speech, and fine clothes (or because of them, incongruous as they are in a neglected, trash-strewn park), The Man gives Gus and us pause, and as Gus questions him on his presence and receives only cryptic but knowing answers, our unease grows.
Flashbacks to earlier in the day recall how Gus and Max discovered the spot, and their familiar bickering makes it clear that their friendship is like a long marriage grounded more in habit than affection. They are a somewhat comical pair, with Max the more dominating, impatient one, and Gus simpler, more passive. Santos' ear for dialog rings true as the friends discuss the ordinary, then artfully weaves a minor key as they talk about the arson of a frequented night club and the breakup between Gus and his girlfriend.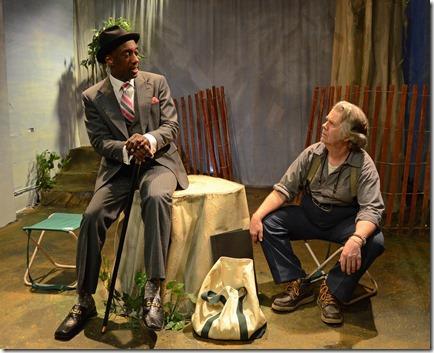 I don't want to throw out any spoilers, but as the action swings back and forth between the present and earlier in the day, Santos deftly draws us into a spiral of surreal events, transforming an unremarkable afternoon of chess between two nondescript men into a series of nightmarish actions and revelations that reverberate between the past and present, precipitated by the oppressively enigmatic Man With a Cane. Moving back and forth in time, pulling the pieces together, blurring real and imagined, Santos' script is a sleight of hand that shows us that taking the ordinary for granted is the most dangerous move of all.
As Gus, Lonergan is spot-on as a confused, simple soul who enjoys feeding pigeons. From his hunched body posture to his perpetually wary, confused expression, he reminds us of a dog that has been kicked to the curb one time too many. Lloyd's Man With Cane effectively wraps a sinister center in a rich coating of charm; every time he chuckled, my stomach tensed. Bender as the irascible Max is a good counterpoint to Gus, but the choice to have him constantly snarlish gives his character a one-note quality that loses some of the layers of Santos' writing. Still, this is a minor detraction; the overall performances are engrossing.
As always, The Side Project does an impressive job of creating an entire world in its tiny space. Dustin Pettigrew's set uses simple but evocative accents to transport us to a secluded section of a forlorn public park. Sound Designer Stephen Gawrit brings his signature sophistication, using music and sound that creep into our heads and hold us enthralled to the action.
I am proud to have such a remarkable theater company in my neighborhood of Rogers Park. Coincidentally, the name of the park in the show is The People's Park, which is also my pet nickname for my neighborhood. I'll be sure to avoid any men with canes.
Rating: ★★★
Lives of the Pigeons continues through June 30th at Side Project Theatre, 1439 W. Jarvis (map), with performances Thursdays-Saturdays at 7:30pm, Sundays 3pm.  Tickets are $15-$20, and are available by phone (773-340-0140) or online through BrownPaperTickets.com (half-price tickets available at Goldstar.com). More information at TheSideProject.net.  (Running time: 70 minutes, no intermission)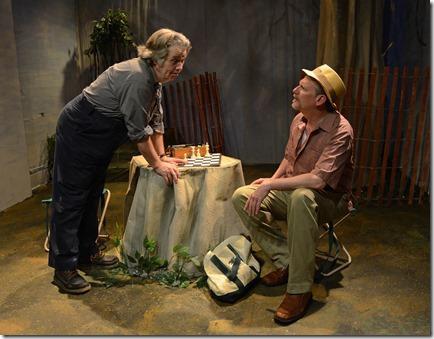 Photos by Scott Dray
---
artists
cast
Matthew Lloyd (Man With Cane), Vincent Lonergan (Gus), Don Bender (Max)
behind the scenes
Adam Webster (director), Rebecca Butler (stage manager), Dustin Pettigrew (set and props design), Stephen Gawrit (sound design), Brian Ruby (production coordinator), Christine Grodecki (lighting design), Crystal Jovae Mazur (costume design), Scott Dray (photos)
13-0603