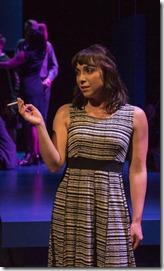 Capable cast can't compensate for over-the-top
yet predictable characters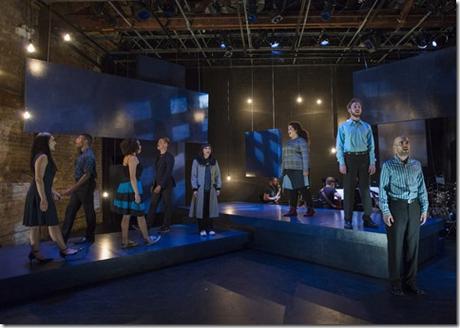 Review by Catey Sullivan
In Michael John LaChiusa's Little Fish , 30something Charlotte is trying to navigate life in New York City. In the Big Apple, we see her mental state unraveling as she tries to quit smoking, taking up a frenzied series of substitutes for cigarettes such as swimming, running and seeking support from her oddball friends. Charlotte's struggles play out as something of an urban collage, with LaChiusa flittering back and forth in time from Charlotte's childhood to the present.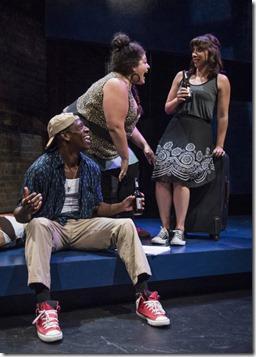 The 90-minute musical evokes Stephen Sondheim's
Company
in more ways than one. LaChiusa's music defies melodic simplicities, going instead for the kind of non-hummable (a)tonalities and unexpected rhythms that Sondheim is revered for. Like the original
Company
set,
Little Fish
plays out on a minimalist series of platforms. And Charlotte herself - like
Company
's Bobby - is her own worst enemy as she seeks love, fulfillment and meaning in her life. The comparisons don't do
Little Fish
any favors. Unlike
Company
,
Little Fish
lacks genuine emotional depth. As it buzzes along, most of the characters never develop beyond outlines.
Further, there's something cold and distant about Little Fish . Charlotte's flighty desperation over giving up nicotine feels more manically quirky than true. Her interactions with friends and acquaintances are often so nutty that their singular weirdness preempts any sense of veracity. Every character in this musical is eccentric, so much so that nobody ever feels entirely real. And in reaching for metaphors in the story of a "little fish" swimming upstream against the flotsam of life, LaChiusa veers between ham-fistedly heavy-handed and altogether opaque.
What does work in director Allison Hendrix's fast-moving production is the music and the compelling movement. Music director Kory Danielsonand choreographer Kasey Alfonso shape a show defined by rhythmic, stylized movement and vocal intricacies. The story doesn't hang together or, ultimately, go anywhere especially satisfying. But it looks and sounds good even so.
At the center of the story is Nicole Laurenzias Charlotte, beleaguered both physically and emotionally as she tries to quit cigarettes. In giving up the physical crutch, Charlotte is forced to confront her emotional issues as well. As she puts it in the frantic opening number: "I never knew what I was like until I stopped smoking."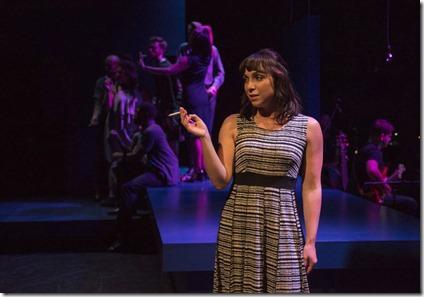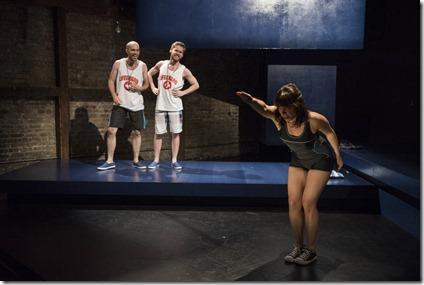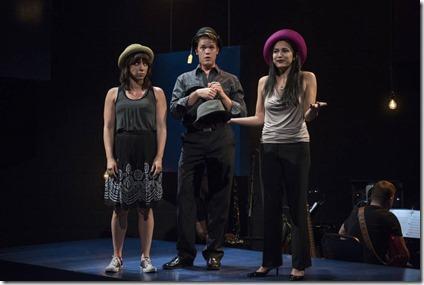 Although she tries mightily, Charlotte can't out-run or out-swim the troubles that boil to the surface once the distraction of nicotine is gone. Her orbit of well-meaning but sometimes less-than supportive friends is a distinctive but cartoonish crew. Kathy (Aja Wiltshire), passionately advocates visiting the lost Incan cities of Peru as a means of finding inner peace. Cinder (Teressa LaGamba) cheerfully offers cocaine. Anne Frank (Kyrie Courter) says running will help. Marco (Adam Fane) fills the sassy gay friend stereotype, while Robert (Casey Hayes) is the total heel of an asshole boyfriend that spurs Charlotte to flee snowy, upstate Buffalo and make for New York City. In NYC, Charlotte also contends with a handsy boss and a pair of bizarrely outspoken creeps who work as lifeguards at the Y.
Like the lifeguards' unapologetically sexist, objectifying barrage of bro-banter, LaChiusa goes for extremes. Boyfriend Robert is such a jerk it's tough to imagine Charlotte sticking with him through a first date, never mind a live-in relationship. As Charlotte's first NYC roommate, Cinder is so rambunctiously outspoken in her drug use she reads more clown than actual person. Ironically, Charlotte herself remains a wide-eyed enigma throughout.
In the end, Little Fish leaves you with the banality: It's best to swim in schools comprised of the people you love. Putting a stop to addictive behavior can open up new avenues in life.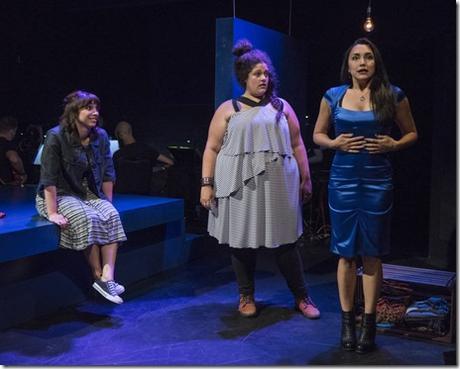 The cast of Little Fish is capable enough, and make beautiful music together. The show sinks, nonetheless, because it's both predictable and rooted in over-the-top characters.
Little Fish continues thru August 20 at Theater Wit, 1229 W. Belmont (map), with performances Thursdays-Saturdays at 8pm, Sundays 3pm. Tickets are $33-$38, and are available by phone (773-975-8150) or online through TheaterWit.org (check for availability of ). More information at KokandyProductions.com. (Running time: 90 minutes, no intermission)
Photos by Michael Brosilow
Kory Danielson (conductor, keyboard), Charlotte Rivard-Hoster (keyboard 2), Mike Matlock (reeds), Kyle McCullough (guitar), Jake Saleh (bass), Scott Simon (percussion).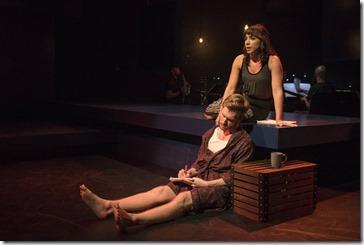 behind the scenes
Michael John LaChiusa (music, book, lyrics - "suggested by" the the short stories of Deborah Eisenberg ), Allison Hendrix (director), Kory Danielson (music director), Kasey Alfonso (choreography), Arnel Sancianco (set design), Alexander Ridgers (lighting design), Kate Setzer-Kamphausen (costume design), Michael J. Patrick (sound design), Mealah Heidenreich (props), Shawn Rodriguez (electrician), Keegan Bradac (sound engineer), Lindsay Brown (production management), Alan Weustoff, Zach Schley (technical directors), Kait Samuels (stage manager), Alison McLeod (assistant stage manager), Phoebe Fox (assistant choreographer), Emily Boyd (paint charge), Ethan Deppe (keyboard programmer), Darren Patin (dance captain), Michael Brosilow (photos)
Tags: 17-0719, Adam Fane, Aja Wiltshire, Alan Weustoff, Alexander Ridgers, Alison McLeod, Allison Hendrix, Arnel Sancianco, Brittany Stock, Carl Herzog, Casey Hayes, Catey Sullivan, Charlotte Rivard-Hoster, Chicago musical theater, Chicago Theater, Curtis Bannister, Darren Patin, Deborah Eisenberg, Emily Boyd, Ethan Deppe, Jake Saleh, Jeff Meyer, Kait Samuels, Kasey Alfonso, Kate Setzer Kamphausen, Keegan Bradac, Kokandy Productions, Kory Danielson, Kyle McCullough, Kyrie Courter, Lindsay Brown, Mealah Heidenreich, Michael Brosilow, Michael John LaChiusa, Mike Matlock, Missy Wise, Nicole Laurenzi, Phoebe Fox, post, Scott Simon, Shawn Rodriguez, Teressa LaGamba, Theater Wit, Zach Schley
Category: 2017 Reviews, Catey Sullivan, Kokandy Productions, Michael John LaChiusa, Musical, Theater Wit