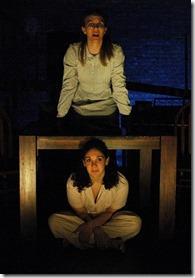 Lifeboat
Written by Nicola McCartney
Directed by Julie Ritchey 
at Filament Theatre, 4041 N. Milwaukee (map)
thru June 8  |  tickets: $15-$20   |  more info
  
Check for half-price tickets 
  
  
   Read review
  
---
A touching memoir of two lives brought together in tragedy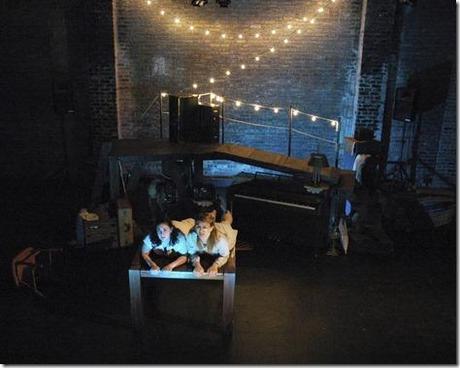 Filament Theatre presents
Lifeboat
Review by Clint May 
A large ship carrying almost one hundred children to safety from war-torn England is torpedoed by a German sub. Of the 11 children that survived, two young girls are left clinging to the side of an overturned lifeboat for 19 hours. One by one most adults let go, leaving them effectively alone to wait for rescue. Though they are from vastly different social classes, the two form a lifelong bond. It sounds unbelievable, but this short, inspirational story of Bess Walder and Beth Cummings actually happened. Though Nicola McCartney leaves certain unsavory details—the man who went mad hanging onto the lifeboat—on the wayside to make this appropriate for its younger target audience, the inspirational truth shines through.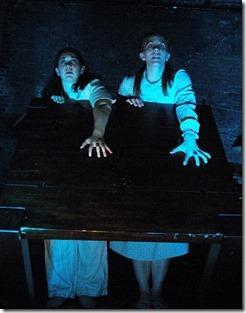 Flicking back and forth through time, we learn of the dreams and aspirations of these two young ladies. Bess (
Molly Bunder
) is wealthy and pretty, 15 years old and dreaming of a life as a Hollywood star while dealing with her often sick little brother. Lower on the social strata, 14 year old Beth (
Mara Dale
) has the more modest dream of being a nurse. Their innocence is cut short when the somber voice of Neville Chamberlain
announces that Britain is in a state of war
with Germany, just about a year before the fateful sinking of the SS City of Benares.
England enacts the Children's Overseas Reception Board to relocate its most precious citizens from the horrors of The Blitz. For these children, a period of uncertainty turns to a holiday atmosphere aboard the ship, a place where rationing has given way to the sumptuous. It seems like things are going well for Bess and Beth, randomly placed in their cabin and creating a fast friendship over a shared love of The Wizard of Oz. Then in an instant, their lives are linked and changed forever.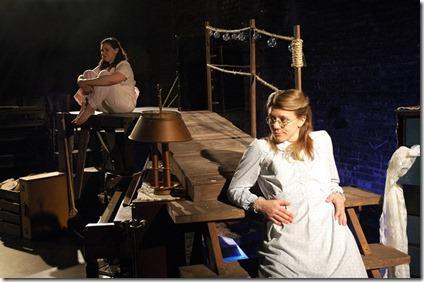 McCartney's script is jaunty and, despite its younger focus, has much appeal for adults. The daring choice to limit the actors to two requires they do as much heavy lifting as an average one-person show, and Dale and Bunder deliver two beautifully beguiling performances. Ritchey ensures that we are always aware of who they are as they flit into mother, fathers, pesky little brothers or teachers. Even their accents must bounce between refined and rustic. The sparse staging ensures that the lessons of this true fable of friendship and survival remains paramount.
Lifeboat debuted in 2002, eight years before Bess passed on and four years after her husband—who it turns out was Beth's brother Geoff. I'm glad she lived to see this story get such a lovely treatment (less information is forthcoming about Beth herself). This is a winning story for children of all ages—an illustration of friendship and grit to stir the heart.
Rating: ★★★
Lifeboat continues through June 8th at Filament Theatre, 4041 N. Milwaukee (map), with performances Fridays at 8pm, Saturdays 7:30pm, Sundays 3pm.  Tickets are $15-$20, and are available online through their website (check for half-price tickets at Goldstar.com). More information at FilamentTheatre.org.  (Running time: 65 minutes)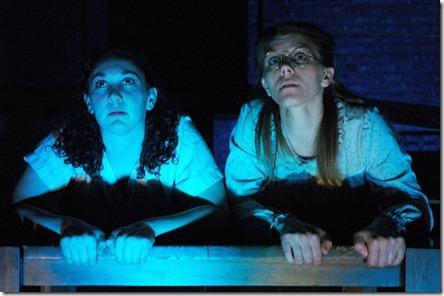 Photos by Christian Libonati
---
artists
cast
Molly Bunder (Bess Walder), Mara Dale (Beth Cummings)
behind the scenes
Julie Ritchey (director), Phil Brankin (assistant director), Claire Nelson (stage manager), Christian Libonati (production manager, photos), Emily Waecker (costume designer), Dan Chapman (lighting designer), Melissa Schlesinger (sound design), Andrew Marchetti (set design), Lindsay Bartlett (dialect coach), Peter Oyloe (graphic design)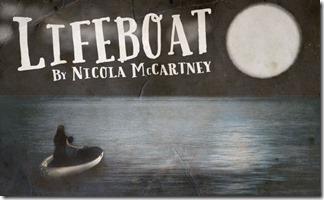 14-0546