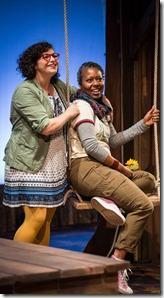 Mighty cast delivers a whole lot of sound and fury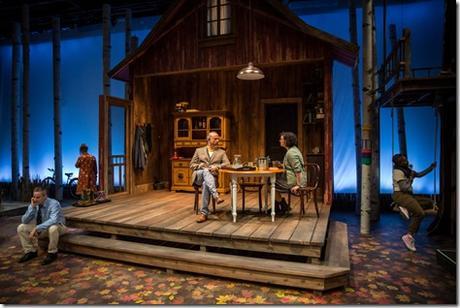 Review by Catey Sullivan
Be advised: There's a whole lot of audience-interrogation in Lookingglass Theatre's production of life sucks. If you're the sort of audience member who prefers to remain strictly that, you might want to avoid Aaron Posner's contemporary riff on Chekhov's Uncle Vanya. Once the meta-theatrical, fourth-wall breaking cast homes in on someone with the probing questions of the hour (does life, in fact, suck? Are you pining to sleep with someone you really shouldn't sleep with? ) they'll keep at it until they get a response. There may even be kissing involved.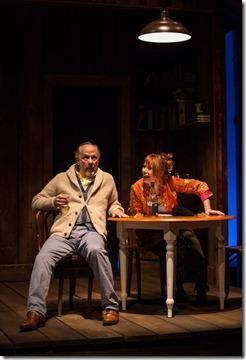 As with all too many meta-theatric conventions, this one starts to feel forced, twee and impressed with its own cleverness early on.
life sucks
begins with the house lights up, the cast directly addressing the audience with various explanations as to what the drama will entail. We're in for a two-hour (plus intermission) rumination on sex, love, loss and life; if that doesn't appeal, you are advised to exit - you still have time to make
Mary Zimmerman
's adaptation of
Wonderful Town
at the Goodman.
With that, we're off, as director Andrew White's hard-working ensemble makes Posner's endlessly naval-gazing dialogue intermittently compelling. Intermittent isn't enough. In the end, is a whole lot of sound and fury signifying nothing terribly original or insightful. With the exception of a bit of 11th hour gun play, nobody in this show ever really does anything except talk about their emotions. One of the final scenes is a straight-up intervention right out of a 12-step program.
The point of the recurring confessions of inner turmoil? It seems to be that (spoiler alert) life isn't fair. Bad things happen to good people. Most of us won't get what we want. You might look dandy on the outside, but if you're feeling wrecked on the inside, you need to sew up your pants and make some changes.
When the dialogue isn't mired (quite literally in one scene involving a strategically placed mud puddle) in all these feelings, the audience interaction takes over. There's a demand for a show-of-hands over who would sleep with Ella, the show's honey-haired hottie and the fantasy desire of most of the rest of the characters on stage. There's also a poll that addresses fidelity, and whether people would toss it out the window if they knew there would be no consequences for doing so. And there are the many variations on whether the title assertion is true. On opening night, that final "does life suck?" query was succinctly and beautifully addressed by an audience member who has performed many times on the Lookingglass stage - raising the question of whether such perfectly on-the-nose impromptu (or perhaps "impromptu") responses will continue with future performances.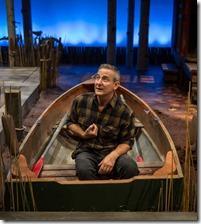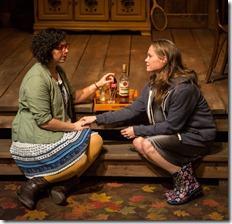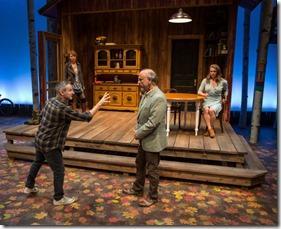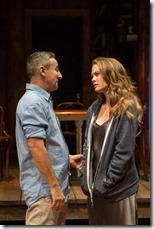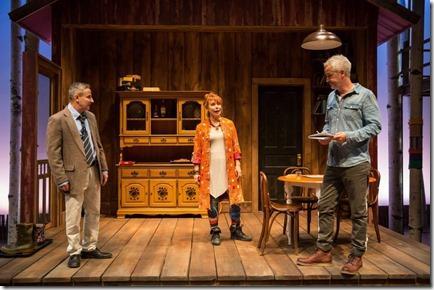 What makes endurable is its mighty cast. The ensemble is anchored by Eddie Jemison's Uncle Vanya, the frustrated, bitter, unlucky-in-love nexus of a country house filled with other unhappy people. Jemison nails the anger and the yearning and the life-long frustration that comes with realizing the world's pretty people will always have an unfair edge on everybody else and that the class dweeb will probably never get a shot at the Homecoming Queen. With masterful comic timing and an air of utter authenticity, Jemison delivers an Everyman that elicits equal parts compassion and irritation. Uncle Vanya is a mirror image of humankind's universal flaws and frustrations. If you find yourself increasingly annoyed by his whining and tantrums, it's because Vanya's serving you a reflection that comes from within as much as without.
Danielle Zuckerman is equally powerful, capturing the sadness and the struggling self-esteem of an intelligent woman who has learned that she's ugly in a thousand a different ways. Zuckerman creates a character who is the human embodiment of the beauty myth: In Sonia, we see the impact that the planet's endless bombardment of magazines, billboards, supermodels and youth worship have on women. Sonia is gorgeous in a million ways, but she's been taught just as many times that she isn't.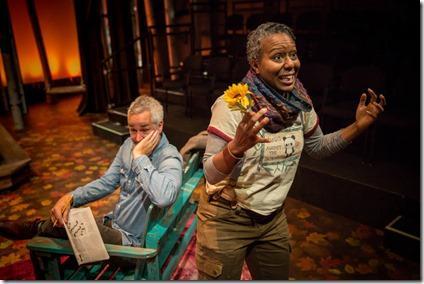 Sonia's seeming opposite is Ella, played by Chaon Crosswith a mix of rage and genuine puzzlement about just why she's so continually objectified. Ella has a rip-roaring confrontation in the latter half of the drama, a checklist of her physical attributes (hair, eyes, tits) that she runs through while demanding to know precisely what it is about her that makes men think it's ok to constantly hit on her. The moment is a pointed mix of comic contradictions and genuine pathos. The passage twists a feminist update into the old "don't-hate-me-because-I'm-beautiful" trope, with Ella insisting that someone explain exactly why it is that physical beauty is seen as a free pass to make passes.
Jim Ortleib is also in fine fettle as a pompous professor who uses $9-dollar words and Latin quips to assert his superiority. Penelope Walker's eccentrically crafty (she knits sweaters for tree trunks) Pickles seems initially like sheer comic relief, an endearing, childlike woman with a clownish humor. But that changes when Pickles reveals the heartbreak she's hidden within for years. In one poignant passage about unrequited love, she asserts that "love is love" - why in the world do we expect its attendant pains to dim as time goes on? It's a sentiment that makes perfect, heart-wrenching sense.
Still and all, not even this mighty ensemble (which also includes Philip R. Smith as a work-obsessed doctor and Barbara Robertson as an earth mother/potter full of sage advice) can fully compensate for Posner's lengthy exploration of the facts that life isn't fair and unrequited love hurts. Both things are true, but they're also obvious and nothing about their presentation here is especially original or noteworthy. There will always be audience members who thrive on the attention that ensues when they become part of the show. But if you're not that sort of very special snowflake? Be forewarned.
continues through November 6th at Lookingglass Theatre, Water Tower Water Works, 821 N. Michigan (map), with performances Wednesdays 7:30pm, Thursdays 2pm & 7:30pm, Fridays 7:30pm, Saturdays and Saturdays 2pm & 7:30pm. Tickets are $45-$65, and are available by phone (312-337-0665) or online through PrintTixUSA.com (check for half-price tickets at Goldstar.com ). More information at LookingglassTheatre.org. (Running time: 2 hours 15 minutes, includes an intermission)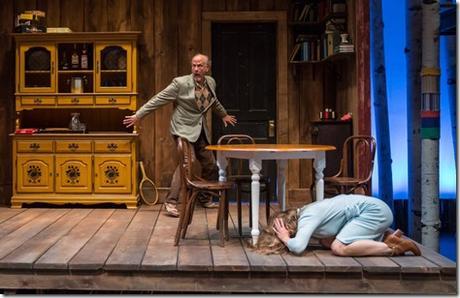 Photos by Liz Lauren
Philip R. Smith (Astor), Chaon Cross (Ella), Eddie Jemison (Vanya), Jim Ortlieb (Professor), Barbara Robertson (Babs), Penelope Walker (Pickles), Danielle Zuckerman (Sonia), Rengin Altay, J. Nicole Brooks, Joe Dempsey, Samantha Kaser, Jim Krag, Sarah Razmann, Andrew White (understudies)
behind the scenes
Andrew White (director), Brian Sidney Bembridge (scenic design, lighting design), Mieka Van der Ploeg (costume design), Andre Pluess , Chris LaPorte (co-sound design), Amanda Herrmann (props design), Patia Bartlett (stage manager), Sarah Burnham (production manager), Chad Hain (technical director), Samuel Moryoussef (asst. tech director), Matt Hawkins (fight choreographer), Andi Sturtevant (asst. stage manager), Toria Gibson (asst. lighting design), Robert Kuhn (asst. costume design), Lydia Hanchett (asst. props design), Samantha Umstead (makeup and wigs), Philip R. Smith, Raymond Fox (casting), Bryana Barry (stage management intern), Michelle V. Anderson (general manager), Rachel E. Kraft (executive director), Heidi Stillman (artistic director), Liz Lauren (photography)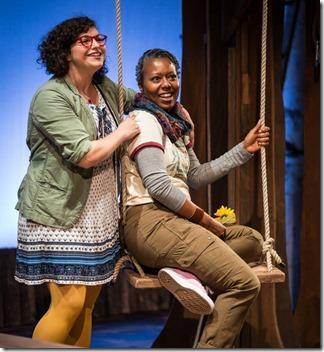 Tags: 16-0934, Aaron Posner, Amanda Herrmann, Andi Sturtevant, Andre Pluess, Andrew White, Barbara Robertson, Brian Sidney Bembridge, Bryana Barry, Catey Sullivan, Chad Hain, Chaon Cross, Chicago Theater, Chris LaPorte, Danielle Zuckerman, Eddie Jemison, Heidi Stillman, J. Nicole Brooks, Jim Krag, Jim Ortlieb, Joe Dempsey, Liz Lauren, Lookingglass Theatre, Lydia Hanchett, Matt Hawkins, Michelle V. Anderson, Mieka van der Ploeg, Patia Bartlett, Penelope Walker, Philip R. Smith, post, Rachel E. Kraft, Raymond Fox, Rengin Altay, Robert Kuhn, Samantha Kaser, Samantha Umstead, Samuel Moryoussef, Sarah Burnham, Sarah Razmann, Toria Gibson, Water Tower Water Works
Category: 2016 Reviews, Catey Sullivan, Lookingglass, Water Tower Water Works