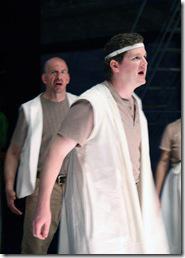 Life Is a Dream 
Written by Pedro Calderon de la Barca  
Directed by Blake Montgomery
at The Building Stage, 412 N. Carpenter (map)
thru June 30  |  tickets: $12-$22   |  more info
  
Check for half-price tickets 
  
  
   Read entire review
  
---
This unique, whimsical adaption creates a night you won't soon forget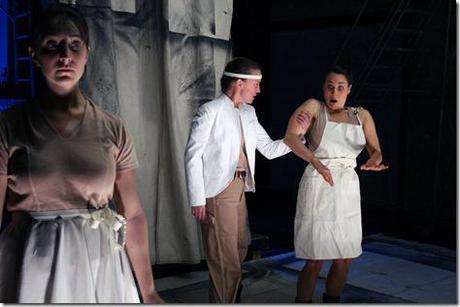 The Building Stage presents
Life Is a Dream
Review by Keith Glab
You walk into The Building Stage unsure whether you have just stepped into a theater space or a party in someone's garage. Tool racks adorn the walls, picnic benches comprise the only seating in the center of the room, and a bar serves drinks throughout the performance. Neither of the two stages at the opposite sides of the room appears quite finished. You are invited to move around at your own discretion during the show and dance to the band during intermissions.
This is not your run-of-the-mill theater experience.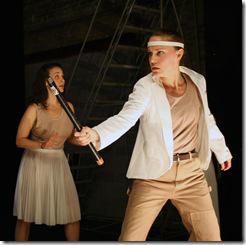 Pamela Maurer's inventive environmental design prepares you for an evening full of whimsy. Five actors are portraying the seven main characters and all of the additional guards, servants, and soldiers. The entire cast is wearing tan and white construction clothes, and costume changes (if any) used to differentiate between characters is as simple as changing a sash into a skirt or placing a circle of fabric on the head. A metal yardstick serves as a sword and what looks like a piece of faucet pipe works as a gun. The fact that women play many of the male roles barely registers as unusual by comparison.
The company does everything it can to make the environment fun and relaxed. The actors clearly have a blast performing, and they happily poke fun at the absurdity of their performance and Calderon's mega-contrived script with a wink and a nudge wherever they can. Only occasionally do they take this too far, such as when Nathan Wonder pretends to forget to change his character during a scene and needs a fake reminder from Blake Montgomery, who duals as Clotaldo and the director.
Wonder's portrayal of both King Basilio and Clarin the servant is intended as a parallel to Segismundo's reversal of fortune at being both prisoner and prince at various points in the story. It also works as a parallel of the production itself; Wonder's performance is superior as the comically cowardly Clarin than as the wise and powerful Basilio, as his comic delivery exceeds his stage presence. So, too, does the show overall work more successfully in the comedic elements than in the nuanced execution of Pedro Calderon de la Barca's beautiful lines.
Daiva Bhandari's performance as Segismundo lacks that nuance. There is a duality to the character of being both beastly and learned, but Bhandari portrays him as uniformly angry and strangely stiff.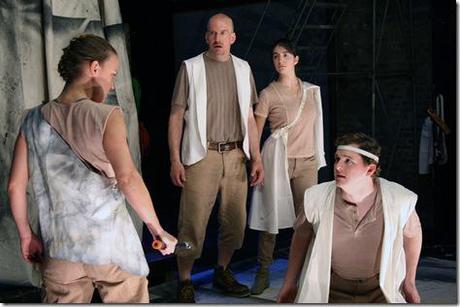 On the other hand, Rachel Griesinger is able to navigate between playing the characters of both Astolfo and Estrella – often in the same conversation – quite adeptly. Whenever both characters appear on stage at the same time, a hat rack with a nametag stands in for the character who isn't speaking. Griesenger fully commits to the situation, flipping the hat rack's nametag, adjusting her costume, and conversing with an inanimate object as though nothing about these activities is unusual. All the while, Calderon's language sounds most eloquent when she is speaking it.
Despite lacking the subtlety of a more traditional production, The Building Stage's execution never degenerates into farce. It follows the story honestly and at an accelerated pace. Purists may not love this adaptation, but it makes Life Is A Dream accessible to audience members who might not otherwise enjoy Calderon's lengthy monologue-driven work.
The cast and crew clearly have a blast putting this all together, which makes it hard for the audience not to also have a great time. It's an interactive, busy experience that harkens back to theater as it was performed in the 17th century, but with a modern flair all its own. Whether you're jamming with the band (it was Poor Elvis opening night, but a different band performs each weekend), having a beer and a laugh with the cast, or simply enjoying an unusual telling of an old story, this night at the Building Stage is a dream you won't soon forget!
Rating: ★★★½
Life Is a Dream continues through June 30th at The Building Stage, 412 N. Carpenter (map), with performances Fridays and Saturdays at 8pm, doors open at 7pm.  Tickets are $12-$22, and are available by phone (312-491-1369) or at BrownPaperTickets.com (check for half-price tickets at Goldstar.com). More info at BuildingStage.com.  (Running time: 2 hours 20 minutes, which includes two twenty-minute intermissions)
All photos by Chelsea Keenan 
---