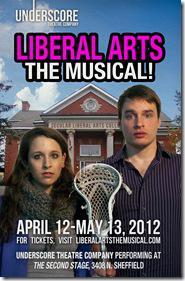 Liberal Arts: The Musical 
Created by David Kornfeld, Laura Stratford,
Brendan Siegfried, Alex Higgin-Houser
Directed by Alex Higgin-Houser
The Second Stage, 3408 N. Sheffield (map)
thru May 13  |  tickets: $20   |  more info
  
Check for half-price tickets 
  
  
   Read entire review
  
---
A group of students sing their way through freshman year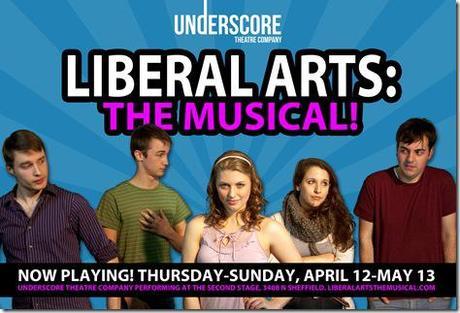 Underscore Theatre Company presents
Liberal Arts: The Musical
Review by J.H. Palmer
Liberal Arts: The Musical is the brainchild of a group of recent college grads, and follows a group of freshman through their first year of school at Secular Liberal Arts College, loosely based on Carleton College in Minnesota. The storyline focuses on Natalie (Amy K. Rapp), an overachieving boarding school graduate who reminded me a bit of Tracy Flick, Reese Witherspoon's character from "Election". She's blonde, partial to the color pink, and arrives a day early to snag the bottom bunk in her new dorm room. Her roommate, Sam (Andi Sharavsky) is her polar opposite – bohemian, curly haired, and tomboyish. Natalie makes the mistake of assuring Sam that she's open to "alternative lifestyles," and the rift between them is established.
Next door to the girls lives a trio of freshman boys: Brandon (
Sam Button-Harrison
), Kevin (
Harrison Gibbons
), and Neil (
Wesley Dean Tucker
). Brandon is a pampered jock who gets special treatment from his slutty mom, Mrs. Milford (
Kristi Barnhart
), who spends inordinate amounts of time on campus, does her son's laundry, and inexplicably shows up at freshman parties. It took me about half the play to figure out why she's called Mrs. MILFord… subtle, very subtle. Kevin is a slouchy boy with high hopes for his freshman year, and Neil is an openly gay student with youthful,
Noah Wyle
looks. The fact that he's gay causes absolutely no friction among the trio of boys, and is fairly glossed over – references are made to the possibility of his bringing other boys home to the dorm room, but he never does.
Supporting the central characters are Moxie (Lila Newman), a senior, and the RA of the dorm; Sierra White, who plays the role of President Dean; Rochelle Therrien as Professor Thesaura; Jonas Davidow as Party Bro; and Chad Michael Innis as Professor.
The piece opens with the cast speaking directly to the audience as if interviewing for a job, and then jumps back in time to the first day of freshman year. This meme repeats several times over the course of the musical, focusing on Moxie, who is looking for a job once she graduates. These intermittent flash-forwards are a bit choppy, and don't quite work with the rest of the piece. Understandably it sucks to look for work right now (believe me…), but it feels disparate from the main story, and one never really learns much about the characters from witnessing their job interviews.
Back in the dorm, the two hetero boys are interested in Natalie, and speculation is made as to how serious her relationship is with her off-campus boyfriend. Time is spent looking at her facebook profile and a song: "The Facebook Song," praises the wonders of its ability to allow for trolling the lives of acquaintances you've barely met. Kevin pines for Natalie in a sweet and clever song titled "The Derivative of Love," where he waxes poetic in lines like: "I just want to lie tangent to your curves," and makes use of the chalkboard walls on the set to map out, in quadrant style, the mathematical reasoning behind his feelings.
A love triangle is established between Natalie, Kevin, and Sam, and the tension between the women escalates. Natalie: "Sometimes I find that people talk to me if I put myself out there and don't act like I'm better than everyone else." Sam: "That's great." The cattiness is real, if a bit shallow. Sharavsky has a beautiful voice, and we get to hear her sing arias from operas in addition to the numbers written for the show.
At the beginning of Act II Brandon, while waiting outside his dorm room for Kevin to getting busy, serenades the audience with the cleverly worded song "Sexiled" that offers unanswerable questions like: "Tell me why I can't come inside until he comes inside."
Things get complicated and then sorted out in the rest of Act II, and while overall the story holds together, there are a number of problems – 1. I simply don't understand why Mrs. Milford spends so much time on campus, is there a Mr. Milford? This never gets addressed. 2. Natalie's character lacks depth; she's the catalyst for the story, but she's basically an outline of a character – we never really see what she's made of and the end of her storyline is unsatisfying. 3. we simply don't understand Neil's loyalty to Natalie; he can't stand it when she comes into his room looking for a shoulder to lean on, and tries to shoo her away – it doesn't make sense that he takes her side so fiercely when things get complicated. 4. The reprise songs in Act II add unnecessary length to the piece: "I Didn't Do The Reading! (Reprise)" and "Derivative of Love (Reprise)" could easily be cut and I wouldn't have missed them. 5. Though the music is engaging and original, unfortunately the PA is so loud that it overshadows much of the lyrics.
Towards the end of the play an unexpected romance blossoms, and I won't ruin it by telling you what happens with it. It's the most engaging romance in the musical, and the most believable. Liberal Arts: The Musical has great choreography, musicality, and a plot that moves forward for the most part. But it's not for everyone. At intermission I overheard a white-haired woman say to her date: "Well, I don't' know what you expected, it's a musical about undergrads." (They did not return for Act II.)  The piece has some great dialog and lyrics, makes excellent use of the space available, and is generally entertaining. Recent college grads will find something to identify with in this piece, and Sharavsky delivers a standout performance as Sam.
Rating: ★★½
Liberal Arts: The Musical continues through May 13th at The Second Stage, 3408 N. Sheffield (map), with performances Thursdays-Saturdays 8pm, Sundays 3pm.  Tickets are $20, and are available at the door or online at BrownPaperTickets.com (check for half-price tickets at Goldstar.com). More information at UnderscoreTheatre.org.  (Running time: 2.5 hours, one 10-minute intermission)
---