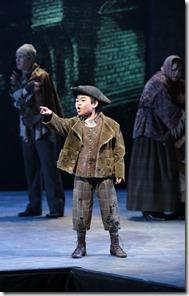 Les Misérables
By Claude-Michel Schönberg, Herbert Kretzmer, Alain Boublil, Jean-Marc Natel, James Fenton
Directed by Rachel Rockwell
Drury Lane Theatre, Oakbrook Terrace (map)
thru June 8  |  tickets: $45-$60  |  more info
  
Check for half-price tickets 
  
  
   Read review 
  
---
A triumph of stagecraft and musicianship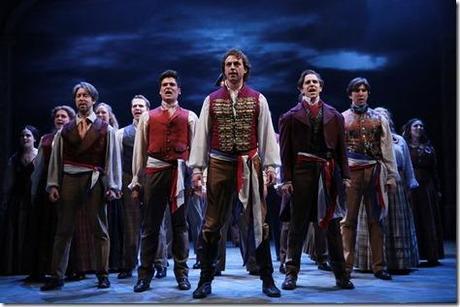 Drury Lane Theatre presents
Les Miserables
Review by John Olson
Those who think the European "poperettas" that first came to our shores in the 1980s and 1990s were only about spectacle ought to take a look at Drury Lane's production of Les Misérables. Oh, it's spectacular enough – the Drury Lane folks seem to have been limited only by space, rather than budget. They've apparently squeezed every actor and every piece of scenery they can fit on their stage and every musician they can fit into their pit (and I wouldn't be surprised to learn the dressing rooms are overflowing with costumes!). But while the Drury Lane stage is by no means the size of the stages of Broadway musical theaters nor the enormous touring houses this musical has played for nearly three decades, Director Rachel Rockwell and her creative team has found a way to give Victor Hugo's sprawling novel the visualization it needs to tell the story that travels from rural France to the big city of Paris and covers 17 years. There are no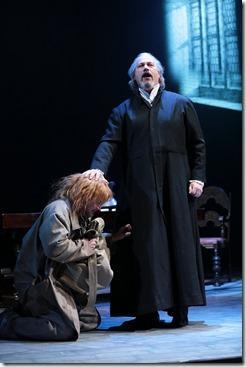 turntables here, as there were in
John Caird
's original production design, but the Drury Lane staging maintains the same sort of cinematic sweep of that incarnation, thanks to scene-setting projections by
Sage Marie Carter
and clever use of
Nick Heggestad
's rolling set pieces and staircase-filled proscenium of
Scott Davis
's set design. The cast is actually about the same size as the one currently employed on Broadway (which also uses projections in lieu of a turntable). So nothing's lost, but much is gained. With the cast less dwarfed by scenery and closer to the audience in a 1,000-seat rather than 2,000-seat house, this production boasts clearer storytelling and a greater connection to the characters than one will find in any Broadway or tour venue. And, not least – a cast surely equal or greater than those that have performed these roles on Broadway or on the road.
Where to begin in praising this cast? With three words – Quentin Earl Darrington. This singer/actor, who played Coalhouse Walker in the Ragtime revival on Broadway and also at Drury Lane, is simply a performer you have to see. He has a voice that certainly must rank with the great baritones of all time, and he plays Javert with an absolutely steely, intractable resolve that makes Russell Crowe's Javert look like an indecisive wuss. Additionally, Ivan Rutherford is as fine a Valjean as any – just as you'd expect from an actor who's played the role on Broadway and on tour some 2000 times. Rutherford handles the difficult score and the character's varied moods from despair and frenzy to gentle kindness like a master. A more surprising shout out – surprising because the role is probably considered a second-tier supporting role – goes to Travis Taylor as Enjolras, leader of the student rebels. Now this is a great part – Enjolras is the guy who leads the rebels to their death – and he has the one of the show's great anthems ("Do You Hear the People Sing"), but I don't ever recall being so knocked out by anyone I've seen previously in this role. Taylor has every bit of the charisma and power (not to mention the killer voice we've heard from him at Drury Lane before) to make you believe people would follow him into battle, or just about anywhere.
Their Fantine is the lovely Jennie Sophia, the Chicago actress who charmed as Nellie Forbush in the non-Equity South Pacific tour of a few years back. She doesn't quite reach the depths of despair that were found in Anne Hathaway's movie performance, but Sophia's lovely voice is still in good form and it's great to see her back on a Chicago stage. Mark David Kaplan and Sharon Sachs play the Thenardiers quite broadly – perhaps Rockwell has miscalculated a little here – but they get laughs whenever they're on stage. Their "Master of the House" number is especially cleverly staged by Rockwell, with the pair pickpocketing their guests throughout the number. As the adult Eponine, Christina Nieves has a tough-girl charm and sings her numbers with a pop/operatic style that suits them perfectly.. And Matthew Uzarraga, alternating with Charlie Babbo as Gavroche, may be the most perfect person in the world to sing "Little People." He's tiny, but delivers his songs like a pro, stealing the stage whenever he's on it. David Girolmo shines in his moment as the kindly Bishop of Digne, another smaller role that somehow seems more important here. In the other leading roles, the performers are all fine, if not as surprising as those mentioned in my earlier paragraph. Emily Rohm and Skyler Adams are full-voiced and attractive lovers, while the young Cosettes and Eponines do nice work as well.
From the opening chords of the musical, solidly delivered by a 14-piece orchestra conducted by Ben Johnson (with musical direction by Roberta Duchak), you know we're going to be in good hands. The orchestra, sounding unusually full given its small size, keeps the momentum moving forward throughout.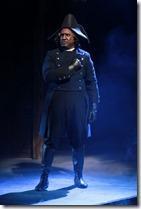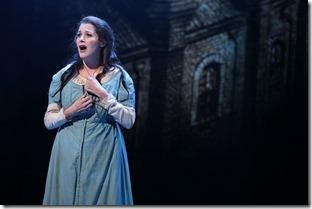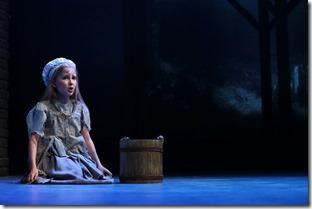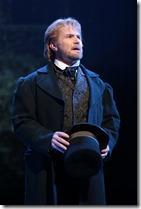 Years ago, I would never have guessed that Drury Lane could pull off such an ambitious, large-scale musical, but the current regime shows again (and again) how to use a smallish stage to its best and most amazing advantage. Scenic designer Scott Davis places the action inside a proscenium of ladders and stairs that works with most every scene setting. Simple roll-ons of furniture work to complete the picture for most scenes, but they still have a full-size barricade for the battle scenes. Sage Marie Carter's projection designs (inspired, like those of the current national tour and Broadway revival) by Victor Hugo's illustrations, are effective backdrops as well. The production design owes much to Greg Hofmann's lighting, which adds to the locations where literal set pieces and props are present and provides appropriate cues for other setting that are visualized more simply. There's nothing simple about his lighting of the battle scenes though – a spectacular display of fireworks, for sure. The sound design by Ray Nardelli and Dan Mead balance voices against the orchestra well and keep the lyrics clear.
Les Mis will probably never be too far away from us. It's in its second Broadway revival already, and it seems Broadway productions are virtually constant. I suspect there will forever be a national tour somewhere. Even though there may always be ample opportunities to see the musical, this Drury Lane production is one not to miss. We likely won't have the chance to see it performed this well – this intimately – where the actors don't appear like tiny puppets seen from a distance. Nor will productions of this caliber be available for such a reasonable ticket price (full prices ranging up to $60.00 – less than half of the prices of Broadway and many touring companies). This production is no less a spectacle than the current tour, but the great news and the top reason for seeing it, is to get up close to Hugo's great characters and story.
Rating: ★★★★
Les Miserables continues through June 8th at Drury Lane Theatre, 100 Drury Lane, Oakbrook Terrace (map), with performances Wednesdays at 1:30pm, Thursdays 1:30pm and 8pm, Fridays 5pm and 8:45pm, Sundays 2pm and 6pm.  Tickets are $45-$60, and are available by phone (630-530-0111) or online through Ticketmaster.com (check for half-price tickets at Goldstar.com). More information at DruryLane.com.  (Running time: 3 hours, includes an intermission)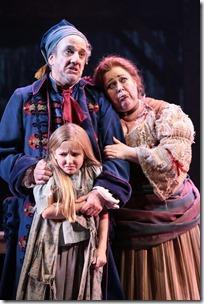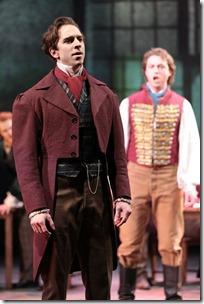 Photos by Brett Beiner 
---
artists
cast
Ivan Rutherford (Jean Valjean), Quentin Earl Darrington (Javert), David Girolmo (The Bishop of Digne, Claquesous, ensemble), Rob Riddle (factory foreman, Montparnasse, ensemble), Jennie Sophia (Fantine), Lauren Villegas (factory girl, ensemble), Missy Aguilar (Old Crone, ensemble), Ann McMann (wig maker, ensemble), Nicholas Foster (Bamatobois, ensemble), Sage Harper, Ava Morse (Little Cosette), Sharon Sachs (Madame Thénardier), Peyton Shaffer (Young Éponine, ensemble), Mark David Kaplan (Thénardier), Charlie Babbo, Matthew Uzarraga (Gavroche), Christina Nieves (Éponine), Emily Rohm (Cosette), Thomas Forde (Babet), Joe Tokarcz (Brujon), Travis Taylor (Enjolras), Skyler Adams (Marius), Will Skrip (Combeferre, ensemble), George Keating (Feuilly, ensemble), Justin Adair (Courfeyroc, ensemble), James Nedrud (Joly, ensemble), David Sajewich (Grantaire, ensemble), Brandon Chandler (Lesgles, ensemble), Nathan Gardner (Jean Prouvaire, ensemble), Jennifer Baker, Erin Oechsel, Emma Rosenthal, Allison Sill (ensemble).
orchestra
Ben Johnson (conductor, keyboard), Evan Rea (asst. conductor, keyboard), Katherine Hughes (violin), Dominic Johnson (viola), Jill Kaeding (cello), Marc Hogan (double bass), Susan Saylor (flute, piccolo, alto flute, recorder, alto recorder), Ricardo Castaneda (oboe, English horn), Michael Favreau (clarinet, bass clarinet, tenor recorder), Carey Deadman (trumpet), Dan Johnson (trombone, tuba), Sharon Jones, Jeremiah Frederick (French horn), Rich Trelease (percussion), Brian Li Music (keyboard programming), Carey Deadman (music contractor)
behind the scenes
Rachel Rockwell (director and musical staging), Roberta Duchak (music direction), Scott Davis (scenic designer), Greg Hofmann (lighting design), Sage Marie Carter (projection design), Ray Nardelli, Dan Mead (co-sound designers), Nick Heggestad (properties designer), Erika Senase (costume coordinator), Maggie Hofmann  (additional costumes), Rick Jarvie (wig and make-up design), Eva Breneman (dialect coach), Matt Hawkins (fight choreography), Ben Johnson (music supervisor), Juli Walker (production manager), Adam Ford (stage manager), Jeremy Drechny (technical director) Laura Stanczyk, George Keating (associate director, dance/fight captain), Brett Beiner (photos).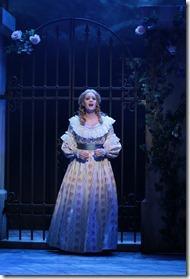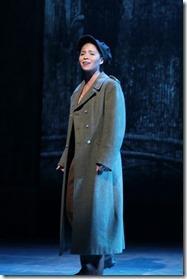 14-0414