This review is brought to you by the clever people at LeapFrog.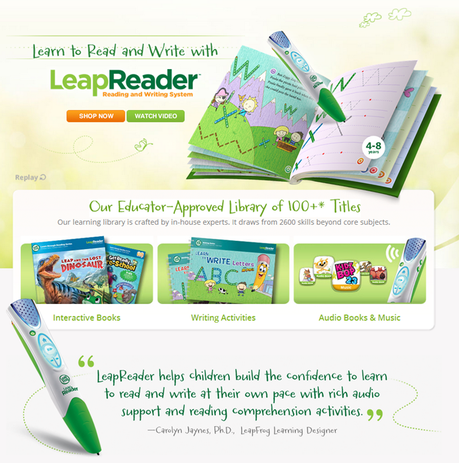 Meet the LeapReader!
Last year, just in time for Christmas and the school holidays, we received a gift in the mail for Curly, and we all fell in love with it. The LeapReader!
It came at the right time because Curly was starting to show more interest in reading, writing, listening, as well as watching programs with REAL PEOPLE – not cartoons, real people. He started to switch the TV to ABC3 for 6 to 15 year-old kids when all these years he was only allowed to watch 'the baby channel' aka ABC4Kids for pre-schoolers. My boy was growing up! Well, he did turn 6.
Anyway, the watching bit has been very useful because ever since, his communications level has improved and his pronounciation – from listening to real people talk – has gotten better. I have an accent, a strong one. So him listening to real aussies is helping. I don't believe that TV turns your brain to mushy peas. In his case, Curly is learning faster because he's learning through modelling.
But with the LeapReader, it's helping him to improve but also control his listening as well as learn to read, write and draw.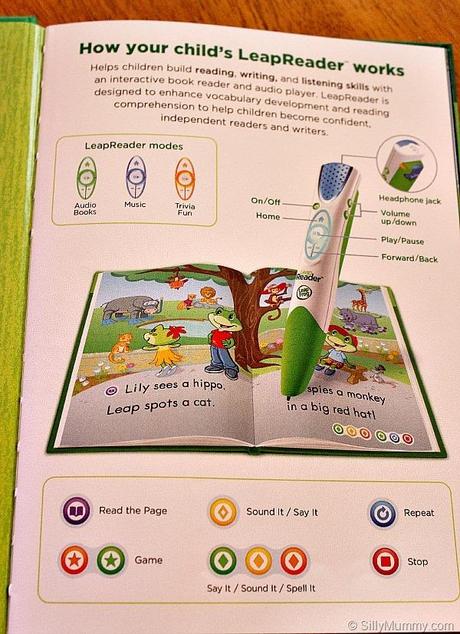 What's a LeapReader, you say?
It's LeapFrog's first reading and writing system of its kind for children (and a world first) and is designed to help children get started with their writing, reading and listening. It's great for Curly because he's now showing interest in all the above.
The LeapReader is designed to look and work like a pen. It has a speaker and buttons for your child to operate it. You connect it to your computer to download the audio files for each book your child owns. When they touch the book with the tip of the pen, it reads the stories out loud as they touch each word. Your child can also opt to hear the entire story as if listening to an audiobook.
Other activities include getting the pen to name any objects in book as your child touches the pictures with it, and interacting with the books and worksheets through instructions dictated by the pen. The pen asks them to give it another go as they get things wrong and congratulates them when they get it right. Don't you worry, it's a gentle, caring pen.
Books we tested
LeapReader™ Book: Learn to Write Letters with Mr Pencil: This is appropriate for ages 4 years to 8 years.
For Christmas we also got him the LeapReader Deluxe Activity Set as he wanted to do more.
We're yet to purchase the other interactive books and the compatible books.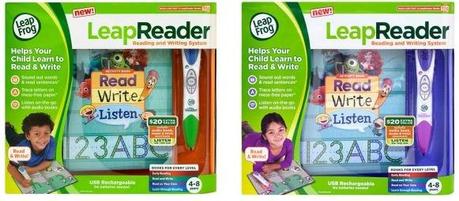 Available in Green and Pink
What we like
This is better than any of their other products. Why didn't LeapFrog come up with this idea before I bought all the other LeapFrog products? Argh! Don't get me wrong, they ALL work, they all help children the way they say in their advertisements. But this LeapReader is better than their other products because it combines what the other products do.
Curly owns  My Own Story Time Pad – Scout which he used with the LeapReader Junior Book Pal, and Text and Learn. The book works with LeapReader and Tag books!
The LeapReader is also plastic, therefore easy to wipe any gooey foods, paint, slime or grime off it.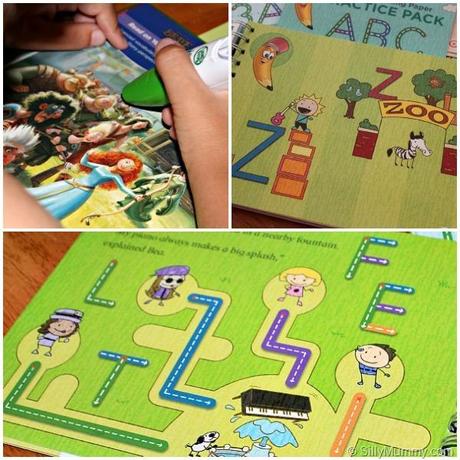 Why we like what we like
The LeapReader encourages Curly to read and write because it is fun to use. He can playfully explore each book through interconnected activities and games. Has books and sets of activities. And because Curly loved the pen so much, we asked relatives and friends to get him additional books for Christmas and for his birthday.
When he places the tip of the pen on the red Xs and start to trace on the dashes, the book can tell how well he's tracing. If he goes off the lines, the book can tell. This is great for him to learn how to trace, how to do lines and curves, and how to follow instructions.
Do we recommend the LeapReader?
Yes, and here's why:
It does what it said it would: encourage writing, reading and listening.
It is an awesome way to help Curly learn to read, listen and draw.
His letters have improved, and his lines are more defined.
He now asks us to write the names of his favorite animals for him to copy on real paper with real pens.
When I try to teach him to write, he screams. He doesn't scream at the pen, because it's his – in his own words "Mine! It's mine!"
There are more than 40 different books to choose from across the LeapFrog LeapReader library of Reading, Writing and Activity titles, all curriculum-aligned.
It's got a rechargeable battery plus lights to indicate what's going on.

What we don't like:
Unfortunately I can't put it head to head with other products, because we don't own anything similar. However, there are only three things we didn't like:
The size of the 'pen'  is conflicting a bit with what we're trying to achieve at school with his pencil grip. Good pencil grip is important when a child is learning to write. however, I would guess that once a child has mastered their grip, they should be OK.
The online system for downloading companion audio files for the LeapReader didn't seem to always work. If it did, it didn't signal completion. I always thought the connection had frozen or something. I'm not sure what the solution is but I'd like some sort of notice.
There should be a protective case that comes with it. I'm a fan of protecting one's gear. I've bought so many tools and resources these past three months for all three of us, and none came with a bag or case. Not even portable gaming consoles. You shouldn't have to buy them separately, they should all come with the most basic, cheapest protective cases.
Writing with LeapReader
Learn to Write Letters with Mr Pencil teaches kids to write upper and lowercase letters, building an understanding of letter sounds and shapes, correct stroke order and pencil control.
Learn to Write Numbers with Mr Pencil teaches kids how to write numbers 0-9 and practice early Maths concepts like skip-counting and backward-counting.
Write It! Talking Words Factory teaches the next step after learning to write letters – how to make letters into words!
Write It! Engineering a Win teaches basic science and engineering. Learn about science and engineering as you design and build very special cars with help from your friends.

When Curly writes on the book with the inkless pen, the tip makes lines appear through the special paper. When he touches the icons in the books, the pen gives instructions. The controls on the pen can be used to make the stories play (audio) or skip to the next story, etc.
Reading with LeapReader
The LeapReader Reading and Writing System guides children through the various stages of their learning-to-read journey with:
Get Ready to Read – letters and sounds; number basics; early vocabulary and pre-school skills
Early Reading – core phonics skills; vowel sounds; sight words; and basic sentences
Read & Write – uppercase and lowercase letters; stroke order; mathematics; and problem solving
Read On Your Own – reading comprehension; advanced vocabulary; longer story text; and complex sentences. For example the Monsters University Read on your Own book builds reading comprehension and vocabulary as it brings the story of life with exciting 3D effects.
Learn through Reading – science; geography; creativity; and puzzles. For example, the Human Body Learn Through Reading title teaches how the human body works as kids explore organs, muscles, human biology and nutrition while building their vocabulary; while the Interactive World Map and Solar System Adventure Pack titles help children explore the world around them.
Audio books, learning songs and trivia fun – listening comprehension; vocabulary development; story structure; music appreciation; and imagining stories.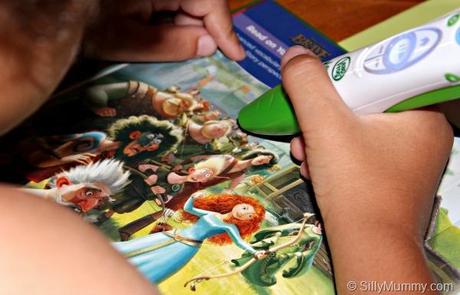 As he touches the objects and characters, they talk out loud!
The LeapReader is available from all major department stores and independent toy retailers across Australia. The prices may vary from store to store. The software titles are available separately from $24.99ea and you can find different books and packages to suit your child's taste. The LeapFrog LeapReader Reading and Writing System is available in Green and Pink.
We received a LeapFrog LeapReader Reading and Writing System for review.