This giveaway brought to you by Universal Pictures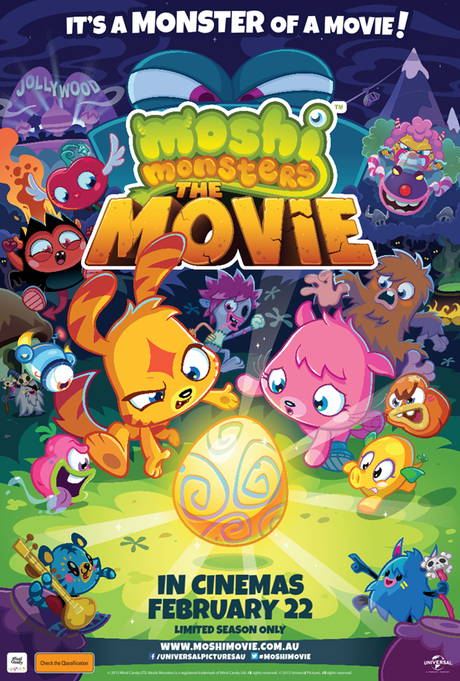 To really kick off the year, Silly Mummy has 2 Family Passes to Moshi Monsters: The Movie to give away to two lucky nuts-about-Moshi families, a pass for each! Each pass admits 2 adults and 2 children.
The film opens on February 22 for a limited season and is playing on weekend sessions only at key cinemas including Event and Hoyts.
Be some of the Aussie fans to see Moshi Monsters: The Movie for FREE…
Yes, FREE!!
If you are nuts about Moshi Monsters, then this is one experience you won't want to miss out on.
About Moshi Monsters: The Movie
Our star (fame-hungry Moshi Monster Katsuma) embarks upon a goopendous quest to rescue a mythical Moshling egg from evil Dr Strangeglove, whilst making an action-adventure movie starring… himself!'
Join Katsuma, Poppet and the other Moshi Monsters (along with a very eager Mr Snoodle) in an action-packed, song-filled race against time to stop evil Dr Strangeglove and his incompetent Glump sidekick Fishlips from pulverising the recently discovered Great Moshling Egg.
HOW TO ENTER – open to Australian residents with an Australian postal address
GIVEAWAY ENDS: Monday 17 February 2014, 9am Perth time (WST).
To play to WIN the Moshi Monsters tickets, please be as creative as you can and tell us in the comments and in no more than 25 words:
if you were to join the Moshi Monsters crew,
how would you introduce yourself to them?
I would do some tai chi move and say "Hello, I'm Rhonda, your Masterrrrrrrrrrrrr, Booyaaah!".
Your turn.
Moshi Monsters: The Movie is in Aussie cinemas February 22 for a limited time only.
Terms and Conditions: Your name will appear on this page if you are a winner. No other personal information will be sent to the sponsor. See our Terms and Conditions. You must be an Australian residents with an Australian mailing address.
Disclaimer: I'm receiving a family pass for my own monsters. This giveaway made possible by Universal Pictures.