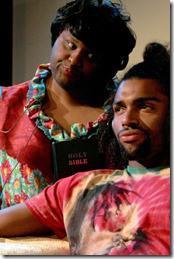 Lawd the CVS is Burning! 
Written/Directed by Carla Stillwell
Greenhouse Theater, 2257 N. Lincoln (map)
thru Nov 22  |  tix: $15-$25  | more info
  
Check for half-price tickets  
  
---
Lots of potential, but needs revisions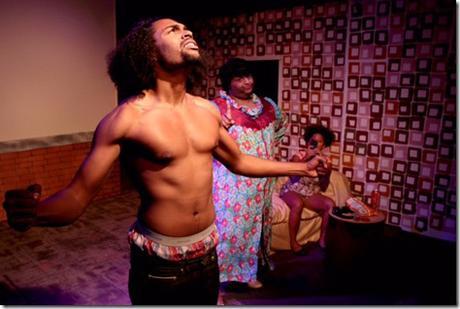 MPAACT presents
Lawd the CVS Is Burning!
   A Gospel Music Stageplay
Review by Lauren Whalen 
To get a glimpse of modern racism, one needs only to turn on the TV, turn on a smartphone, or turn down the street. In the past couple of years, there have been an increasing number of young black men dying at the hands of police. The mission to protect and serve, it seems, only extends to white cisgender individuals. MPAACT attempts to address this problem with politically-incorrect satire in the original musical Lawd the CVS is Burning!. Rife with snappy one-liners and a score ranging from hip-hop to gospel, the production is a valiant effort that sometimes succeeds, but could have used a bit more revision before coming onstage.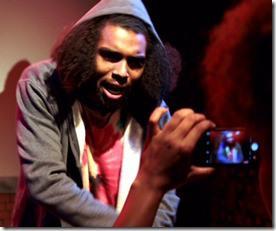 Tensions are high in Chicago's Englewood neighborhood, after a young black man is arrested, then supposedly commits suicide in police custody. The circumstances are highly suspect and citizens are rightfully shocked. Watching from his couch, Meechie Jackson (
Max Thomas
) is horrified, then frustrated, then outright angry as more and more truths are revealed and subsequently twisted by the media. Meechie's girlfriend TiTi (
Asia Martin
) doesn't understand why he's so upset, while his outspoken mother (
Quinton Guyton
) insists on praying to Black Jesus and using the young man's death as a teachable moment for her son. But when Meechie can no longer contain his emotion, the results are both hilarious and tragic.
Lawd the CVS is Burning! has the best of intentions: to skewer the era of the 24-hour news network and the blatant racism in America that has yet to be eradicated, and take a glimpse of the African-American community's perspectives on police brutality and violence. When the script works, it really works: Mama Jackson and Titi's blend of contentious and clueless is giggle-inducing, the white and African-American news anchors have a rap duet that's both funny and frighteningly on-the-nose, and writer Carla Stillwell presents a wide variety of characters and opinions. However, for every moment that works, there's at least one that doesn't. Mama Jackson is played by a man, which doesn't really make sense (is Stillwell parodying Tyler Perry's Madea?). Dialogue sometimes falls flat or gets lost in over-the-top physicality and, save for the final song, the score is largely unmemorable. At its best, Lawd tackles the difficult genre of satire, but at its weakest, the play isn't sure what it wants to be.
On the bright side, casting directors LaNisa Frederick and Shariba Rivers have assembled a terrific ensemble that rises above the uneven source material. Thomas' Meeshie, a young man who doesn't quite know what to do with his steadily building anger, is convincing and endearing, and Martin's TiTi provides delightfully ditzy comic relief. Though Mama Jackson could have been played by a woman, Guyton's powerful voice and sense of campy fun are highly entertaining. Ben Jenkins' nerdy charm is out in full force as an African-American news anchor who's conformed to white society, and Jackson Pearl displays excellent comic timing as an utterly Caucasian news anchor. Only Lauren Wells seems out of place in the dual role of a black rights activist and a local minister. Her exaggerated portrayals are full of mugging and loud delivery, but this may be more on the director than the actor.
Even with a talented cast, Lawd the CVS is Burning! suffers from source material that has potential but needs more revision. Writer and director Stillwell is tackling a tough topic with humor and respect, and the show will be a strong one someday. It's just not quite there yet.
Rating: ★★½
Lawd the CVS Is Burning! continues through November 22nd at Greenhouse Theater, 2257 N. Lincoln (map), with performances Thursdays-Saturdays at 8pm, Sundays 3pm.  Tickets are $15-$25, and are available by phone (773-404-7336) or online through Vendini.com (check for half-price tickets at Goldstar.com). More information at MPAACT.org.  (Running time: 80 minutes without intermission)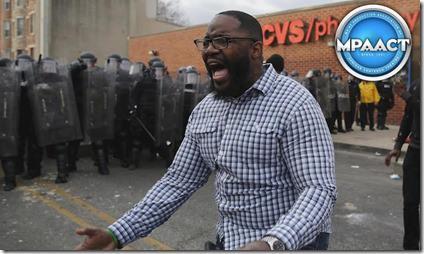 Photos by Shepsu Aakhu
---
artists
cast
Quinton Guyton (Mama Jackson, Sound of Justice), Ben Jenkins (Jon Steppin-Reporter, BSN News), Asia Martin (TiTi Green), Max Thomas (Meechie Jackson), Lauren Wells (Dr. Anika Holden, Eyewitness, Rev. KiKi Sheppard), Jackson Pearl (Steve Cooper-Anchor, BSN News)
behind the scenes
Carla Stillwell (writer, director), Shawn Wallace (composer, music director), Daryl Charisse (production stage manager), Lauren "LL" Lundy (assistant director), Emily Boyd (set design), Vada Briceno (lighting design), Jessica Kuehnau Wardell (costume design), Desta Sound (sound design), Shepsu Aakhu (technical director, production photographer), LaNisa Frederick, Shariba Rivers (casting directors)
15-1040