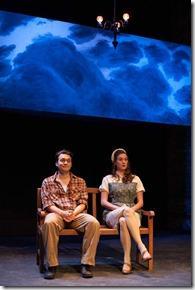 Last Train to Nibroc
Written by Arlene Hutton
Directed by Jason Gerace
at Theater Wit, 1229 W. Belmont (map)
thru Sept 6   |  tickets: $15-$28   |  more info
  
Check for half-price tickets  
  
  
   Read review
  
---
Short but sweet nostalgia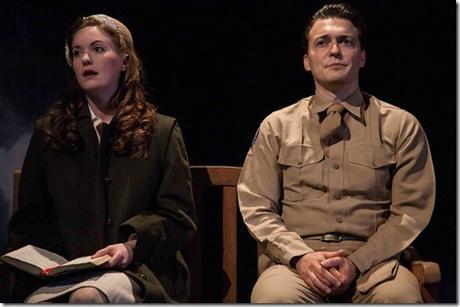 Haven Theatre presents
Last Train to Nibroc
Review by Lauren Whalen 
Life is serendipitous: someone who asks if the seat next to you is taken, could be a blip on the radar or the love of your life. In Last Train to Nibroc, Arlene Hutton's two characters – an epileptic soldier and a schoolteacher – are thrown together on a ride that becomes fateful for both. Haven Theatre's lovely production of a short but sweet bit of nostalgia hits all the right notes: from the lovingly penned source material to the strong production values, to the shining talents of actors Amanda Drinkall and Mike Tepeli. Last Train to Nibroc is, without a doubt, the most charming show I've seen all summer.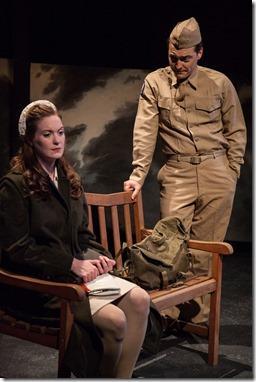 In December 1940, a train carrying the bodies of celebrated authors F. Scott Fitzgerald and Nathanael West is headed for New York City. Somewhere west of Chicago, Raleigh (Tepeli) asks May (Drinkall) if the seat next to her is taken, then asks her what she's reading. Turns out Raleigh has been dismissed from the Army because of medical issues and May has just broken up with her fiancé, also a soldier, and is headed back to her Kansas home with her tail between her legs. In another twist of fate, May's neighbors are Raleigh's cousins. As the duo's paths cross throughout the next three years, Raleigh and May squabble, fuss and struggle to acknowledge the growing love between them.
The Associated Press called Last Train to Nibroc "reminiscent of Thornton Wilder," and Hutton's script definitely harkens back to a simpler era of playwriting. There are no shocking revelations or big surprises: it's a simple portrayal of the possibilities of love and fate. Director Jason Gerace doesn't try to make the play anything more than it is; rather, he embraces its uncomplicatedness and romance, bringing to Chicago a story reminiscent of "The Notebook" – with slightly less arguing. Last Train's production team wisely follows suit: set designer Joanna Iwanicka has created pretty painted flats behind which the actors change costumes to suggest the passage of time, making for brief but smooth transitions among the one-act play's three scenes. Sarah Hughey's lighting is colorful and quixotic, nicely supplementing the well-paced action rather than overshadowing it. Kathy Logelin is an excellent dialect coach, bringing out Southern accents that are unexaggerated and believable.
Actors Drinkall and Tepeli have both worked with Gerace before – in Strawdog Theatre's multi-Jeff nominated production of Great Expectations – and their comfortable chemistry and rapport in Last Train to Nibroc is the satisfying result. While her voice gets slightly screechy at times, Drinkall brings a feisty righteousness to May, who matures throughout the play without losing her strong sense of self. Tepeli's smile could power up a light board, and his Raleigh has an easy energy and compelling wit. Watching these two play together is a most pleasing way to spend 90 minutes.
Theater is a living, constantly evolving art form, and what's most wonderful about the Chicago scene is that virtually every incarnation is on offer any given week. Last Train to Nibroc is a sweet, pleasant reminder that two dynamic actors and a lovely script is all one needs for a wonderful audience experience. It's nice to know these plays still exist.
Rating: ★★★½
Last Train to Nibroc continues through September 6th at Theater Wit, 1229 W. Belmont (map), with performances Thursdays-Saturdays 8pm, Sundays 3pm.  Tickets are $28 (seniors, students and industry $15), and are available by phone (773-975-8150) or through TheaterWit.org (check for half-price tickets at Goldstar.com). More information at HavenTheatreChicago.com.  (Running time: 90 minutes without intermission)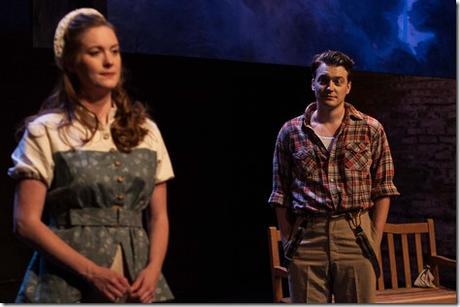 Photos by Austin D. Oie 
---
artists
cast
Amanda Drinkall (May), Mike Tepeli (Raleigh), Olivia Crary (May understudy), Caleb Fullen (Raleigh understudy)
behind the scenes
Jason Gerace (director), Joanna Iwanicka (set design), Brittany Dee Bodley (costume design), Sarah Hughey (lighting design), Joe Court (sound design and composition), Jamie Karas (properties design), Daniel D. Drake (stage management), Catherine Allen (production stage management), Cody Ryan (master electrician), Austin Gruber (technical director), Eileen Rozycki, Abigail Reed (scenic painter), FlyingFX (rigging), Kathy Logelin (dialect coach), Rebecca Spooner (asst. director), Carol Cohen (producer),  Josh Sobel (artistic director), Austin D. Oie (photos)
15-0738