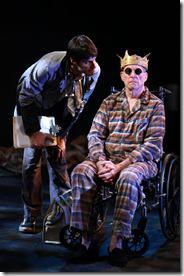 Lær's Last Prayer
Written/Directed by Stephen F. Murray
at City Lit Theater, 1020 W. Bryn Mawr  (map)
thru July 24  |  tickets: $15-$25  |  more info
Check for half-price tickets
   Read entire review
---
My kingdom for some clarity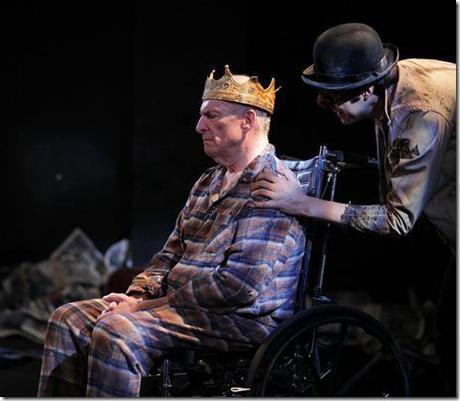 Stephen F. Murray presents
Lær's Last Prayer
Review by Keith Ecker 
I have no doubt that Stephen F. Murray's Laer's Last Prayer is a labor of love. The one act's genesis can be traced back nine years ago to Murray's time as a student at Northwestern, where he originally conceived and wrote the piece. The play then underwent an expansion and was produced for the Bailiwick Director's Festival in 2008. The current incarnation was developed beginning in 2009. According to my program's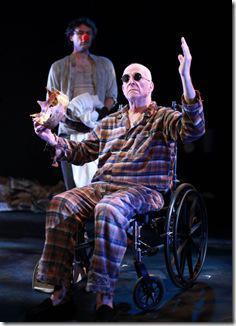 production notes, this version claims to focus more on linear storytelling, specifically focusing on the theme of "caring for an aging parent." Given that Murray has spent a considerable amount of his time dedicated to honing this piece, I applaud him for his dedication and persistence.
However, despite the focus on linear storytelling, there's little to focus on. This play is a hodgepodge of clowning, absurdism, literary allusion and repetition, which comes together to create a murky, obtuse mess. Perhaps my mind is just not wired to comprehend this kind of cryptic poetry, but I can't imagine the average theatergoer will get this either. There's just something lost in translation here, and when you look at the fact that Murray is both the creator and director of the piece, it's easy to understand why the work may fall on blind eyes and deaf ears.
Laer's Last Prayer seems to be about a lot of things. Most notably, it is about an aging parent, Laer (Elliott Fredland) and his caretakers. The main caretaker is a young man named Jack (Nick Lake), who is prone to singing nursery rhymes and donning a red nose. There is also Dr. Kent (Brian Hurst), a physician who sometimes wears a mask and speaks in Shakespearian prose. Finally, there is Jill (Jamie Bragg), who seemed to be Jack's sister. She may or may not also be a ghost. Despite trying to follow the collage of dialogue—which mixes Bible verses, Shakespeare prose and nursery rhymes, among other snippets—a lot evaded me.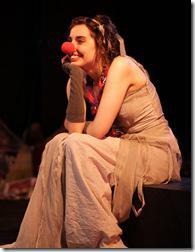 I like the spirit of the play. Murray has injected a lot of heart into the work. And much thought has been put into constructing an overarching them. But I think one of this production's downfall is the fact that Murray appointed himself as writer and director, a move which I fell marred what otherwise could have been a strong play. The writer creates the work; the director translates it to the audience. In this way, the director is an essential buffer and, if removed, can leave a work incomprehensible.
Fredland's performance as the ailing Laer is lacking. His delivery feels stunted, and his vocal power is too weak to be clearly audible from the front row. Bragg's performance as the fragile Jill is the most engaging, though without much context to ground it, it's difficult to appreciate.
Murray may be on to something with this work. But it is in need of some serious revisions and some outside constructive criticism. I think, in collaboration with an adept director, this could be something highly thought-provoking. But as it stands, Laer's Last Prayer is too strange to be understood.
Rating: ★½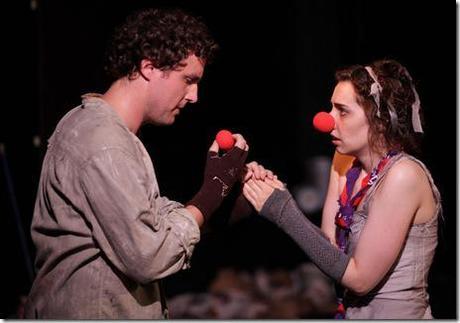 Stephen F. Murray's Laer's Last Prayer continues through July 24th at City Lit Theater, 1020 W. Bryn Mawr (map). Tickets are $15-$25, and can be purchased online at Brown Paper Tickets. More information at LaersLastPrayer.blogspot.com.
All photos by Carl Morrison
---
artists
cast
Nick Lake (Jack), Elliott Fredland (Laer), Brian Hurst (Dr. Kent), Jamie Bragg (Jill)
behind the scenes
Stephen F. Murray (director); Cate Anderson (stage manager); Crystal Jovae Mazur (costumes); Liz Cooper (costumes); Melissa Schlesinger (sound); Mary Murray (props); Sean Ewert (creative consultant); Dawin Wang (original music); Jessica Skoda (graphic design); Keith Pitts (poster art); Carl Morrison (video, photos); Mary Murray (special events); Sean Ewert (development, outreach); Shelley Hughes-Mills, Paul Miller, Joshanna Robinson (box office)