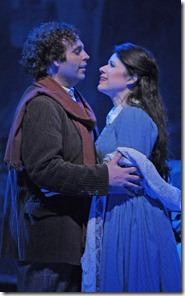 La Bohème 
Composed by Giacomo Puccini
Conducted by Emmanuel Villaume 
Directed by Louisa Muller
at Civic Opera House, 20 N. Wacker (map)
thru March 28  |  tickets: $69-$259   |  more info
  
Check for half-price tickets 
  
  
   Read entire review
  
---
Pulling our heartstrings with timeless melodies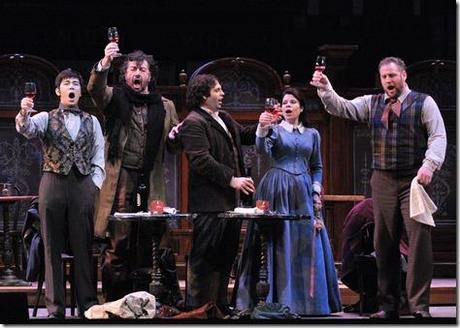 Lyric Opera of Chicago presents
La Bohème
Review by Katy Walsh 
Lyric Opera presents La Bohème.  It's mid-19th century Paris.  A poet, a painter, a philosopher and a musician struggle for artistic expression and to pay the rent. After they charm and blackmail the landlord, they decide to head down to Cafe' Momus. Trying to finish writing an article, Rodolfo promises to join them soon.  While he succumbs to writer's block, a new muse knocks at his door. Mimi asks him to re-light her candle.  Their encounter flames into passion.  They are instantly in love. They pledge their eternal adoration. Fast forward to Act 3. After a month together, illness and boredom are unexpected complications to Rodolfo and Mimi's romantic bliss. How can love survive a cold winter?  La Bohème enchants with timeless melodies.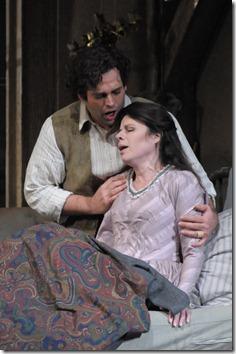 Maybe you have never seen this opera but you've probably heard the music in movies like "Moonstruck" and "Pretty Woman."  And the contemporary musical,
Rent
, is a modern day interpretation. 
La Bohème
stirs the bohemian in all of us.  This opera touches the impractical part of us that would like to live and love without consequences.  Puccini's composition is the type of romantic sentiment that Hallmark has made a fortune on. It's the classic heart-shaped chocolates, red roses, and homemade poetry that we poke fun of unless we are the recipient.  When we are on the receiving end, the swoon-ability factor is triple.  It's opera from the heart for the love starved everywhere. 
La Bohème is a perfect starter opera.  The story is simple.  The music is goose-bump raising. Under the baton of Emmanuel Villaume, the opera aims cupid's arrow into our heart and bull's eye.  We are entranced for two hours and twenty minutes (note Lyric shaved off 20 minutes by eliminating an intermission.  Brilliant!)  In the lead, Dimitri Pittas (Rodolfo) and Ana Maria Martinez (Mimi) ignite the stage with fully committed lust and then heart-wrenching doubt.  Their arias are the perfect compilation of everything that is simple and complex about loving someone thoroughly.  The secondary love story, Lucas Meachem (Marcello) and Elizabeth Futral (Musetta) threaten to take focus with a fierce flirtation that borders on obsession.  Futral, in particular, sings with a sexy moxie that has the essences for a fatal attraction.  In addition, Andrea Silvestrelli (Colline) commands the stage with a voice that is like a well-aged, cigar-infused bourbon: robust and lingering.  
If you've never seen La Bohème, you should see this production.  It'll make you an opera lover (and maybe a better lover).  If you've seen it before, you should revisit this La Bohème.  It'll remind you what makes falling in love with opera and a person… wondrous!
Rating: ★★★★
La Bohème continues through March28th at the Civic Opera House, 20 N. Wacker (map).  Tickets are $69-$259, and are available by phone (312-332-2244) or online here (check for half-price tickets at Goldstar.com). More information at LyricOpera.org.  (Running time: 2 hours 20 minutes, includes an intermission)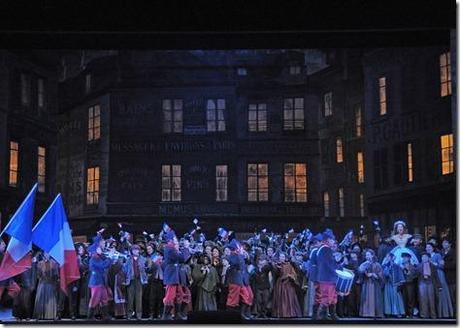 Photos by Dan Rest
---
artists
cast
Ana Maria Martinez (Mimi – Jan/Feb); Anna Netrebko (Mimi – March dates); Dimitri Pittas (Rodolfo – Jan/Feb); Joseph Calleja (Rodolfo – March); Elizabeth Futral (Musetta); Lucas Meachem (Marcello); Andrea Silvestrelli (Colline); Dale Travis (Benoit, Alcindoro); Joseph Lim (Schaunard); Bernard Holcomb (Parpignol); Will Silverman (Sergeant); Evan Boyer (Customs Guard); Charles Billings, James Fraser, Alexander Gajewski, Margaret Grange, Kyle-Pierre Isaac Johnson, Christian Mayo, Alexandra Moster, Javier Munoz, Jose Munoz, Maeve Potter, Sam Reynolds, Kara Savitt, Thea Simpson, Adam Stubitsch, Jacob Taylor-Casad, Katia Waxman, Cameron Woods (Children's Chorus)
behind the scenes
Emmanuel Villaume (conductor); Louisa Muller (director); Michael Yeargan (set design); Walter Mahoney (costumes); Duane Schuler (lighting); Ian Robertson (guest choir master); Sarah Hatten (wigmaster and makeup); Josephine Lee (children's chorus master); John W. Coleman (stage manager); Erik Friedman (asst. stage director); Philip Morehead (stage band conductor); Elizabeth Buccheri, Eric Weimer (music preparation); Matthew Piatt (prompter); Francis Rizzo (projected titles); Dan Rest (photos)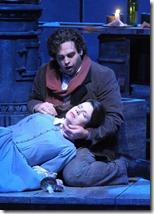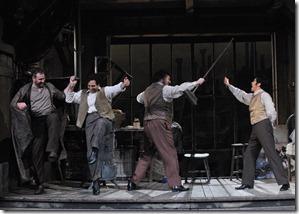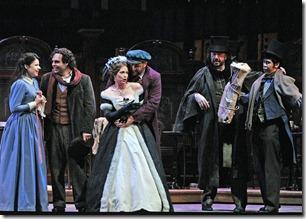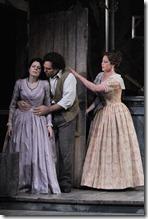 13-0132