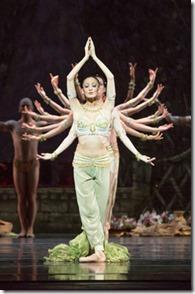 La Bayadère: 
   The Temple Dancer 
Choreographed by Stanton Welch
Conducted by Scott Speck  
Auditorium Theatre, 50 E. Congress (map)
thru Oct 27  |  tickets: $41-$152   |  more info
  
Check for half-price tickets 
  
  
   Read review
  
---
Ambitious and awe-inspiring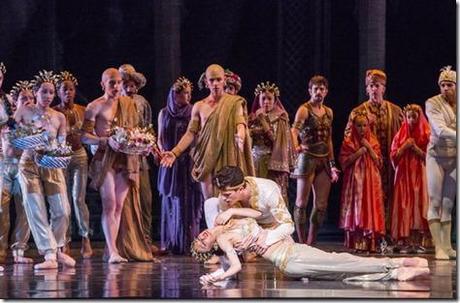 Joffrey Ballet Chicago presents
La Bayadère: The Temple Dancer
Review by Lauren Whalen
Ballet, like opera, often celebrates the base emotions – love, greed, jealousy – in the most beautiful and spectacular of ways. La Bayadère, however, is less a ballet and more of a tiger: gorgeous, sleek, utterly wild and potentially deadly. Not only does it pack in love, greed, jealousy and every other emotion, its opulent sets, jeweled costumes, melodrama and complex choreography culminates in the iconic "Kingdom of the Shades" scene, one of the Holy Grails of classical ballet. The Joffrey Ballet's no slouch, but it takes the motherlode of talent and ambition not just to stage La Bayadère, but to do it right. With precise yet passionate dancers, an unforgettable score by Ludwig Minkus, old-school moves with a shot of innovation, and stellar production values, this ballet is the best production I've ever seen from Joffrey.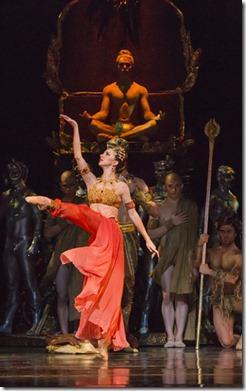 In a mythical vision of India, lower-caste Solor (
Dylan Gutierrez
) kills the prize Bengal tiger that's been terrorizing the nearby village – and saves the life of Nikiya (
Victoria Jaiani
) in the process. It's love at first sight, but Nikiya is a temple dancer and devoted to the gods, while Solor's successful hunting trip has catapulted him into fame and fortune. When the Rajah (
Miguel Angel Blanco
) offers Solor his daughter Gamzatti (
April Daly
), Solor feels obligated to the betrothal but can't stop thinking about his temple dancer. Thanks to interference from family, priests and conniving servants, the conflict quickly descends into murder, though even death may prove to be no match for destiny.
La Bayadère has a fascinating history: first staged in 1877 by the legendary Marius Petipa. The ballet capitalized on European fascination with the mysticism of "the Orient", Russian taste for spectacular theatrics and dramatic storylines, and Petipa's own combination of romantic and more classical ballet styles. The ballet was later remounted by Rudolf Nureyev for the Paris Opera and Natalia Makarova for the American Ballet Theatre. Many different treatments of the music and libretto have been used over time.
For this La Bayadère, choreographer Stanton Welch drew inspiration from the Nureyev and Makarova adaptations, giving the dancers more substantial choreography and making every step a contribution to the story. The result is a somewhat more complex plot than the average ballet, but so flawlessly executed that audience members can easily follow it without even having to consult the synopsis in their playbills. Welch successfully tailors and tinkers with the plot and score, but instead of a messed-up mishmash, the elements combine to become a bright yet substantial crazy quilt. And his "Kingdom of the Shades" – a visionary scene that is said to have inspired similar sequences in Swan Lake – is an ode to classical lines, exquisite balances, and feats of breathtaking exactitude not often seen in modern choreography.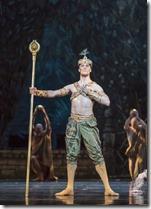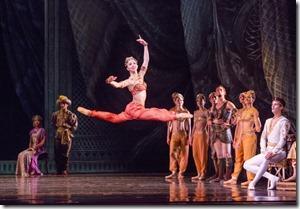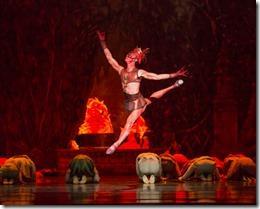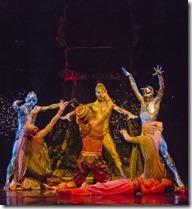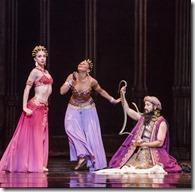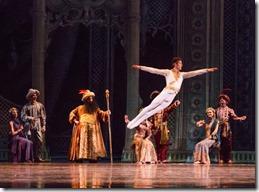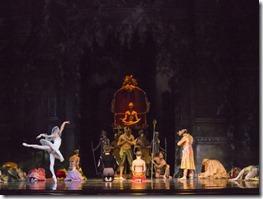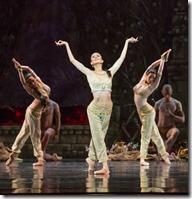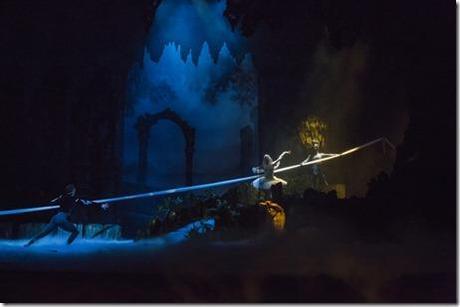 Peter Farmer's scenic and costume design is both outlandish and chic, never skimping on the little touches – jeweled bodices, lushly painted backdrops, and Nikiya's distinctive scarves – and his interpretation of "Shades" perfectly combines the eerie with the ethereal. As always, Scott Speck conducts a skilled orchestra, and the dancers themselves have never looked more stunning. Fabrice Calmels commands every bit of attention as the imposing High Brahmin, and Erica Lynette Edwards is positively twisted as Ajah, Gamzatti's conniving servant. John Mark Giragosian and Rory Hohenstein captivate as the gods of Fire and Dreams, respectively, while Cara Marie Gary, Amber Neumann, Anastacia Holden and Amanda Assucena shine as featured Shades. Daly's mean-girl Amzatti is a real departure from her usual wide-eyed ingénues and tragic innocents, and she wears the face of evil quite well, while delighting with her delicate strength and lovely lines. Gutierrez continues his rise in the company with his star turn in the challenging role of Solor. Not only can he dance, he can act – a must for such a story-heavy ballet. And for Jaiani, who's captivated in every role from Desdemona to the Sugar Plum Fairy, this performance is head and shoulders above her usual magnificent work. Her Nikiya is a triumph, a tragic heroine who can compel from beyond the grave, and every leap and arabesque is otherworldly.
Though I'm a lifelong fan and student of ballet, I'd never seen La Bayadère. It's a lot for any company to take on, and I worried that it wouldn't live up to my grand expectations. Instead, Joffrey's production exceeded them. Though it clocks in at two and a half hours, the ballet is a visual and aural treat, a rarity that will appeal to newbies and veterans alike. In fact, Joffrey's La Bayadère could very well convert the staunchest ballet atheist into a believer.
Rating: ★★★★
La Bayadère continues through October 27th at Auditorium Theatre, 50 E. Congress Pkwy. (map), with performances Thursdays/Fridays 7:30pm, Saturdays at 2pm and 7:30pm, Sundays 2pm.  Tickets are $41-$152, and are available by phone (312-386-8905) or online through their website (check for half-price tickets at Goldstar.com). More information at Joffrey.org.  (Running time: 2 hours 30 minutes, includes two intermissions)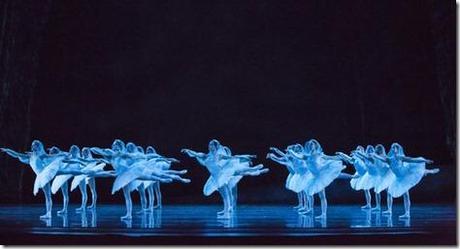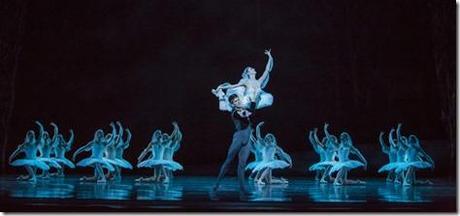 Photos by Cheryl Mann 
---
artists
performers
Note: Cast varies according to performance.
Matthew Adamczyk, Derrick Agnoletti, Yoshihisa Arai, Amanda Assucena, Guillaume Basso, Miguel Angel Blanco, Ogulcan Borova, Anais Bueno, Fabrice Calmels, Raul Casasola, April Daly, Elivelton Das Gracas, Fernando Duarte, Erica Lynette Edwards, Yumelia Garcia, Cara Marie Gary, John Mark Giragosian, Dylan Gutierrez, Elizabeth Hansen, Rory Hohenstein, Anastacia Holden, Dara Holmes, Victoria Jaiani, Graham Maverick, Caitlin Meighan, Jeraldine Mendoza, Jacqueline Moscicke, Amber Neumann, Alexis Polito, Christine Rocas, Aaron Rogers, Lucas Segovia, Aaron Smyth, Temur Suluashvili, Shane Urton, Alberto Velazquez, Mahallia Ward, Jenny Winton, Joanna Wozniak, Kara Zimmerman
behind the scenes
Stanton Welch (choreographer), Marius Petipa (original choreography), Ludwig Minkus (music), John Lanchberry (orchestrations), Scott Speck (conductor), Peter Farmer (scenic and costume design), Francis Croese (lighting design), Lisa Pinkham (lighting design recreation), Louise Lester and Sabrina Lenzi (staging)
For the Joffrey Ballet:
Ashley Wheater (artistic director), Greg Cameron (executive director), Robert Joffrey and Gerald Arpino (founders), Scott Speck (music director), Nicolas Blanc (ballet master), Gerard Charles (ballet master), Graca Sales (ballet master, principal coach), Cheryl Mann (photography)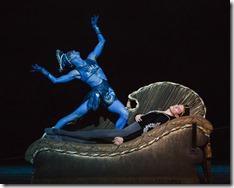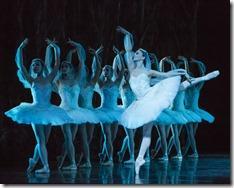 13-1035