Voluminous False Fiber Lashes Mascara
L'oreal's Voluminous False Fiber Lashes claims to have a unique blend of long and short nylon and raylon fibers, the same material used to make false eyelashes.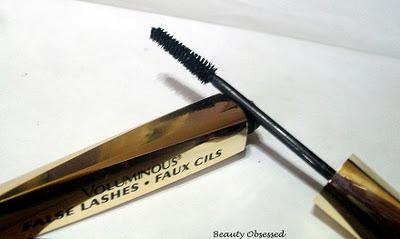 Dual length fiber formula
Exclusive polymer adheres fiber to lashes
Bitonical waxes prevent hardening, crumbling or flaking
Presision brush ensures optical application
Safe for sensitive eyes and contact lens wearers
Two of my favorite and go-to mascara's have been Maybelline's Great Lash and Benifit Bad Gal for a while now. But I still am looking for more without having to apply false lashes. So when I saw this I figured why not?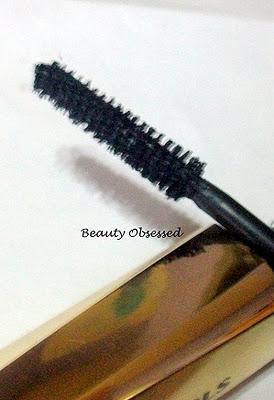 What I liked:
The wand is actually just the right size to grab all the hairs
The way the wand is bent (at a 40 degree angle) ensures a comftroable application
The pretty gold packaging is very classy and reminds me of a high end mascara
The fibers on this mascara extended my lashes longer than I expected. I was pleased with the length it gave
Just one coat came out to be very dark
My lashes looked exactly the same as they did after 8 hours of wear and there were no flakes. 

What I didn't like:
When opening the tube (even the first time) I noticed how much product was clumped on the wand,  so you have to make sure to clean the wand off pretty well to prevent clumping. Since I've had to do this everytime i feel like Im wasting the product.
The formula is pretty dry so you dont have time to wait to apply a 2nd coat. It dries super fast
I usually like to apply 2 sometimes 3 coats but with this mascara I feel like one coat looks a lot better than 2 or 3. 
When I went to comb through my lashes I noticed some flakes on my cheeks-again probably due to the dryness. 
While I did like the length it gave my lashes, I didn't notice too much volume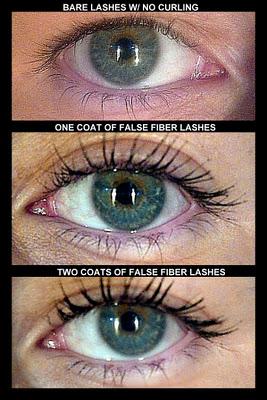 Other things I noticed:
*With most of the mascara's I've used I always thought
"more is more"
bc you can usually apply more than one or two coats and build them up and then the bigger your lashes become. However with this mascara I would defeinitly say that "
less is more" 
because like I said, when I go to apply more than one coat it starts to clump up. 
*Before you apply the mascara, I would wipe off some of the formula that's on the wand, even the first time you open it. 
*I also noticed with this mascara not to use the wiggling techqnuice, if you just lightly run the wand from the base to the tips of the lashes you'll get a better application. 
*When applying a 2nd coat, dont wait and do your other eye first, apply it right after. The formula is so dry that if you wait you're gonna have a bunch of clumps which is pretty dissapointing. 
*Another thing I thought about was the name of this mascara which is " Voluminous
False
Fiber Lashes" If I were to apply falsh lashes and got the result of what this mascara does, I wouldn't be happy with them at all.  Not like I thought this mascara was going to give me a the full effect of false lashes but ya know...
Overall..
I do like the mascara, now that I learned how to apply it and I'll keep using it but  I don't think I would repurchase it. I'm going to continue on with my search for a mascara I can actually say I really like (if thats even possible).
I would recommend this mascara to people with short or sparse lashes.

Product Rating:
3 out of 5 nail polishes
Click the links below :)
Follow via GFC
Follow me on Twitter