Written/Directed by Michel Laprise
United Center, 1901 W. Madison (map)
thru Sept 20 | tix: $35-$145 | more info
  
Check for half-price tickets  
---
Whimsical art under the big top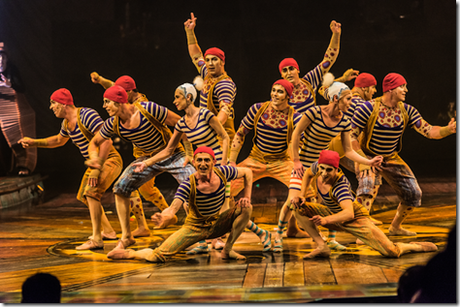 Cirque du Soleil presents
Kurios: Cabinet of Curiosities
Review by Lauren Whalen 
The circus has come to town: outside the United Center, a large yellow and blue striped tent awaits. Inside are various delights wrapped up in a steampunk aesthetic with a large dash of European whimsy. Cirque du Soleil's Kurios is meticulously choreographed and orchestrated, but carries a sense of magical spontaneity from beginning to end. From trapeze to clowning to acrobatics, Kurios is part old-school circus and part new wave entertainment that will surprise and gratify young and old alike.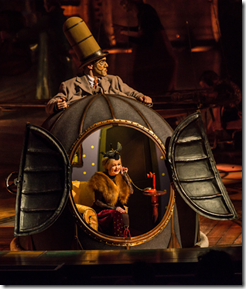 What works very well for
Kurios,
as opposed to other touring Cirque shows, is its sense of place. Placing a circus in a custom-made space (whether that's a tent or in the case of Cirque's Vegas shows, a theater) as opposed to a generic arena, does wonders for both performers and audience. Cirque du Soleil is known for turning the familiar circus thrill on its head, but as a rule, audiences don't like to be one hundred percent surprised. Under the big top, we know what to expect – to an extent – and that sense of safety grounds us and allows for open-mindedness in other ways.
Kurios
is the most "circus" of Cirque shows I've seen: while
Love
and
One
were tribute shows to the Beatles and Michael Jackson, respectively, and
Zumanity
was performed cabaret-style with a drag queen emcee,
Kurios
takes a more traditional circus form and adds a tiny plot and large amounts of steampunk flair. Little and big twists abound: robots roam the audience, an invisible lion runs amok, and a mad scientist opens a cabinet of curiosities that propels forward lots of (very flexible) action.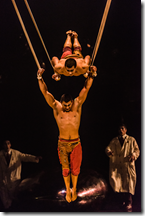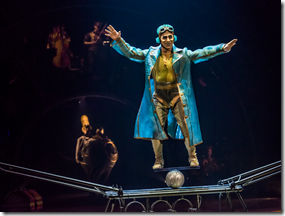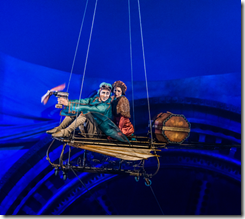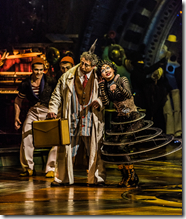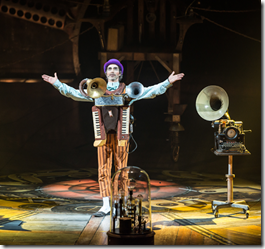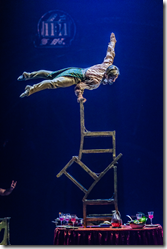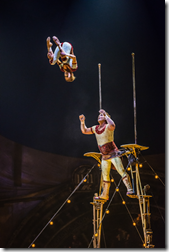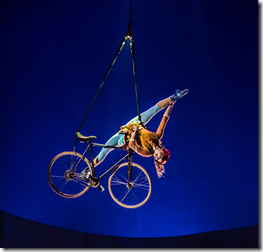 At almost two and a half hours, including intermission, Kurios may not be the best choice for very small children. Otherwise, this is a family-friendly Cirque: small innuendoes here and there will fly over little ones' heads as high and sure as trapeze artists. Accompanied by live instruments and stylized vocals, Kurios never has a dull moment. A trio of contortionists, who appear to have no bones in their bodies, flex and stretch atop a metal statue of an oversized hand, bearded fishermen bounce and flip on an oversized net, and a dinner party commences on the floor and ceiling. Like all Cirque du Soleil productions, Kurios boasts a diverse array of serious talent from all over the world. From hand puppetry to aerial bicycle (yes, such a thing exists in the most fabulous way possible), there's something for everyone. Picture "American Horror Story: Freakshow" without the discrimination and murder.
Started by a street performer in Quebec in the early 1980s, Cirque du Soleil has since grown into a billion-dollar worldwide phenomenon. The Chicago premiere of Kurios – the cheers, ovations and "how do they do that?" gasps – showcases the franchise's brilliance and relevance as it goes into the next generation. Circus arts are vibrant and thriving, inspiring both the average Joe and those who strive to emulate Cirque's performers, whose sheer artistry has raised the bar for performers of all types. Kurios is a triumph of funky nostalgia and springy innovation; a memorable evening under the big top.
Rating: ★★★½
Kurios continues through September 20th in the United Center parking lot, 1901 W. Madison (map).  Tickets are $35-$145, and are available by phone (877-924-7783) or online through their website (check for half-price tickets at Goldstar.com). More information at CirqueDuSoleil.com/Kurios.  (Running time: 2 hours 20 minutes, includes an intermission)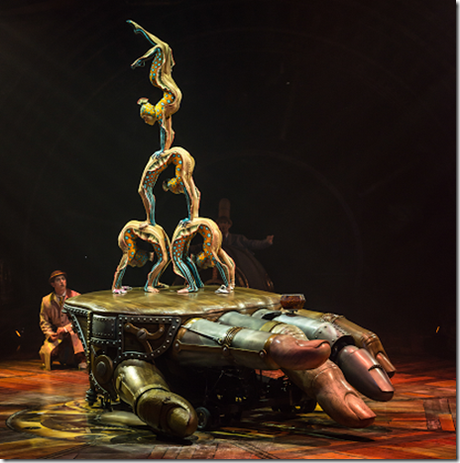 Photos by Martin Girard
---
artists
cast
Nico Baixis (Accordion Man, Hands Puppetry), Gabriel Beaudoin (Juggling), Andrii Bondarenko (Handbalancing), Christopher "Kit" Chatham (Musician, Drums), Ryan Shinji Murray, Victor Degtyarev, Nathan Dennis, Mathieu Hubener, Jack Helme, Arnaud Caizergues (Acro Nets), Facundo Gimenez (Comic Act), James Eulises Gonzalez (Rola Bola), Tomonari "Black" Ishiguro (Yo-yos), Lidia Kaminska (Musician, Accordion, Keyboard), Nikolay Astashkin, Ekaterina Evdokimova, Roman Kenzhayev, Elena Kolesnikova, Andrey Nikitin, Sergey Kudryavtsev, Anton Lyapunov, Serguei Okhai, Dimitri Parmenov, Roman Polishchuk, Alexey Puzyryov, Alexey Starodubtsev, Igor Strizhanov (Banquines), Paul Lazar (Musician, Violins), Karl L'Ecuyer (Microcosmos, Acro Net), Michael Levin (Music, Cello, Keyboards),  Christa Mercey (Musician, Percussion), Ekaterina Pirogovskaya (Klara), Antanina Satsura (Mini Lili), Marc Sohier (Bandleader, Bass, Double Bass), Roman Tereshchenko, Olena Tereshchenko (Russian Cradle), Stuart McKenzie, Vitali Tomanov (Straps Act), Eirini Tornesaki (Singer), Ayagma Tsybenova, Imin Tsydendambaeva (Contortion), Anton Valen (Seeker), Anne Weissbecker (Aerial Bikes)
behind the scenes
Michel Laprise (Writer and Director), Chantal Tremblay (Director of Creation), Stéphane Roy (Set and Props Designer), Philippe Guillotel (Costume Designer), Raphaël Beau (Composer and Musical Director), Bob & Bill (Composer and Musical Directors), Yaman Okur (Choreographer), Ben Potvin (Choreographer), Sidi Larbi Cherkaoui (Choreographer), Susan Gaudreau (Choreographer), Andrea Ziegler (Choreographer), Jacques Boucher (Sound Designer), Jean-Michel Caron (Sound Designer), Martin Labrecque (Lighting Designer), Rob Bollinger (Acrobatic Performance Designer), Germain Guillemot (Acrobatic Performance Designer), Danny Zen (Acrobatic Equipment and Rigging Designer), Eleni Uranus (Makeup Designer), Guy Laliberté (Guide), Jean-François Bouchard (Creative Guide)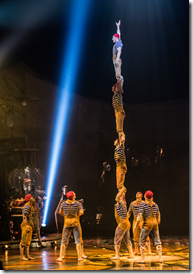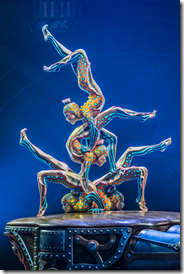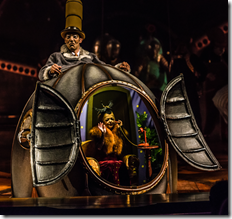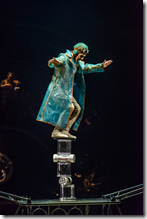 15-0804