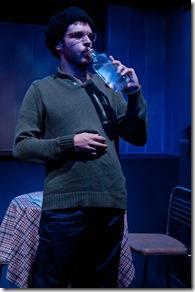 Kokkola 
Written by Leea Klemola
Directed by Chad Eric Bergman
at Rivendell Theatre, 5775 N. Ridge (map)
thru Aug 5  |  tickets: $20   |  more info
  
Check for half-price tickets 
  
  
   Read entire review
  
---
An evening of Nordic nudity, Scandinavian poppycock, and Finnish fun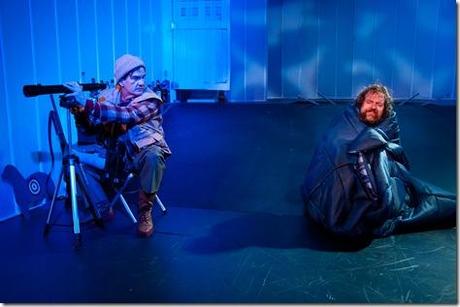 Akvavit Theatre presents
Kokkola
Review by Keith Glab
Welcome to Kokkola, a tiny town in Finland where the primary recreational activities are drinking, listening to music, and playing cards. A man named Piano (Joshua Harris) runs a bus service with two employees (Jordan Grzybowski and Joe Giovannetti) and no customers. An older man (David Kravitz) needing to be rescued from an open grave with alcohol, a woman (Colin Reeves) soiling herself in a bar and needing to be changed, and a violent man (Jim Poole) practicing parenting with dolls to prove himself to his crippled wife (Breahan Eve Pautsch) are everyday occurrences that are taken in stride.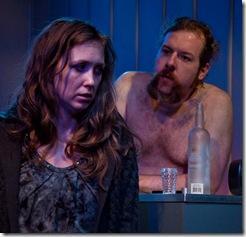 Oh, and at any given moment, someone might strip down naked for no apparent reason.
In this US premiere, the Akvavit Theatre troupe elects to use a Northern Wisconsin/Upper Peninsula dialect to illustrate to a Chicago crowd how a Kokkola accent would sound to a Helsinki audience. Piano's bus is created with two stage lights on a shopping cart trailed by some tables and chairs. A sloped stage is well-utilized to create the open grave, the frozen sea, and a bunch of sliding around on the ice. In all instances, these choices work very well.
While there is no main story per se, the play features several arcs. A love triangle between Piano, Minna (Kirstin Franklin), and Maura (Bergen Anderson), the owner of The Nice Bar, is evident throughout, even though it is only implied. Vili (Daniel Lehner), the bouncer of that bar, feels unrequited love for Marja-Terttu (Colin Reeves), who has an inexplicable desire to move to Greenland, a possibly inappropriate love for his brother Saku (Jim Poole) and, for reasons beyond my understanding, is portrayed onstage by a male actor. Saku's relationship with his wife is paramount towards the middle of the play, and then becomes something of a sidenote.
In what is easily the most memorable scene, Piano and his two employees strip down one night on the bus while listening to music. They down liters of vodka in seconds, croon in Finnish, and proceed to slap the crap out of each other and wrestle. These are not stage slaps, either. When everyone is passed out after the carnage, there are red welts visible across everyone's nude figures, most notably a hand-shaped one on Lömmarkki's behind. The humor of this scene is further elevated when Minna wakes from the back of the bus and casually proceeds to find earmuffs dropped during the scuffle, as though she has seen this act all too often before and it is a mere inconvenience.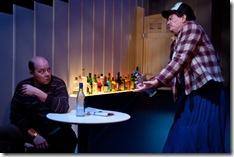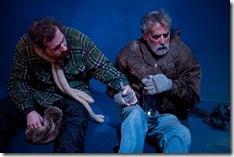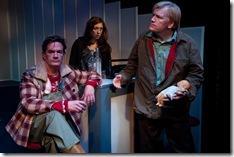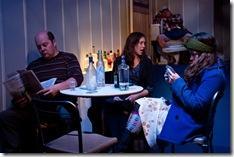 Though I'm highly recommending this play, it may not be for everyone. In addition to it featuring more unabashed nudity per minute than the National Pastime's Naked July Festival and no discernable central plot, I was among a section of the audience doused by a spit take in the first act.
This is truly a unique and hilarious production. How blessed is Chicago to feature enough diversity to allow for a theatre company like Akvavit to produce nothing but contemporary Nordic plays? Brave the unusual and treat yourself to Kokkola for an evening, making certain to indulge in a shot of Svedka during intermission.
Rating: ★★★½
Kokkola continues through August 5th at Rivendell Theatre, 5775 N. Ridge (map), with performances Thursdays-Saturdays at 7:30pm, Sundays 2:30pm.  Tickets are $20, and are available online through BrownPaperTickets.com (check for half-price tickets at Goldstar.com). More info at AkvavitTheatre.org. Note: For mature audiences only. Contains nudity. (Running time: 2 hours 30 minutes, includes an intermission)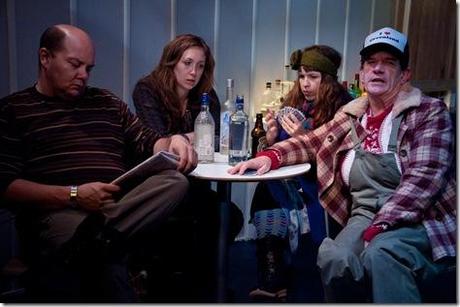 Photos by Sooz Main
---
artists
cast
Joshua Harris (Martii Piano Larsson), Jordan Grzybowski (Artsi), Joe Giovannetti (Lömmarkki), Tania Negrón Flores (Bertta Gonzalez-Heikkilä), Colin Reeves (Marja-Terttu Zeppelin), Daniel Lehner (Vili Autio Tiippanainen), Bergen Anderson (Maura Zeppelin), Kirstin Franklin (Minna Huhta), Julie Mitre (Seija Huhta), David Kravitz (Reijo Huhta), Jim Poole (Saku Zeppelin), Breahan Eve Pautsch (Katariina Känsäkangas), Matthew Isler (Seppo Lempiälä)
behind the scenes
Chad Eric Bergman (director, set design); Nina Sallinen (translation); Michael Massey (stage manager); Maggie Fullilove-Nugent (production manager, props, lighting); Kristina Carr (costumes); Nigel Harsch (sound design); Mike Smallwood (tech director); Sarah Nelson (set design); R&D Choreography (violence design); Sooz Main (photos)
12-0717