We can all remember that one cuddly toy that meant the world to us when we were young (mine was a stuffed spotted dog, which I still possess in all his faded glory). Author Mo Willems captures the devotion of that early bond in his book "Knuffle Bunny: A Cautionary Tale", the story of 13-month-old Trixie, who loses her beloved stuffed rabbit, Knuffle Bunny, one day during a visit with her dad to the Laundromat. ("Knuffle Bunny" is pronounced with a hard K; the word "Knuffle" is Dutch for "to hug or to snuggle.")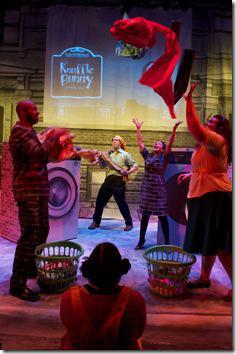 In bringing "Knuffle Bunny: A Cautionary Tale" to the stage, Mo Willems also wrote the script and the songs, so the show is very true to the original story. Willems' Caldecott-winning illustrative style – simple colorful cartoon drawings over a backdrop of black-and-white photographs of street scenes – is faithfully reproduced by the set. The backdrop, the cubes that cleverly go from brick towers to washing machines – even the clothes of the two ensemble players (Jeremy Sonkin, Brooke Singer) – is rendered in a black-and-white photographic style. A projection screen above the center back wall cleverly displays black-and-white photographs in motion when the suggestion of movement is needed. Onto this is overlaid any necessary cartoon images. The whole effect is of the book come to larger life, which is of course the point. Naturally, elements were added to allow the simple story to become a full-fledged show, including two narrative ensemble members and a whimsical battle scene between Trixie's dad (
Bret Beaudry
) and the anthropomorphic clothes in the laundry through which he's sorting to look for Trixie's lost toy. The characters of the parents are more fully fleshed out as well, with competent Mom (
Liz Bollar
) providing the straight foil to endearingly bumbling Dad.
Like the book, this play is geared for very young children, so the characters and acting are large, loud, and kinetic. The songs are catchy, and in this Chicago premier of the show, the voices excellent. Oh — a word about songs. A good musical tends to have at least one big ballad number that crosses over to mainstream music. Cats had "Memory;" Les Miserables had "I Had a Dream;" Knuffle Bunny brings us the breakout hit, "Aggle Flaggle Klabble." Devastated by the loss of Knuffle Bunny, Trixie (Jamie Finkenthal) pours out her heart in a solo number (which she sings, of course, in toddler babble). The piece may have been a bit slow for the kids, but the adults howled with laughter as a chandelier appeared, Phantom-style, and Trixie hit the high notes. I eagerly await the Susan Boyle rendition.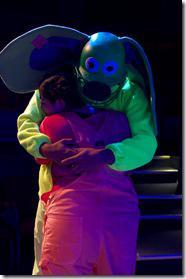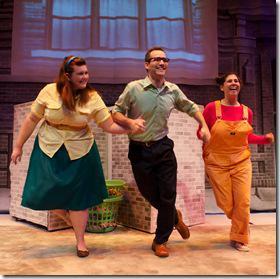 All in all, though, this show is really for the kids, and small fans of the book will not be disappointed. Before the show, kids have the chance to make their own Knuffle Bunnies, coloring and assembling large heavy-paper bunnies mounted puppet-style on colored wooden handles. Judging by the energy and concentration applied when I attended, this was a clear success.
As Trixie would say, "Zinka Vippy Foom!" ("Go see the show!")
Rating: ★★★
Knuffle Bunny continues through January 6th at Apollo Theater, 2540 N. Lincoln (map). Performance days/times vary: check theater for details. Tickets are $10-$27, and are available by phone (773-935-6100) or online through Ticketmaster.com (check for half-price tickets at Goldstar.com). More information at EmeraldCityTheatre.com. (Running time: 45 minutes, no intermission)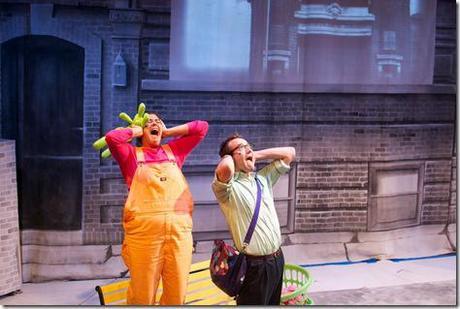 Photos by Tom McGrath
---
artists
cast
Bret Beaudry (Dad), Liz Bollar (Mom), Jamie Finkenthal (Trixie), Jeremy Sonkin, Sarai Rodriguez(Ensemble), Maddy La Roche (Understudy)
behind the scenes
Job Christenson (director, choreography); Marta Johnson (music director); Meg Lindsey (stage manager); Shane Goldbaum-Unger (asst. stage manager); Robert Kuhn, Crosstown Scenic (set design); Christian E. Gero (sound); Jeff Glass (lighting); D.J. Reed (props); Nathan Rohrer (costumes); Tristan Tom (asst. costume supervisor); Alarie Hammock (costume supervisor); Alexis Chaney, Caroline Gerber, Katie Goldberg (costume interns); Dan Lazar (projections, asst. lighting, master electrician);Tom McGrath (photos)