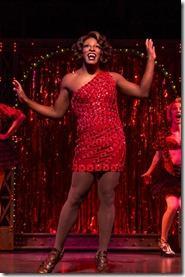 Kinky Boots
By Cyndi Lauper (score), Harvey Fierstein (book) 
Directed and Choreographed by Jerry Mitchell
Cadillac Palace Theatre, 151 W. Randolph (map)
thru July 26  |  tickets: $25-$108   |  more info
  
Check for half-price tickets 
  
  
   Read review
  
---
The boots are back in town, and they still have legs!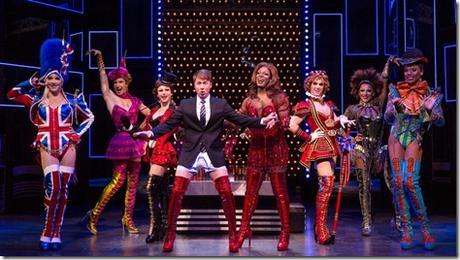 Broadway in Chicago presents
Kinky Boots
Review by Clint May 
So much has happened since 2012, when Chicago nurtured and launched the fledgling new musical Kinky Boots on to Broadway (of which I was proud to play some small part). LGBT rights advanced at a speed that is pleasantly stunning, as decades of hard work by mostly invisible advocates reached the tipping point to raise consciousness of the new generation coming into power. Too often the "T" at the end has seemed to fall by the wayside however, and perhaps that is the most inspiring change that has occurred since Kinky Boots debuted. Shows like "RuPaul's Drag Race" (debuting in 2009) continue their critical success, while non-cable content producers cultivate "fringe" shows to huge critical and audience success, with "Transparent" on Amazon and "Orange is the New Black" on Netflix (which launched the divine Laverne Cox into the position of Transgender Diplomat). And of course there's been the huge attention paid to Caitlyn Jenner (and the bizarre fascination Bill Maher has with constantly making jokes about it or bizarrely refusing to use her preferred pronoun).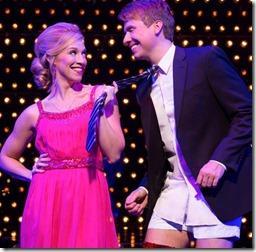 Obviously, I'm not a social blogger, and this is not a political site, and I wouldn't dare make the mistake of conflating drag queens, transvestites and the transgendered into one lump group and saying they are dealt with equally by society as a whole. The earnestness of
Harvey Fierstein
—frequently heavy-handed but never angry—deals more with the larger issue that those aforementioned groups do deal with as a whole. It's the seeming inability of the populace at large to endure even the existence of persons who don't fall neatly into pre-established binary roles*. As part of the zeitgeist of advancing the conversation of gracious acceptance of other people's rights to free expression,
Kinky Boots
is something that, as I think on it is, actually sneakily smart in opening cracks in the walls of insensitivity that still seem so formidable (e.g., the need to ask the trans-identified about their genitals: watch John Oliver's
brilliant takedown
).
Part of that intelligence comes in the straightforward packaging of the story's overall shape. To borrow the parlance of Vonnegut, this is the classic "man in hole" story with an underdog hero spin—how much more unthreatening could you be to slip in a social awareness moral? Charlie Price (Steven Booth) is not his father's son, despite the Price & Son on the sign adorning the family's Northampton shoe factory. Quality shoes aren't selling as well as cheap imports, and Charlie has left not only the factory and father but the workers he grew up playing around to pursue his dream of living in London with fiancé Nicola (Grace Stockdale). Almost as soon as the first picture is hung, the call comes through—Mr. Price has died unexpectedly. Charlie races back and before you can say "over under in and out," Charlie has been guilted into trying to save the his legacy's future in a town where 9 out of 10 shoe businesses have folded.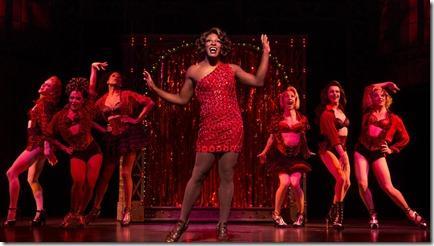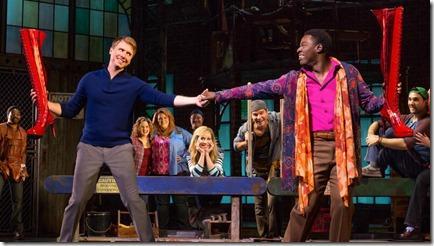 In a move that would make any branding consultant proud, Charlie is inspired by a recent run-in with a cabaret performer named Lola (Kyle Taylor Parker) and an inspirational plea from an attractive employee Lauren (Lindsay Nicole Chambers) to begin creating a line of boots for transvestites. As a last-ditch effort, it's beyond unlikely – and it's helpful to remember that it is this key inspiration that gives this story it's 'based on true events' foundation. Lola is hastily made head designer in a friction-generating move that prompts a lot of ire among the almost cartoonishly oblique working-class Brits, personified in the bulky gruffness of Don (Joe Coots). Kinky Boots interweaves these men's conflicts with impersonal societal expectations along with the very personal expectations of their parents.
There's a great line in the cult classic film "Trick" where an aspiring musical theater writer is encouraged to stop trying too hard and just "get to the chorus"—it's the part everyone's waiting for anyway. It's advice Fierstein seems to take to heart as he wastes no time and is unapologetically unrealistic in moving his characters and plot to get them out of the way to better make room for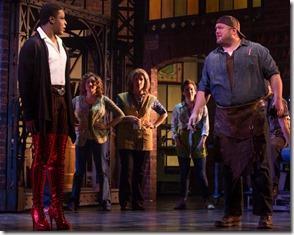 Cyndi Lauper
's genre-spanning and Tony-winning score,
Jerry Mitchell
's utterly beguiling choreography and his own quippy one-liners. The plot groans and threatens to split like the inadequate boots that inspire Price's new line, but is easily forgiven by its utter charm and warmth. Only an 11th hour breakdown from Charlie threatens the entire production with its out-of-left-field incredulity.
In the life of any musical there is that period of time after the inaugural cast wherein subsequent boot fillers are perhaps unfairly compared. Billy Porter was the Tony and Drama Desk winning breakout star of the original and his presence is indeed missed. Parker has a fine voice but his take on Lola skews a bit more towards another famous musical transvestite—Dr. Frank N. Furter. Gratefully he is still completely moving in the bittersweet ballad "Not My Father's Son." Booth is a convincing Charlie, and even improves on Stark Sands, being better at selling the internal conflict of half accepting Lola, half fearing the headlong rush of change—an inadvertent avatar of cultural struggle. Chambers is a passable Lauren, invoking strains of the best of Kristen Wiig, but she doesn't quite ignite the same ineffable spark as Annaleigh Ashford.
Kinky Boots returns to its birthplace a bit more mature and riding a wave of goodwill and awards, lacking some of that original nervy charm of 2012 but absolutely a great, feel-good musical and a crowd pleasing contribution to the conversation we continue to have about how the world changes when you learn to accept others for what they are.
Rating: ★★★½
Kinky Boots continues through July 26th at Cadillac Palace Theatre, 151 W. Randolph (map).  Tickets are $25-$108, and are available by phone (800-775-2000) or at Ticketmaster.com (check for half-price tickets at Goldstar.com). More information at BroadwayInChicago.com or KinkyBootsTheMusical.com.  (Running time: 2 hours 20 minutes, includes an intermission)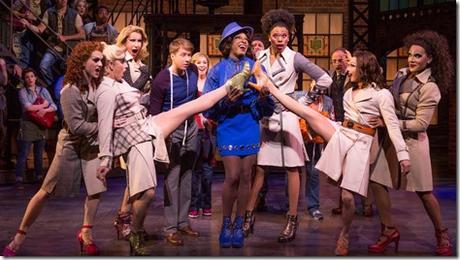 *I'm reminded of a conversation with a man working with a male-to-female transgendered person. I tried to explain to him that this person was not-so-simply trying to make her outside match how she felt inside. "Yeah," he replied trucently, "But why do I have to look at it?" As though this person's identity was somehow a personal attack, and he was suffering as much as that person.
Photos by Matthew Murphy 
---
artists
cast
Steven Booth (Charlie Price), Kyle Taylor Parker (Lola), Lindsay Nicole Chambers (Lauren), Grace Stockdale (Nicola), Joe Coots (Don), Craig Waletzko (George), Paul Canaan (Angel, Ensemble, Asst. Dance Captain), Joey Taranto (Angel), Andy Kelso (Harry, Ensemble), Florrie Bagel (Pat, Ensemble), Stephen Carrasco (Dance Captain, Swing), Amelia Cormack (Trish, Ensemble), J. Harrison Ghee (Assistant Dance Captain, Swing), Adam Halpin (Richard Bailey, Ensemble), Nicholas Aaron Jenkins (Young Lola Standby), Mike Longo (Harry, Ensemble), Anthony Picarello (Young Charlie), Griffin Reese (Young Charlie Standby), Jomil Elijah Robinson (Young Lola), Horace V. Rogers (Simon Sr., Ensemble), Nick Sullivan (Mr. Price, Ensemble), Anne Tolpegin (Milan Stage Manager, Ensemble), Kevin Smith Kirkwood, Joe Beauregard, Kyle Post, Charlie Sutton, Darius Harper, Tommy Martinez, Ricky Schroeder, Juan Torres-Falcon, Hernando Umana (Angel, Ensemble), Sam Zeller, Damien Brett, Lauren Nicole Chapman, Jennifer Noble (Ensemble), Jeff Kuhr, Patty Lohr. Maggie Mcdowell (Swing)
behind the scenes
Jerry Mitchell (director, choreographer), Cyndi Lauper (composer, lyricist), Harvey Fierstein (book writer), Stephen Oremus (music supervisor, arranger, orchestrator), David Rockwell (scenic design), Gregg Barnes (costume design), Kenneth Posner (lighting design), John Shivers (sound design), Josh Marquette (hair design), Randy Houston Mercer (make-up design), Kathy Fabian, Propstar (properties coordinator), Brian Usifer (music director), Michael Keller (music coordinator), Rusty Mowery (associate choreographer), DB Bonds (associate director), Amy Jo Jackson (dialect coach), Telsey + Company (casting), Chris Smith, TheaterSmith, Inc. (technical supervisor), Matthew Murphy (photos)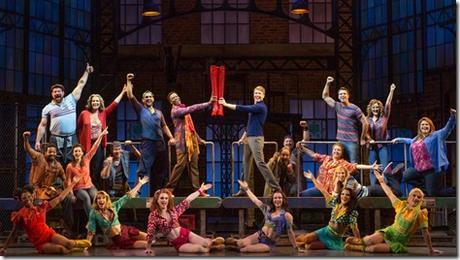 15-0704