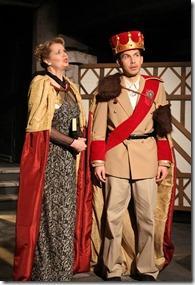 King John
Written by William Shakespeare 
Directed by David Fehr 
Josephinum Academy, 1500 N. Bell (map)
thru Nov 11  |  tickets: $10   |  more info
  
Check for half-price tickets 
  
  
   Read review
  
---
Lifeless production of Bard's underrated history play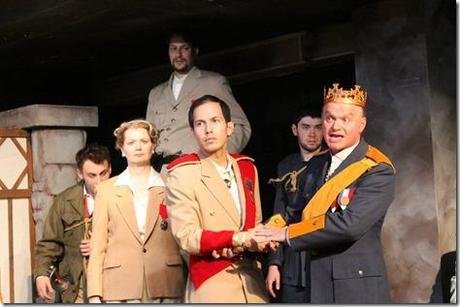 Linchpin Theatre Company presents
King John
Review by Patrick Dyer
Shakespeare is always a difficult field to tackle. While his works are goldmines of character and conflict, it must be handled with care to those who bring his language to the stage, lest that evening in the theater can turn tedious and dull. This is especially true for his lesser performed pieces like Troilus and Cressida, Cymbeline, and All's Well That Ends Well, since most audiences probably aren't as familiar with them as, say, Hamlet or Romeo and Juliet, which makes the challenge of performing his words even harder. Linchpin Theatre has decided to tackle the Bard's less-known (and underrated) history play, King John. But can they successfully bring his poetry to life?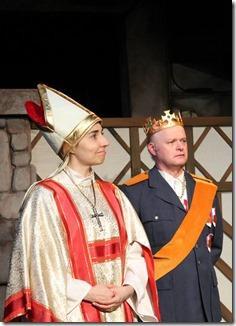 The Bard's play is about King John of Britain (
John Cabrera
) and his struggle to maintain his crown in Crusades-era Britain. Tensions between Britain and France escalate as King Philip (
Zach Bloomfield
) backs John's nephew, Arthur (
Janeane Bowlware
), in an attempt to force John to surrender his throne. However, John refuses and a war is declared between the two sovereign states at Angiers. As neither side can claim total victory, John offers a peace solution, but is then excommunicated from the Catholic Church by the Pope over a dispute about the appointment of the Archbishop of Canterbury. The Pope's legate, Cardinal Pandulph (
Jamie Bragg
), orders the French to resume their fighting as John successfully captures Arthur and orders for his execution. What results is a constant power struggle between France and Britain as King John wrestles with both his own internal struggles and his royal subjects.
Out of all the Bard's tragedies based on tormented royal figures, King John is not the absolute best but it still shows Shakespeare's skill at deftly balancing politics and history while rooting them both in an emotional resonance. King John in particular is an underrated Shakespearean tragic figure: his struggle to maintain both his crown and his sanity is the center of the entire play. But is Linchpin successful in staying true to Shakespeare's original intent with this piece? No. The overall production feels incredibly lifeless: here we have a play brimming in passion and political intrigue, but what director David Fehr gives us is stereotypically bad Shakespeare acting with a confusing setting and inconsistent tone ranging from goofy to melodramatically over-the-top. On top of that, we get a distastefully pretentious ending when an unsuspecting audience member is literally being put in the spotlight and then dragged to the stage by the actors during the final scene to be "crowned" as King John's new heir. Self-indulgence like this is not only disrespectful to the greatest dramatist in the English language, but it completely kills the mood of the entire production when an audience member sits in King John's throne looking confused while the actors kneel before him/her as the lights go down. (If you want to avoid this, don't sit in the first seat on the left side of the third row. There's a little spotlight right above if you need any more help locating it.)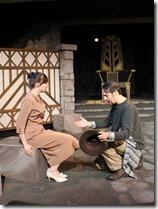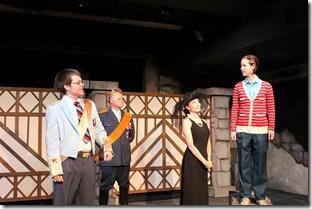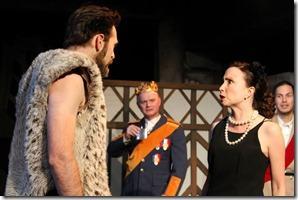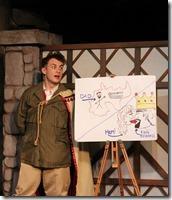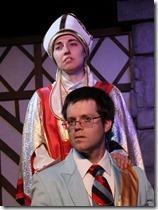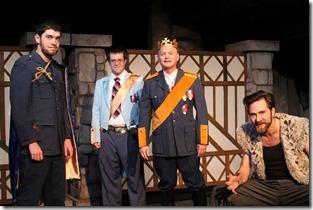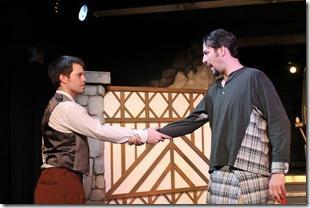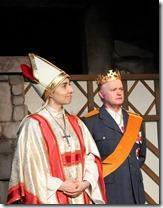 As I said before, the acting overall is stereotypically bad Shakespearean acting: the over-accentuating of syllables, the breathy inflictions, the over-the-top soliloquy deliveries, etc. Shakespeare is the go-to playwright to make you seem like a great actor, but great acting comes from a careful understanding of the text and figuring out the best way to convey what the author intended, not simply showing yourself off. This is especially true for Shakespeare because his language is so rich and his characters so complex that not nailing him correctly only makes it all the more obvious. And that is one of the major problems of this production. Almost all the performances noticeably distract from the weight of Shakespeare's text. A few in particular stood out to me:
Cabrera as the eponymous king delivers his lines in an awkwardly robotic monotone and basically has no stage presence, which hurts the overall production even more since he's the title character. Kelly Lynn Hogan as Lady Constance is basically a more over-the-top rendition of Lady Macbeth that borderlines on camp. Fehr as Philip the Bastard comes across as too detached and self-aware with very little change in facial expressions. (It's a classic example of why directors shouldn't act in their own productions – they don't possess legitimate feedback about their acting from an outside source.) While the rest of the cast are on a sliding scale from forgettable to just plain awkward with too much yelling and not enough authenticity, Bowlware as Arthur is the most sympathetic character and the most authentic performance in the entire two and a half running time. She brings a vulnerability and pain that is sorely missing from the rest of the cast. The scene where Arthur tries to escape by climbing the castle walls is especially effective. However, even she can't escape from Fehr's confusing directing choices.
This production tries to put King John into the era of World War I instead of its original Middle-Ages setting. But why? What's the connection? Is it that the wars in that time period are similar to the one from 1914 to 1918? Modern settings for Shakespearean plays are hit and miss for me personally. In this case, it's a miss as there are clear references in the original text that this play is set around the time of the Crusades. Even then, the World War I setting is muddled. The costumes look like they came from the 1920s, and the set looks like something out of the Dark Ages. This could be interpreted as a unique mixture of these time periods, but in the program it clearly states that this is set in 1915. If you're going to change the setting, there has to be a good reason for it whether it's thematic or character-based, not just because you want to change it up to seem "daring" or "artistic."
I'm not saying doing a Shakespearean play is easy, but there has to be more passion and thought put into it than what's being presented here. The Bard, like any great dramatist, practically giftwraps material for actors and directors to work with, and not taking advantage of this is a missed opportunity to say the least. There's such a clear weight to King John and not effectively capturing it is an even greater missed opportunity. Lifeless, dull, and self-indulgent – this is one King who ought to give up his crown sooner rather than later.
Rating: ★½
King John continues through November 11th at the Josephinum Academy, 1500 N. Bell (map), with performances Fridays, Saturdays and Mondays at 8pm.  Tickets are $10, and are available online through BrownPaperTickets.com (check for half-price tickets at Goldstar.com). More information at LinchpinTheatre.com.  (Running time: 2 hours 35 minutes, includes an intermission)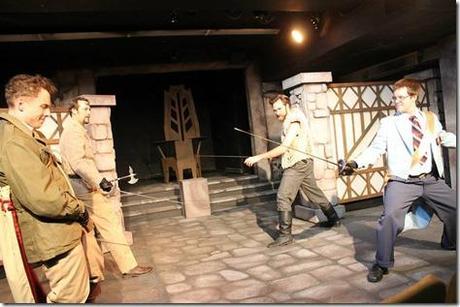 ---
artists
cast
Kathryn Bartholomew (Lady Blanche, Peter Pomfret), Zach Bloomfield (King Philip of France), Janeane Bowlware (Arthur, The Messenger), Jamie Bragg (Lady Falconbridge, Cardinal Pandulph), John Cabrera (King John), David Fehr (Philip the Bastard, Richard Plantagenet), Paulette Hicks (u/s Lady Constance), Kelly Lynn Hogan (Lady Constance), Courtney McCormack (u/s Lady Falconbridge/Cardinal Pandulph), Drew Mierzejewski (Duke of Austria, Lord Pembroke), A.J. Miller (Hubert), Glenn Thompson (Essex), Nathan Thompson (Robert Falconbridge, Dauphin Louis of France), Shawna Tucker (Queen Elinor, Lord Salisbury), Nathan Wainwright (Chatillon)
behind the scenes
David Fehr (director), Kathryn Bartholomew (assistant director), Alexa Berkowitz (stage manager), Jason Coale (set), Dan Gallagher (lighting), Gosia Gorakzyk (costumes), Kaitlyn Grissom (technical director), Amanda Leslie (assistant scenic designer), Anne-Louise Monfort (graphics), Cameron Petti (sound), Renee Vai (marketing director)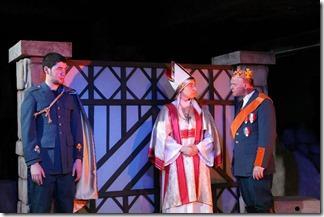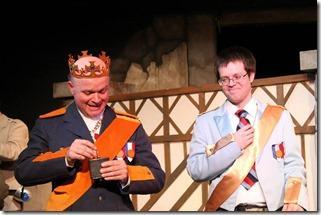 13-1055