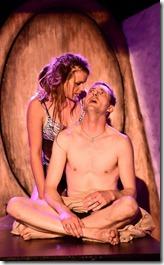 Kin Folk
Visually-dazzling modern-day fantasy well worth seeing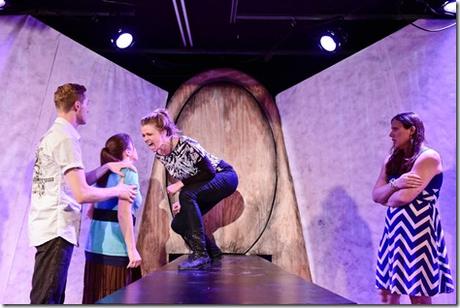 Review by Mark Davidson
The New Colony's production of Kin Folk is a modern-day fantasy by playwright William Glick. The main setting is the suburban home of Lucy (Annie Prichard), her sisters Eleanor (Alexia Jasmene) and Mary (Elise Spoerlein), and her husband Toby (Chris Fowler). On the verge of selling the house and seeking a new life in Chicago, Lucy is torn by her secret desire to self-actualize. Lucy believes her true self is as a dragon named "Kreeka". She has discovered a community of people called Otherkin, who identify as all sorts of magical creatures: elves, trolls, griffins, gnomes, etc. Her Otherkin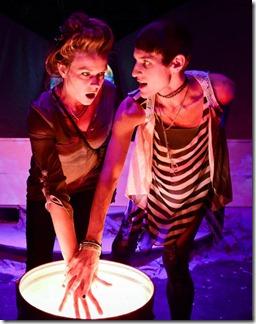 friend Arethin (
Steve Love
), who identifies as an elf, brings her to the gnome-at-heart Blubberwort (
Andrew Hobgood
), who introduces her into the Otherkin realm. Eventually, Lucy brings Arethin and Blubberwort with her when she comes out as an Otherkin to her human family. Although she has recently undergone her own self-actualization, the transgender Eleanor refuses to accept Lucy's new identity. The devout church-goer Toby separates from Lucy, while Mary melts down and declares herself the only normal person in the family.
Lucy's human family move out of the house, while Lucy's Otherkin family soon proves to be as transitory as her human family has become. Lucy goes on to find a new soulmate through online chats with Dusk (Stephanie Shum), who identifies as a werewolf. Toby and Lucy engage in a hilariously strange love scene involving Otherkin roleplay in a final bid to save their marriage. Toby goes on to form a bond with Eleanor, although one with limits; Toby is left questioning his faith, isolated from his church friends as well. Meanwhile, Dusk accepts Lucy's invitation and arrives from Montana, leading Lucy to realize some limits of her own. Finally, Lucy ends up with one of her families, forming a new status quowhich is seemingly happy.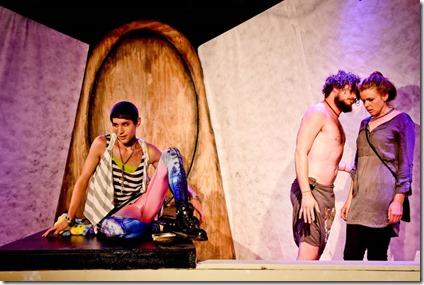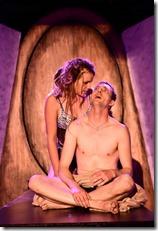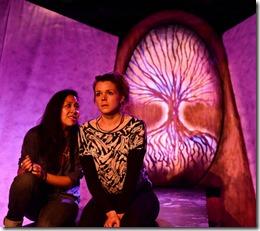 Visually, the show is dazzling, thanks to the evocative projections designed by Paul Deziel, ably complemented by Heather Sparling's lighting and Morgan Lake's sound design. Director Evan Linder keeps the pace going steadily, successfully managing the script's frequent juggling between the suburban atmosphere of Naperville with the mysterious realm of the Otherkin. Prichard gives an impressive performance as Lucy/Kreeka, selling every emotional beat with conviction. This role could have easily been laughable in the hands of a lesser actress. Stand-outs in the cast include Fowler, who evokes sympathy in the role of Toby as the traditionally-minded character does his best to cope with Lucy's new identity. Hobgood is amusingly bohemian as Blubberwort, Love is solid as the exotic Arethin, and Shum brings forth a lonely aspect as Dusk.
This play is innovative and well-handled by The New Colony. Be advised that although it has many elements of fantasy, it is not for kids. Well worth seeing.
continues through August 14th at The Den Theatre, 1333 N. Milwaukee (map), with performances Thursdays-Saturdays at 7:30pm, Sundays 3pm. Tickets are $20 (seniors & students: 25% off), and are available by phone (773-413-0862) o r online through Vendini.com (check for half-price tickets at Goldstar.com ). More information at TheNewColony.org. (Running time: 85 minutes, no intermission)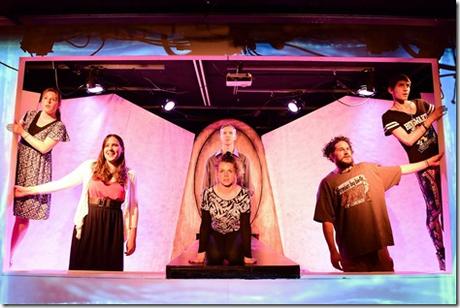 behind the scenes
Evan Linder (director), John Wilson (scenic design), Kate Kamphausen (costume design), Heather Sparling (lighting design), Morgan Lake (sound design), Paul Deziel (projections design), Garth Moritz (production manager), Bobby Huggins (technical director), JD Caudill, Elyse Dolan (assistant directors), Grace McLeod (script supervisor), Sarah Collonge (stage manager), Evan Hanover (photos)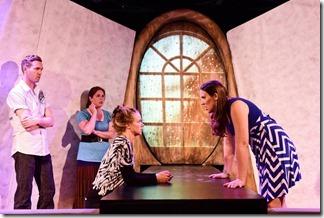 Tags: 16-0721, Alexia Jasmene, Andrew Hobgood, Annie Prichard, Bobby Huggins, Chicago Theater, Chris Fowler, Den Theatre, Elise Spoerlein, Elyse Dolan, Evan Hanover, Evan Linder, Garth Moritz, Grace McLeod, Heather Sparling, JD Caudill, John Wilson, Kate Kamphausen, Morgan Lake, Paul Deziel, post, Sarah Collonge, Stephanie Shum, Steve Love, The Den Theatre, The New Colony, William Glick
Category: 2016 Reviews, Den Theatre, Mark Davidson, New Colony