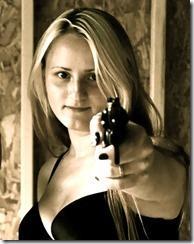 Killing Angela 
Written and Directed by Vincent Truman
The Charnel House, 3421 W. Fullerton (map)
thru Aug 4  |  tickets: $15   |  more info
  
Check for half-price tickets 
  
  
   Read entire review
  
---
Not quite the sum of its parts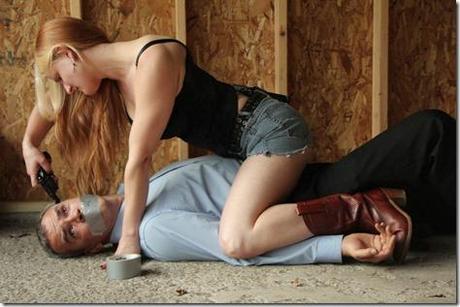 The Viable Theater Company presents
Killing Angela
Review by Anuja Vaidya
Twists and turns, suspense-filled interactions and the slow unwinding of a plot are all elements that are typically present in any great thriller, be it a movie, a book or a play. These elements can even be considered to be the building blocks on which a thrilling entertainment experience is created. While Viable Theater Company's Killing Angela does comprise of these elements, it fails to execute them in a way that makes this production truly captivating.
The plot revolves around Angela, who has discarded the identity she was born with and her past life in an attempt to forget the horrifying circumstances she was forced to face as a young girl. She leaves her hometown and settles into a new life in a small town in Missouri. She marries and goes into business with her husband, a loyal man but not the sharpest tool in the shed. He is madly in love with her and sees himself as her protector. But he has no idea that his seemingly frail wife has already survived a hellish situation and doesn't quite need him to take care of her. But her past soon catches up with her and, in fact, comes looking for her, in the form Detective John Fowler – a man who has lost everything because of her and is desperate to prove her existence.
The play opens with a dramatic altercation, throwing us into a volley of actions and words without any context – a great way to instantly draw the audience in. Unfortunately, the rest of the script does not manage to match the initial pace. It is not as tightly written as it needs to be to sustain the audience's rapt attention. Don't get me wrong; the plot is interesting enough to keep your interest, but it doesn't envelop you in its world and captivate you to the point where you forget to breathe. One of the major issues with the script is that the motivations of some of the key characters remain unclear. For example, exactly why Fowler becomes obsessed with Angela's case is unclear. His being disturbed by her case his understandable, his putting every aspect of his life on the line for her? A little harder to comprehend.
The performances are the strongest aspect of Killing Angela. Vincent Truman, as John Fowler, gives a measured and sincere performance. You find yourself rooting for him until the very last scene. The most memorable performance of the show, however, is Carly McGehee as the straight shooting, eager to prove herself cop who gets unwittingly involved in the situation. McGehee is incredibly endearing and believable and she even manages to inject humor into the otherwise grim play.
While this play doesn't quite crackle with intensity, it is intriguing enough to keep you in your seats. It has an inherently captivating premise, but the motives underlying the characters' actions need to be explored and espoused in more detail. An edit to the script, with an aim to tighten the plot, would also go a long way in making this a must-see show.
Rating: ★★½
Killing Angela continues through August 4th at The Charnel House, 3421 W. Fullerton (map), with performances Fridays-Sundays at 8pm.  Tickets are $15, and are available by phone (773-871-9046) or online through BrownPaperTickets.com (check for half-price tickets at Goldstar.com). More information at TheCharnelHouseChicago.com.  (Running time: 1 hour 30 minutes, NO intermission)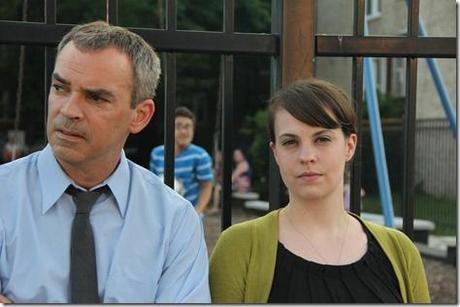 Photos by Richard Smith
---
artists
cast
Vincent Truman (Detective John Fowler), Kimmy Higginbotham (Sandy Emmons), Ali McLaughlin (understudy), Phil Aman (Theodore Emmons), Carly McGehee (Sgt. Sarah Vollmer), Paul Brutscher (Charlie Leigh), Kalina Kitten McCreery (Detective Loretta Runer), Colleen Sketch (understudy)
behind the scenes
Vincent Truman (writer, director), Kimmy Higginbotham (asst. director), Neil Klemz, Vincent Truman (original music), James Sparling (special advisor), Erin Casey (lighting, sound design), David Barsotti (make-up), Richard Smith (photography)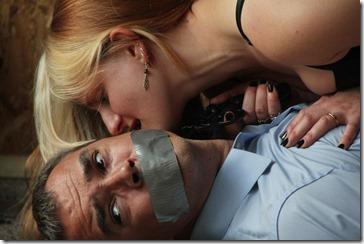 13-0716