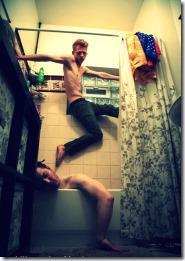 Kill Your Boyfriends 
Choreographed/Arranged by Derek Van Barham  
National Pastime Theater, 941 W. Lawrence (map)
thru July 27  |  tickets: $20   |  more info
  
Check for half-price tickets 
  
  
   Read entire review
  
---
A title not to be taken literally…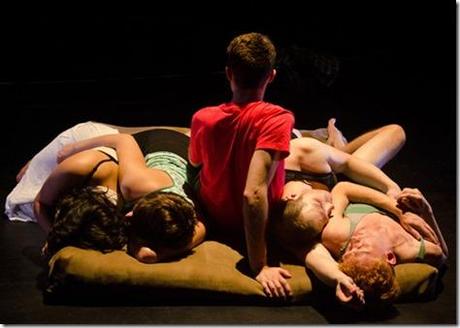 Pride Films and Plays i/a/w Naked July presents
Kill Your Boyfriends
Review by Lawrence Bommer
If the staid Masons who once performed secret rituals in this once-elegant temple on the fourth floor of the former People's Church could see what's happening on their stage—same-sex smooching and unashamed nudity–they might croak all over again. Anyway, the second contribution by Pride Films and Plays to National Pastime Theater's annual "Naked July" festival, this 70-minute deborrows from Charles Mee's creations to forge a show from fragments. Its disparate sources are, among others, Richard Siken, Alex Dimitrov, Sylvia Plath, Sharon Olds, Thom Gunn, William Shakespeare and, since this is about worshipping the body in its various birthday suits, Walt Whitman. In it, two couples uneasily share a single bed as they engage in delaying tactics before their dreams can die.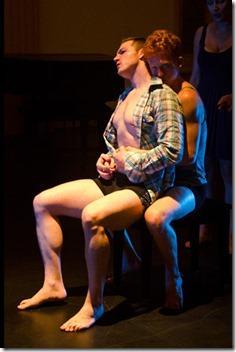 Kill Your Boyfriends takes its troubling name from poet Dimitrov who says, Oscar Wilde-like, "You must kill what wants, like death, to keep you." This might make good verse but it's wretched advice. Happily, Derek Van Barham's well-choreographed concoction includes no ritual slaughter. What it does offer, despite the poor acoustics of this vast chamber, is a series of close to caustic encounters between three sets of lovers as they work out their fears and hopes, each kind, sadly, capable of inflicting its own special harm.
Doing most of the dancing, James Nedrud and Erik Strebig transform their passions into contortions symbolizing repeated sex and the exhaustion that follows. Their approach-avoidance movements translate equally well into passive aggression. Mainly, however, their supple bodies speak for themselves, advertising their youth as much as anything in the action. As they use each other's bodies like props for their lust, they suggest the literal trust that comes from balancing on your boyfriend. The territoriality of ardor is never more blatant than when competing partners try to pull each other through a picture frame separating their clashing egos. Indulging in appropriate or merely distracting soliloquies, the other four dancer-players are caught up in the lovers' quarrels or observe the fray from a safe distance. Possession may be nine-tenths of the law, but it's the death of love.
It's fairly absorbing, if not always accessible, fare, and the nudity never seems flagrantly gratuitous. (But then, some people earn their nakedness better than others…)
Rating: ★★★
Kill Your Boyfriends continues through July 27th at National Pastime Theater, Preston Bradley Center, 941 W. Lawrence (map), with performances Saturdays at 8pm, Sundays at 3pm (with a midnight show on July 27).  Tickets are $20, and are available through BrownPaperTickets.com (check for half-price tickets at Goldstar.com). More information at NakedJuly.com.  (Running time: 70 minutes, NO intermission)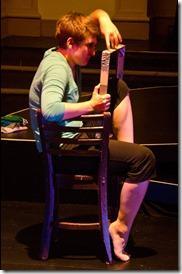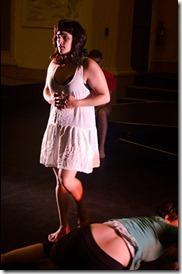 ---
artists
cast
Sarah Goldberg, Carmen Molina, James Nedrud, Erik Strebig, Karen Vance, Christopher Young
behind the scenes
Derek Van Barham (choreographer, director), Jamie Link (stage manager)
13-0705