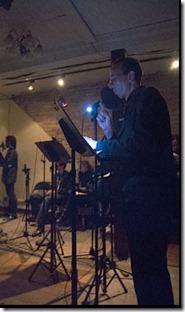 Kill Shakespeare 
Written by Anthony Del Col and Conor McCreery 
Original artwork by Andy Belanger
Directed by Anderson Lawfer
at Hugen Hall, 3829 N. Broadway (map)
thru March 26  |  tickets: $15   |  more info
  
Check for half-price tickets 
  
  
   Read entire review
  
---
This is not your mama's Shakespeare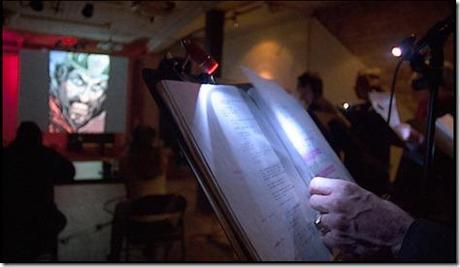 Strawdog Theatre presents
Kill Shakespeare
Review by Katy Walsh 
Strawdog Theatre Company's Hugen Hall present the Midwest premiere of Anthony Del Col and Conor McCreery's Kill Shakespeare.  The well-known heroes and villains of Shakespearean plays are battling out for eternal power.  Hamlet, Juliet, Falstaff, Richard III, Lady MacBeth have left their own stories to confront each other and their creator, Shakespeare, in a literary blood feud. This is not your mama's Shakespeare.  How can 16th Century literature appeal to youth in the 21st Century? Shakespeare 2.0!  Kill Shakespeare is a bloody clever take on the classics.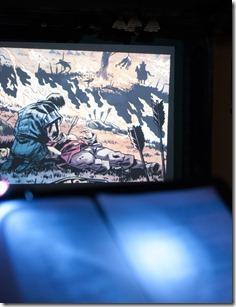 When was the last time a comic book spoke to you?  If it's been awhile, here's your chance to be entertained by a Shakespearean action adventure.  Creators of the
Kill Shakespeare
series,
Anthony Del Col
and
Conor McCreery
, use the famous bard characters in a "Kill Bill" style rampage.  It's a mishmash of Shakes' plays.  The innovative method introduces multiple story-lines as literature teasers.  While the characters remain in character, they unexpectedly react to their new set of novel circumstances by gutting someone or kneeing them in the balls. This is the perfect way to bait and hook a new generation of Shakespeare lovers.  
Under the skillful direction of Anderson Lawfer, the show becomes a living graphic novel.  Two oversize white boards are onstage.  Designer Michelle Underwood  projects original artwork by Andy Belanger on these boards.  Underwood effectively uses different shapes of imagery to provide the visual detail of the story.  The boards act like an opened comic book.  Underwood keeps the audience engaged in this 'page turner' as she continually flashes up the optical intrigue. Lawfer paces the projections in sync with the narration by his cast.  A full cast and orchestra are to the right and behind the audience.  Belanger's art is the focal point as the talented ensemble and band provide the vocal and musical accompaniment.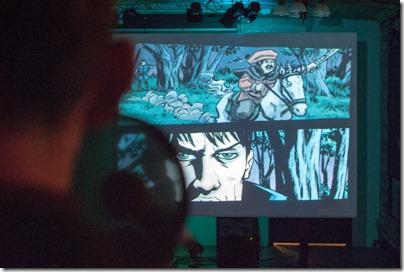 The Kill Shakespeare experience almost feels like putting on the self-guided headphones at the Art Institute.  The art captivates.  The verbal narration reinforces.  Since Belanger's artwork already tells the story, the audio addition builds surprising depth.  This art actually talks!?  Kill Shakespeare is an innovative collusion of Com Con meets the Stratford Festival.  This show Shakes it up, indeed!
Rating: ★★★½
Kill Shakespeare continues through March 26th at Strawdog Theatre's Hugen Hall, 3829 N. Broadway (map), with performances Sundays at noon, Mondays/Tuesdays at 8pm.  Tickets are $15, and are available by phone (866-811-4111) or online through OvationTix.com (check for half-price tickets at Goldstar.com). More information at KillShakespeare.com.  (Running time: 90 minutes without intermission)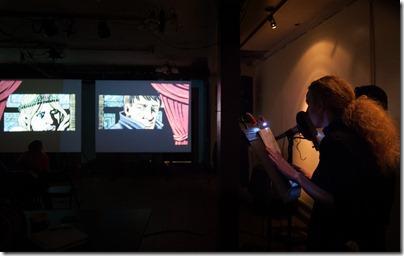 Photos by Tom McGrath 
---
artists
cast
Bryan Bosque, Kate Harris, Nikki Klix, BF Helman, Brian Amidei, Conor Burke, Caleb Probst, Steve Herson, James Anthony Zoccoli
behind the scenes
Anderson Lawfer (director), Michelle Underwood (projections), Seth Boustead (original score), Gregor Mortis (sound design), Beth Schmeski (asst. director, dramaturg), Morgan Gire (production manager), Tom McGrath (photos)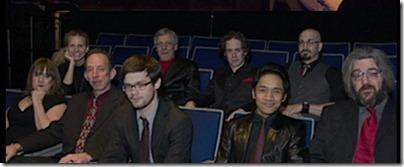 13-0313