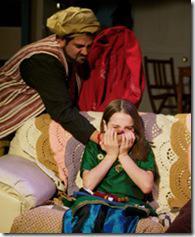 Kabulitis
Written by Keith Anwar
Directed by Lavina Jadhwani 
at Josephinum Academy, 1500 N. Bell (map)
thru Oct 30  | tickets: $15-$19  |  more info
Check for half-price tickets
   Read entire review
---
'Kabulitis' a host of unrealized potential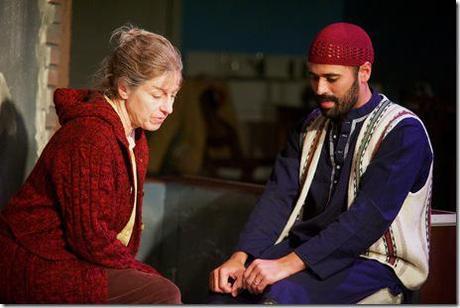 Polarity Ensemble Theatre i/a/w Rasaka Theatre presents
Kabulitis
Review by Lauren Whalen 
At just under two hours Kabulitis flies, leaving the audience catching their collective breath as the lights go up. And maybe that's the problem. Despite a strong lead performance and an excellent representational set, Polarity Ensemble Theatre's world premiere (in association with Rasaka Theatre) of Keith Anwar's memory play often feels too rushed for the multitude of fascinating issues it attempts to cover.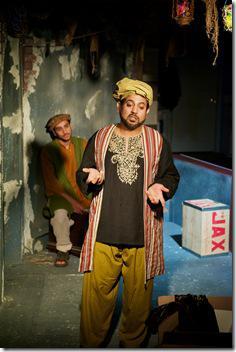 Anwar based
Kabulitis
on the experiences of his American mother and Afghani father, who briefly lived in Kabul, Afghanistan as part of a mid-20th century attempt to promote secularism and modern thinking. The play's set maximizes a small space but comes off claustrophobic, with representations of a kitchen, living room and basement laundry room crowded together. However, there's a method to designer
Charles C. Palia Jr.
's madness: just as theatergoers are confined to a small, crowded room, so is Mildred (
Caron Buinis
) inside her own mind. Mildred is fighting two entities: the early stages of Alzheimer's disease, and her well-meaning son Rob (
Jonas David Grey
) as he attempts to put her in a retirement home. It's January 2002 in upstate New York, and while Mildred's city-dwelling granddaughter Andrea (
Catherine Stegemann
) is still having 9/11 nightmares, Mildred recalls a different nightmare altogether. The elderly woman experiences intense flashbacks of the brutal sexism and oppression that colored her brief stay in Kabul in the 1940's. All the while she hears the voices of her sinister brother-in-law Da'ud (
Kamal Hans
) and his crony Mullah (
Plamen Plencheff
), whom she is convinced live in her basement.
A progressive woman in a violent landscape, both past and present. An intercultural marriage at a time when segregated drinking fountains were commonplace. The decisions a couple makes to break escape an ancient country, which will impact their loving marriage forever. A son's quest for the truth, a young girl's struggle to overcome a senseless trauma. Named for a disease caught by drinking from the city's river, Kabulitis is crammed with compelling issues, yet never manages to flesh out any of them. Anwar's script rushes over each plot point and character moment, and Lavina Jadhwani's direction attempts to be fast-paced at the cost of several abrupt dramatic moments. When Mildred alludes to her oldest child, who is severely handicapped, she mentions that the family blames her for this but never reveals why. An early flashback involves Mashid (Nawaf Gasem), a relative of Mildred's husband, but his considerable inner pain goes largely unexplained. Most obvious of all, the voices of Afghan men in Mildred's head is a device almost overused in Act I, but virtually abandoned in the play's second half.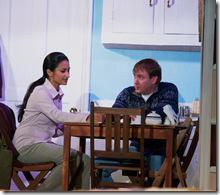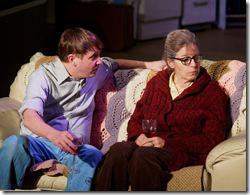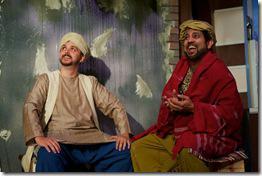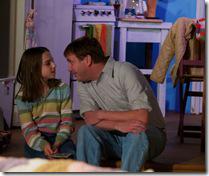 Just as Kabulitis' script and direction are uneven, so are many of its actors. Anupama Bhatt is heartbreakingly convincing as a shamed Afghani woman, but her turn as a modern-day nurse is artificial, almost Barbie doll-esque. Also in a dual role – as granddaughter Andrea and as an ill-fated relative in Kabul – little Catherine Stegemann has a tendency to mumble her dialog. However, Caron Buinis almost compensates for everyone else's weaknesses with a stirring lead performance. Her Mildred is sassy but sad, humorous but pathetic, with a mouth like a straight line between two quotation marks. Without changing costumes or makeup, Buinis transcends years and mileage in seamless transitions from 2002 New York to 1940's Kabul. Additionally, Gustavo Obregon has some nice moments as Mildred's late husband Hamed, seen only in flashbacks and earnestly committed to the idea of a better country, while fully supporting his wife's controversial decision not to wear the traditional Afghani veil.
According to a program note by Polarity Artistic Director Richard Engling, Anwar did one final rewrite of the play before succumbing to aggressive cancer in 2010. Kabulitis may suffer the same fate as the musical Rent, another decidedly imperfect script that may have stood to change had its author not passed away before opening night. The end product isn't bad, but its unrealized potential leaves audiences wondering what could have been.
Rating: ★★★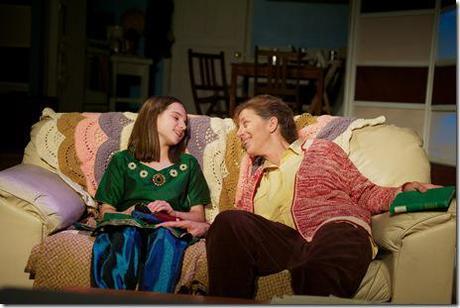 Kabulitis continues through October 30 at Josephinum Academy, 1500 N. Bell (map), with performances Fridays and Saturdays at 8 p.m., Sundays at 3 p.m. Tickets are $19, $15 for seniors ($10 for students with valid ID), and can be purchased by phone (800-838-3006) or online at BrownPaperTickets.com.  More information at PETheatre.com. (Running time: 2 hours with 10-minute intermission)
All photos by Jackie Jasperson
---
artists
cast
Caron Buinis (Mildred), Anupama Bhatt (Anahita/Anita), Nawaf Gasem (Majid), Jonas David Grey (Rob), Kamal Hans (Da'ud), Gustavo Obregon (Hamed), Plamen Pencheff (Mullah), Catherine Stegemann (Andrea/Nabila)
behind the scenes
Lavina Jadhwani (director, co-producer), Elizabeth Bruins (stage manager), Andrew Dallas (sound), Yonit Olshan (costumes), Charles C. Palia Jr. (sets/tech director), Dayna Shrader (lighting), Lana McKinnon (wigs, makeup), Aoife Carolan (cultural dramaturg), Richard Engling (script dramaturg, co-producer), Andy Kepka (asst. stage manager), John Olson (marketing), Connie Pfiffner (playwright's rep), Topher Soltys (production manager), Jackie Jasperson (photos), Kamal Hans, Maggie Speer (co-producers)